It's probably fair to say that Tesla's upcoming Model 3 is the most anticipated vehicle release in years, if not decades. While new car releases from luxury car makers often drum up excitement, it's rare to see an immense level of curiosity and excitement surrounding the release of a $35,000 car designed for the mass market. And yet, Tesla has managed to create an air of intrigue for the Model 3, a feat made all the more impressive given that Tesla hasn't marketed the car at all. In fact, Elon Musk recently said that Tesla will be "anti-selling" the Model 3, which is to say that it won't even be offering prospective buyers test drives.
Now the reason why the Model 3 has engendered so much interest isn't too hard to figure out. Put simply, Tesla is promising to give users a taste of its luxury Model S for just a fraction of the price, albeit in a slightly smaller design and with fewer bells and whistles. Nonetheless, interest in the Model 3 went through the roof immediately after its unveiling, with early reservations quickly reaching the 380,000 threshold, a feat that surprised even Tesla executives.
With so much interest in the Model 3 — a dynamic partially attributable to the fact that Tesla has yet to reveal what the final version will look like — it's become something of an activity for Tesla enthusiasts to take photos of Model 3 vehicles out on the open road during testing. Not surprisingly, the frequency with which Model 3 spy shots now seem to surface has increased as we get ever closer to mass production, which Tesla maintains will still begin in July.
The most recent Model 3 spy shot comes to us via Reddit and features a white Model 3 with roof racks. The photo isn't terribly revealing but it does give us a really great view of the Model 3's slightly altered front design.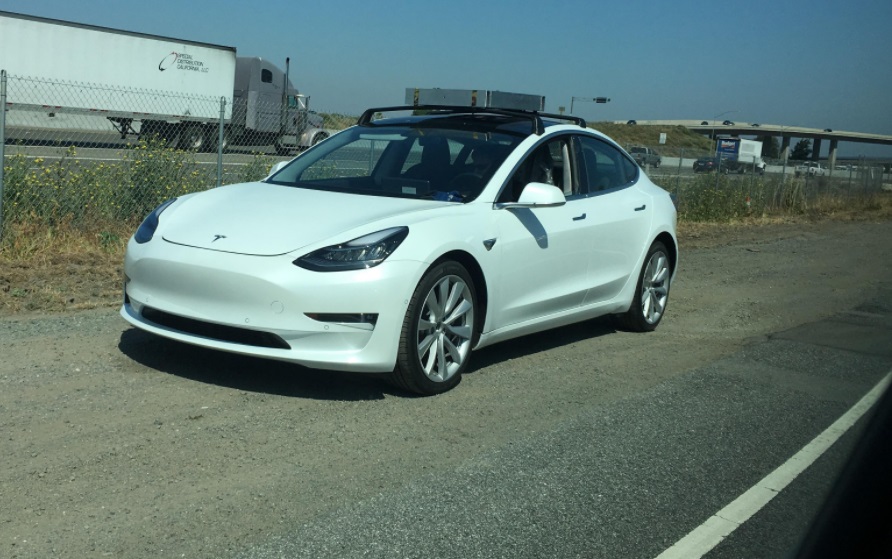 Some additional Model 3 photos and spy shots that you might have missed over the past few weeks are embedded below.