With apologies to those of you who don't appreciate puns, a lot of Microsoft product news surfaced this afternoon, so without further ado let's dive right in and take a look at the product announcements. Those include the Surface Pro 6 and Surface Laptop 2, along with the Surface Studio 2 and the surprise unveiling of the Surface Headphones.
We don't have release dates for those last two, but the Surface Pro 6 and Surface Laptop 2 are available for pre-order now and will go on sale Oct. 16. Both the Surface Pro 6 and Surface Laptop 2 start at $899. Along with all of that, meanwhile, also at this afternoon's event in New York City, Microsoft shared details of a new subscription service for owners of Surface products called Surface All Access. It will give you access to a digital buffet of Microsoft apps and services and costs $24.99 a month.
In all, Microsoft showed off four new Surface products. Let's run through them:
Surface Pro 6
Per The Verge, Microsoft has added Intel's 8th generation processor and a new matte black finish to the Surface Pro 6. Also, "Microsoft's Surface chief, Panos Panay, says the company has overhauled the inside of the Surface Pro 6 so it has improved cooling. That means the Surface Pro 6 now supports quad-core processors, and Microsoft claims it will be 67 percent faster than the previous model."
The report continues by noting that a new internal design should improve battery life, with Microsoft saying it should last you for almost 14 hours. Overall, it weighs 1.7 pounds, boasts the familiar 12.3-inch display and up to 16GB of RAM. There also aren't any USB-C ports, so the same connectivity as the current model.
Surface Laptop 2
This update to the Surface laptop, meanwhile, is aimed at college students and more casual users. Again from The Verge, "This year's refresh appears to be almost entirely a spec update. While Microsoft hasn't revealed full details for the laptop, the hardware appears to be identical, down to the port situation — which means another year without USB-C. The laptop will still have a 13.5-inch display, and Microsoft is still estimating 14.5 hours of battery life for nonstop video playback. It does claim that typing on this version will be quieter, though."
This model is apparently 85 percent faster than the last generation's and sports what Microsoft calls the thinnest LCD ever used on a touch laptop.
Surface Studio 2
The details we have of the Surface Studio 2 include its use of the same sized display (28 inches) as the original. The display, powered by 13.5 million pixels, is almost 40 percent brighter, however, with more contrast. A new Nvidia chip based on the Pascal architecture means more graphics power, and it supports more than 4,000 degrees of pressure sensitivity from the Surface Pen, in addition to the Surface Pen's tilt functionality. You also get a 2 terabyte solid state drive.
Microsoft would only hint that the Surface Studio 2 is coming soon along with the new Surface Headphones. Speaking of which …
Surface Headphones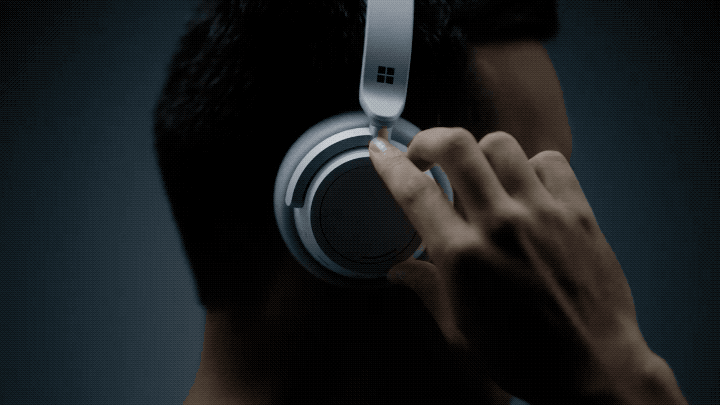 We weren't expecting the $350 headphones Microsoft announced, which are over-the-ear, wireless and come with "Hey Cortana support." You can charge them via USB-C and while they're U.S.-only for now they'll ship later this year, Microsoft says.
From a company blog post: "Microsoft's first premium and smart headphone experience offer the attributes you have come to expect from Surface: premium design, expert craftsmanship, and integration with the services and experiences you love. Surface Headphones offer a smarter way to listen, with spectacular rich audio and hands-free calling. Surface Headphones make it easy to block out the world to get more done with adjustable noise cancellation, so you can focus on your task or just relax with your favorite music.
"With automatic pause and play, they will even pause the movie or video you are watching when you remove them from your ears. Cortana, a hands-free digital assistant, is built in to offer you proactive guidance, read you emails, or kick off your conference call."