Apple on Monday unveiled all the new emoji that are coming to iPhone, iPad, and Mac this fall. Of course, we already knew those emoji were in the making and that they'll soon be available on all smart devices out there, likely starting with iOS and macOS devices.
But Apple announced the new emoji on Monday to celebrate World Emoji Day. Even better, the company updated its executive profiles page, replacing regular photos with Memoji.
In case you're not familiar with Memoji, all you need to know about it is that it's the obvious evolution of Animoji, although the regular animated Animoji are still there. Announced at WWDC 2018 in early June, Memoji is already available on iPhone and iPad running iOS 12 beta.
The feature lets you create an animated avatar emoji that follows your face's movements, and use it in a bunch of Apple apps, most of them related to Message and FaceTime. Sadly, there's no standalone Memoji app so you can't really use them in other apps, but you do get plenty of freedom when it comes to customizing your avatar.
The feature is possible thanks to that front-facing camera on the iPhone X that happens to measure depth, so you'll probably need a 2017 iPhone X or 2018 iPhone or iPad to take advantage of it.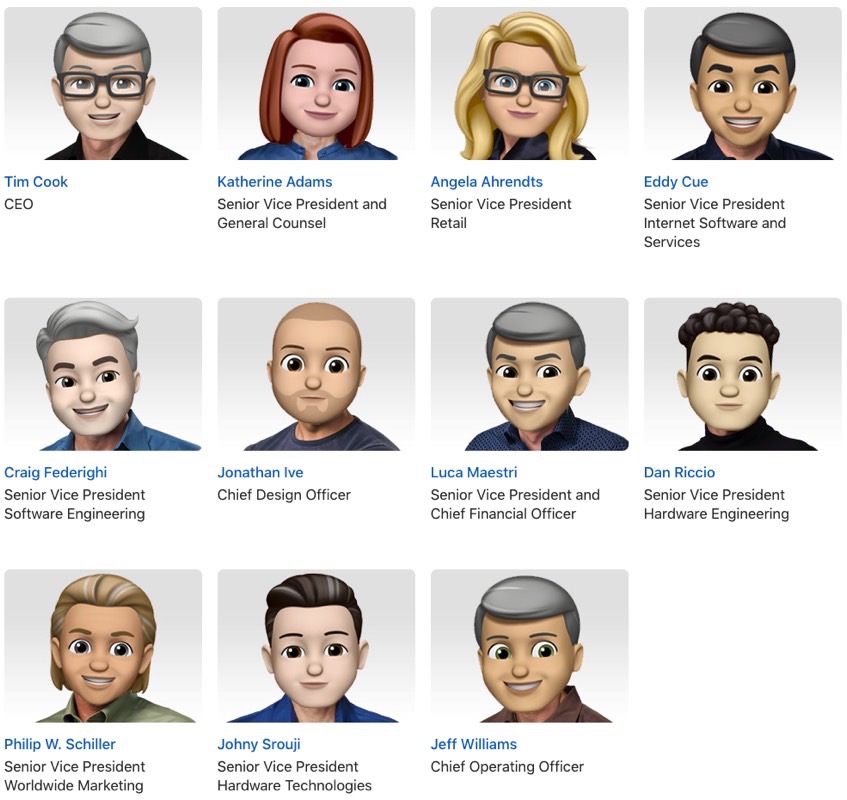 As you can see above, all the top execs used the Memoji feature to create their avatars, and some of them are spot on. Check out Tim Cook, Angela Ahrendts, Eddy Cue, and Jonathan Ive. Phil Schiller's Memoji shows a different person, while Craig Ferighi's avatar could use some work. Maybe he just wasn't paying enough attention.
To try Memoji right away, you'll have to jump on the latest iOS 12 beta, whether it's a developer or public release, and go into the Messages app to customize your avatar.