Unless you've been living under a rock for the past few days, then you've certainly heard of the Pokemon Go mobile phenomenon. Even if you're not playing the highly addictive iPhone and Android game, you probably know people who are, and most of them are having a blast. However, there are several unwanted side effects of playing Pokemon Go, and you should be aware of some of them.
DON'T MISS: Tomorrow is Prime Day 2016: Here's everything you need to know
A pinch of malware in the app
Researchers discovered that there's malware in certain APK versions of the Android app, so make sure you only download Pokemon Go from Google's Play store. Otherwise, there's always the risk of grabbing one of these malicious versions that can then hijack your entire phone.
Thieves use Pokemon Go rob players
According to USA Today, police in O'Fallon, Missouri arrested four suspects who used beacons near a pokestop to lure in more players, at which point they would rob them at gunpoint. The four suspects are believed to be behind as many as 11 robberies. And that's not the only place where it's happening.
Be mindful on what you play online, A String of armed robberies perpetrated by suspects who targeted their victims using Pokémon Go. RH

— PPD 35TH District (@PPD35Dist) July 11, 2016
Assaulting police stations for Pokemon
Police in Australia isn't dealing with Pokemon Go crimes, too. But Australia's Northern Territory did warn Pokemon Go players not to enter the Darwin Police Station in hopes of finding some of the creatures in the game.
Don't Pokemon Go and drive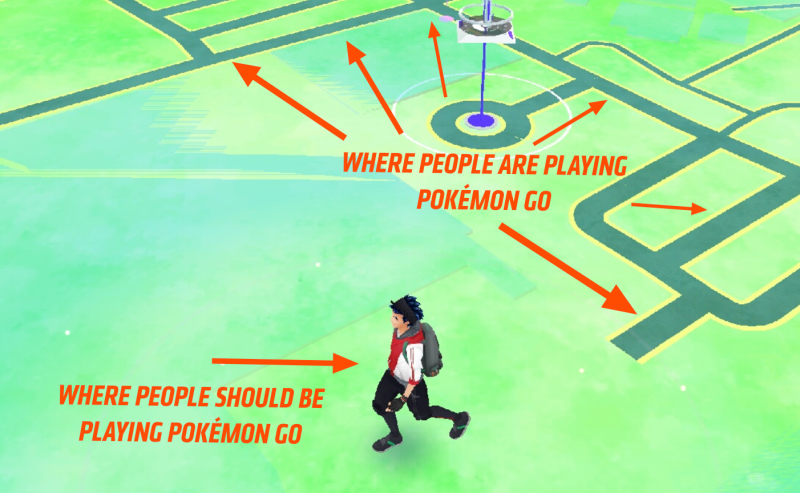 Some of the lazy Pokemon Go players out there – you know who you are – are using their cars to catch the creatures. Rather than going for walks, they drive their vehicles at around 10 mph or under, Jalopnik reports, to catch Pokemon that might be located nearby. Needless to say, that's the kind of behavior that can endanger the lives of everyone else driving around lazy Pokemon hunters.
Pokemon chasing is tiring
I ran for a good minute or two yesterday for Pokemon Go and my lower legs are sore. I could blame my shoes or accept how unfit I am.

— beebe✨ (@pandabeebe) July 9, 2016
Assuming you're not using your car to catch them, running around all day after Pokemon is very tiring. As Gizmodo points out, social media is filled with reports of sore legs caused by too much Pokemon Go-ing.
That time Pokemon Go sent you to a strip club
Looks like there's a PokeStop at the strip club by work. Don't think this stop was meant for all ages… #PokemonGO pic.twitter.com/PDdLh0gKsa

— Gajan Kulasingham (@gogogajman) July 8, 2016
If you've ever had trouble explaining strip club visits to a significant other, then Pokemon Go is for you. The app will apparently send you to strip clubs on occasion, so there's your excuse. However, as Gizmodo reports, it'll also send you to graveyards.
That time you discovered a dead body and a Pokemon
It's probably safe to say that you don't want to discover anything else when you're hunting your next Pokemon. But a teenager in Riverton, Wyoming stumbled upon a body floating in the Wind River last week, KTVQ.com reports. That's definitively not the kind of Pokemon experience I'd want.
2-in-1: Fighting ISIS and catching Pokemon
Who said you can't fight ISIS and catch Pokemon at the same time? That's apparently a thing on the Mosul frontline by Teleskuf, at least according to a certain Louis Park's Facebook post. If you thought that driving and Pokemon Go-ing was the most dangerous thing you could do with the app, then you were wrong.
Delivering a baby and a Pokemon at the same time
This is so insensitive and so hilarious at the same time: finding a Pokemon in the same room where your wife is getting ready to give birth to your child. Read more about it on Reddit.