When an ancient wooden club was yanked from its watery grave in the River Thames in England many months ago, archaeologists didn't quite know what to make of it. The crude weapon, which is thought to have been made sometime between 3530 and 3340 BC, doesn't really look all that impressive, but those studying it still wanted to get an idea of how it might have been used. After making a full-sized replica for testing, it's been determined that the unassuming tool could actually dispatch a human in short order, and perhaps even with a single strike.
In a new research paper published in the journal Antiquity, scientists investigating the weapon and its origins took the extraordinary step of carving a replica for testing. The original, which has begun to fall apart over its several thousands of years of life, is being preserved, but its stand-in demonstrated just how devastating it might have been.
The "Thames Beater," as the weapon has been nicknamed, is modest in appearance. It consists of a thick wooden "blade" tapers down to a narrow handle with a hefty pommel on the very end. But its simple construction belies how much trauma it could cause. Using the replica, the researchers asked a 30-year-old male volunteer to wield it in order to test its effectiveness in combat. The man was asked to bash a test dummy built of a realistic military ballistic material, complete with a faux human skull.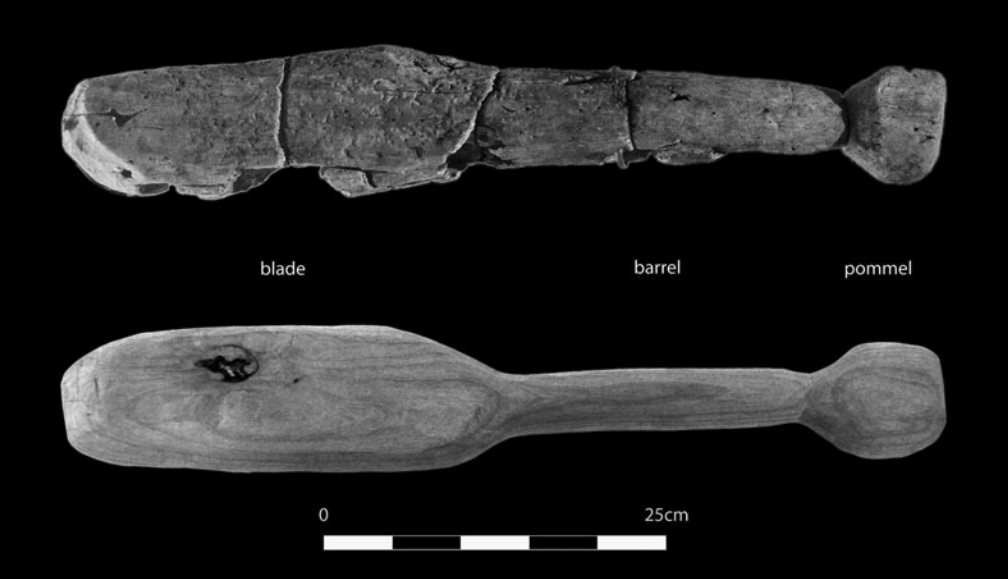 The "fight" proved to the archaeologists that the club would have been capable of shattering a human skull with a single hit, and that the weapon could have been used in multiple different ways. A ranged attack, with a full swing from the end of the handle, would have been useful when the target was greater than arms' length away, while a two-handed bash using the beefy pommel may have been used when an enemy was much closer.
After testing its effectiveness, the scientists further compared the injuries the test dummy sustained with actual human skulls found in graveyards from the same time period. They reported finding at least one with a skull fracture that looked nearly identical. They further concluded that it is likely the individual died as a result of a run-in with the Thames Beater or other similar blunt weapon.