Every year around MWC, we get a ton of hype around Chinese smartphone brands, like Oppo, Honor, and Xiaomi. This year was no different. Honor, for example, took the wraps off of the Honor Vs foldable and Honor Magic5 Pro flagship device. Xiaomi, however, isn't one to lag behind — and to that end has launched the 13 series, led by the Xiaomi 13 Pro.
There's something that sets the Xiaomi 13 Pro apart from most of its previous-generation phones — the fact that the Xiaomi 13 Pro will be available outside of China. That doesn't mean it'll come to the U.S. — it won't — but it does mean that there will be a Google Play-enabled version available in many countries around the world.
But that also means that the Xiaomi 13 Pro has to compete to a much higher degree. Sure, competitors like Apple and Samsung are available in China, but home-grown brands like Xiaomi, Huawei, and Honor, tend to do much better there than they do outside the country. How well does the Xiaomi 13 Pro compete, ultimately? Turns out, it has a lot going for it.
BGR may receive a commission
Pros
Solid design
Excellent camera
Great performance
Very good battery life
Beautiful display
Xiaomi 13 Pro specs
Dimensions
6.41 x 2.93 x 0.33 inches
IP rating
IP68
Display resolution
1440 x 3200
Display size
6.73 inches
Display type
LTPO AMOLED
Display refresh rate
120Hz
Display brightness
1900 nits peak
Chipset
Qualcomm Snapdragon 8 Gen 2
Memory
8GB, 12GB
Storage
128GB, 256GB, 512GB
Rear cameras
Wide: 50.3MP, f/1.9
Telephoto: 50MP, f/2.0
Ultrawide: 50MP, f/2.2
Video
8K at 24fps, 4K at 60 fps, 1080p at 960fps, 1080p at 1920 fps
Front camera
32MP
Ports
USB-C 2.0
Battery size
4,820mAh
Charging
120W wired, 50W wireless, 10W reverse wireless
Connectivity
Bluetooth 5.3, Wi-Fi 6E, 5G
Colors
Ceramic White, Ceramic Black, Ceramic Flora Green, Mountain Blue
Price
1300 Euros
Xiaomi 13 Pro design
The Xiaomi 13 Pro aims to differentiate itself in the overall look of the camera module, which is something we see a lot these days. The phone comes in a typical slab design, with a square camera module on the back that's divided relatively neatly. It has a metal frame, with glass front and back, and features an IP68 rating for water and dust.
On the front of the device can be found the large 6.73-inch display with a hole-punch cutout for the front-facing camera in the center of that display. The cutout is unobtrusive and easy to ignore.
On the bottom of the phone can be found the USB-C port, while on the right side is where you'll find the power button and volume rocker. Everything is basically where you would expect it to be.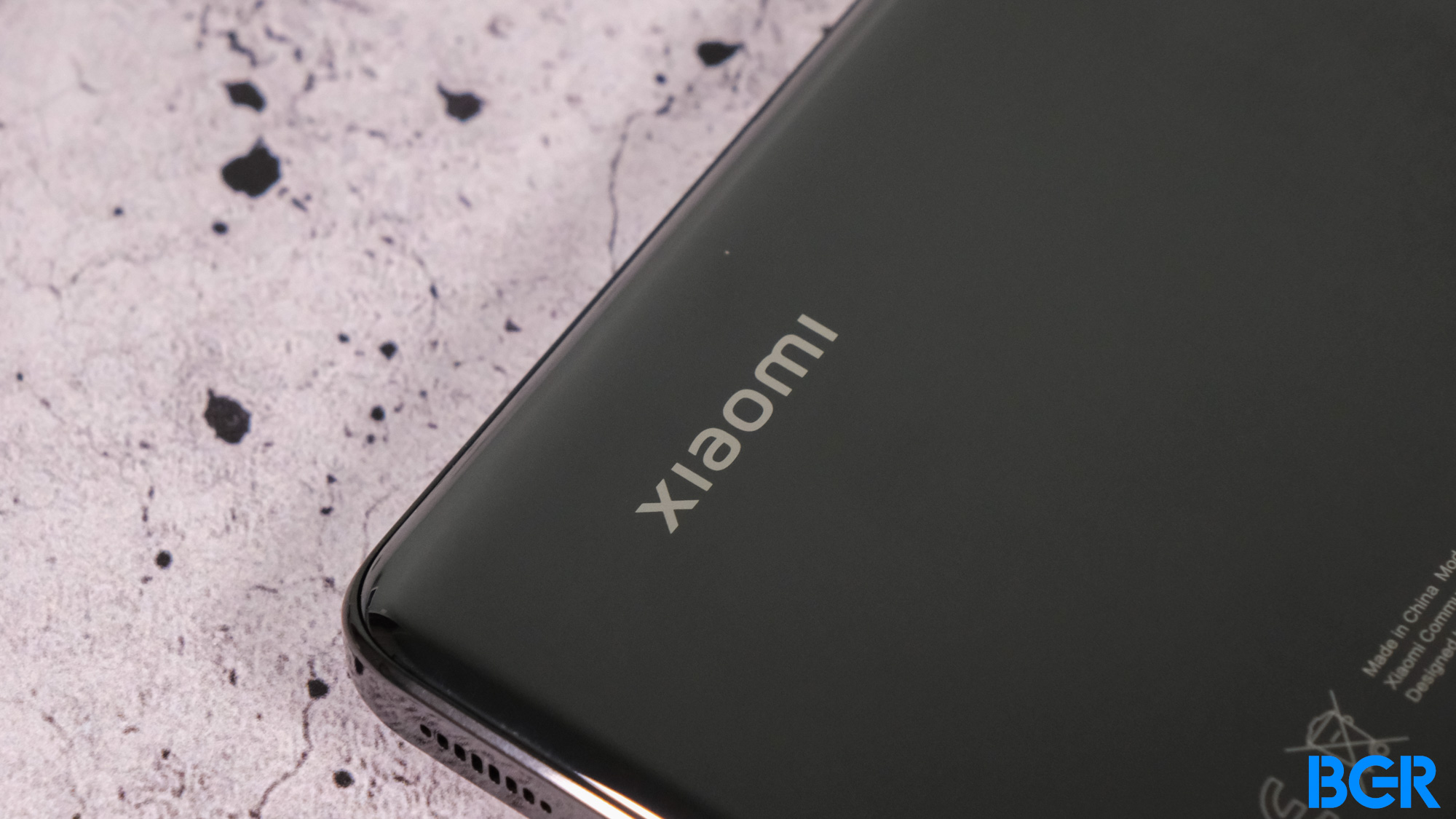 The phone is relatively premium-feeling overall. It's hefty enough to feel solid, while not being overly heavy, and the curves feel nice in the hand. The overall design is fine, but not necessarily the most interesting. That said, it's far from ugly — and most will appreciate the general look. Perhaps my only big issue with it is that it's a little slippery — but anyone who uses a case will have no issues.
Xiaomi 13 Pro display
As mentioned, the Xiaomi 13 Pro features a 6.73-inch AMOLED display with a 1,440p resolution and a variable 120Hz refresh rate. It's among the better displays out there, and it really shows.
Unlike some of the competition (looking at you, Samsung), the Xiaomi 13 Pro supports Dolby Vision. That's on top of HDR10+ support.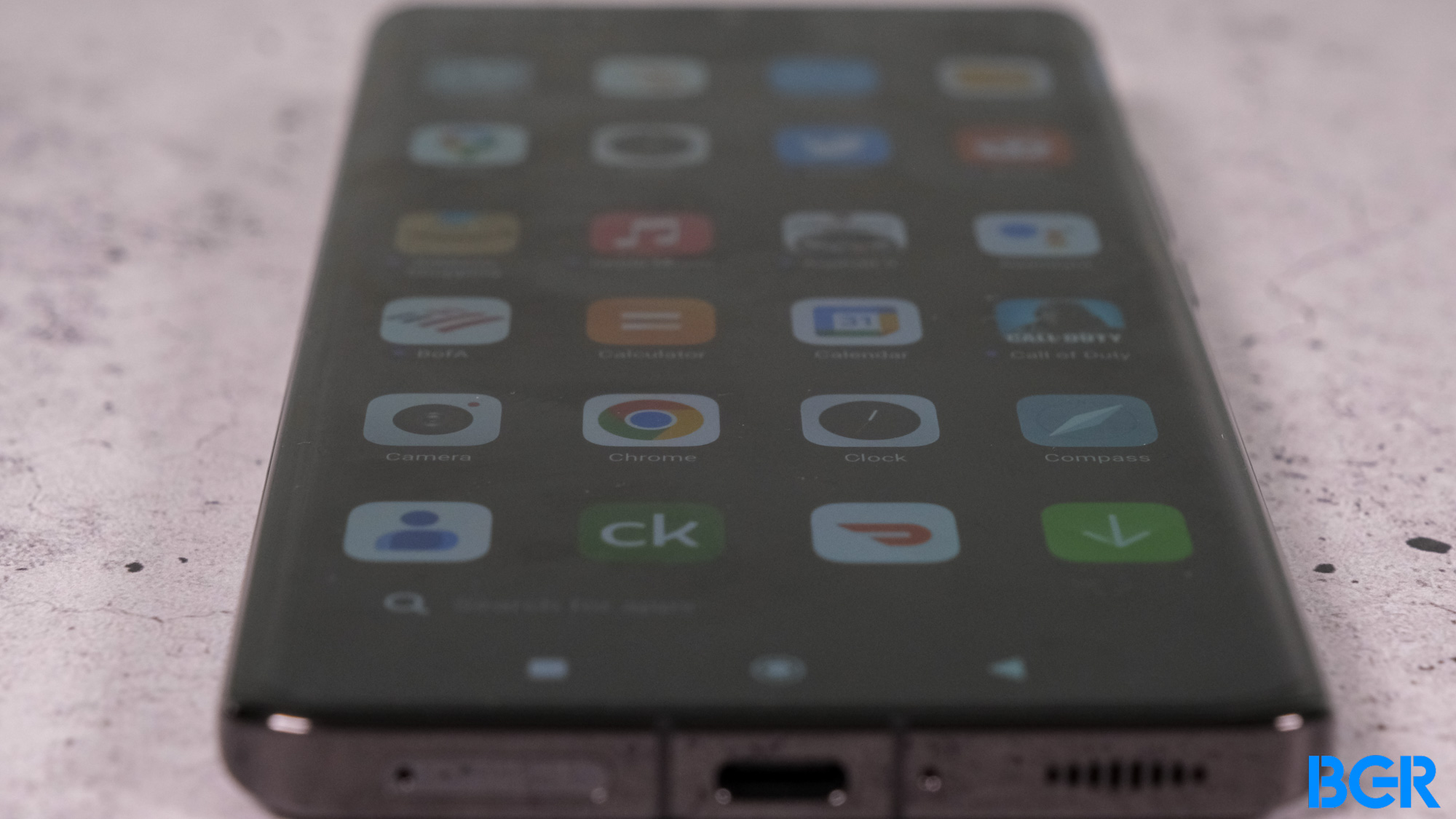 It gets nice and bright too. The phone supports a peak brightness of a hefty 1900 nits, which outperforms even the Samsung Galaxy S23 Ultra. Even outside, the Xiaomi 13 Pro is able to deliver an easy-to-see display experience overall, which is always great to see.
Xiaomi 13 Pro battery and charging
The phone is powered by a 4,820mAh battery, and I found that it was easily able to get me through a full day of heavy use, with around 30-40% of the battery remaining at the end of the day. It wasn't quite as impressive as the Galaxy S23 Ultra, but it still easily delivered an all-day battery life, and most heavy users should have a similar experience.
Unlike the Galaxy S23 Ultra, the Xiaomi 13 Pro supports super-fast charging too. It charges at an impressive 120W, though you'll have to use the included charger to reach those speeds. The device also supports a huge 50W wireless charging, and 10W reverse wireless charging, meaning you can use the device to charge up your earbuds or wearables that support Qi charging.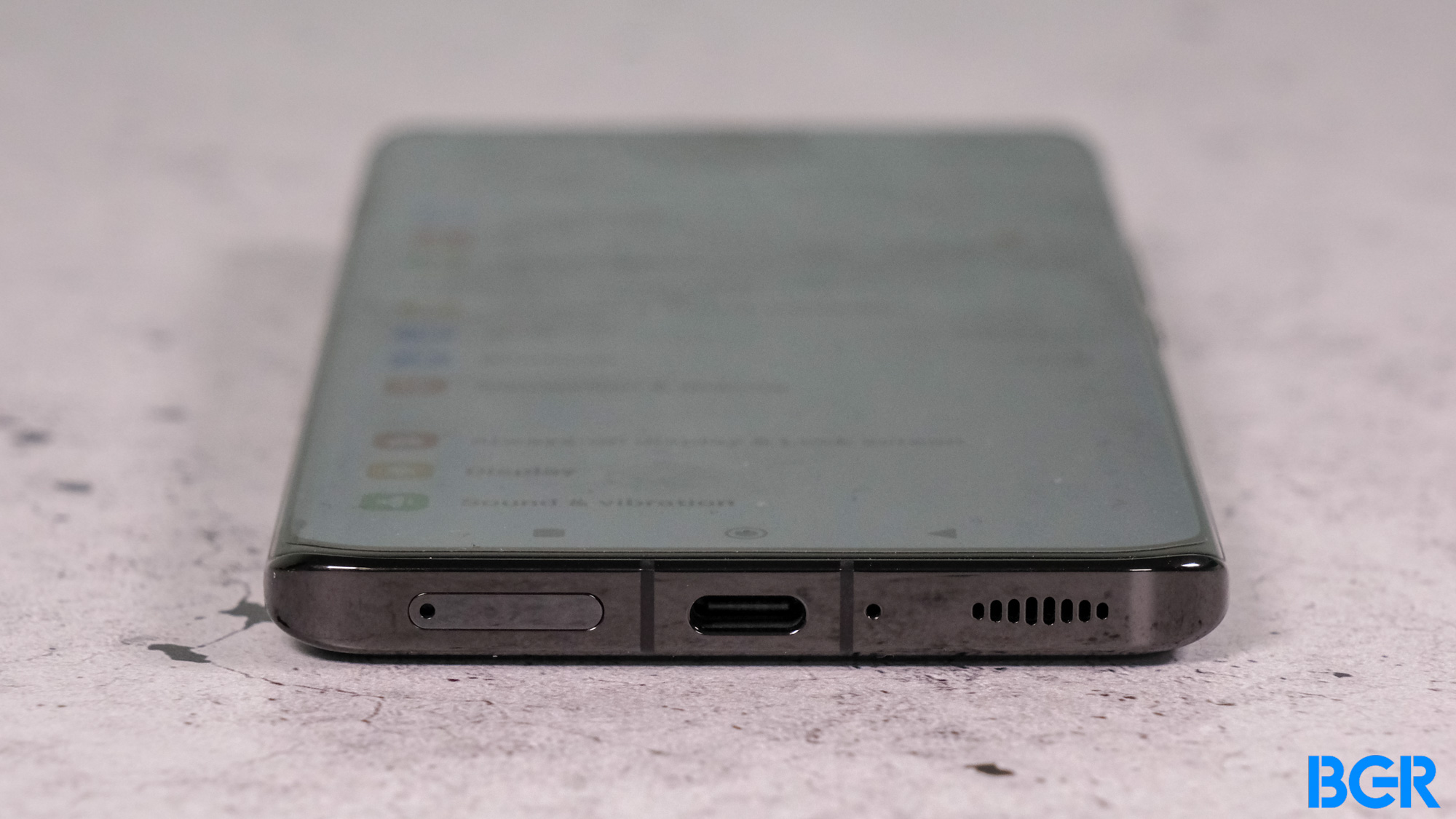 It's a great suite of battery and charging tools, and hard to criticize. It's not the single fastest-charging phone out there — that title goes to the new Realme GT 3. But you can't complain when you do still get a charging speed that should fill up the phone in around 20 minutes.
Xiaomi 13 Pro speakers
The speakers on this phone are excellent too. The phone has stereo speakers, with a top under-display speaker and a bottom-firing speaker. It's down from the quad speakers on the Xiaomi 12 Pro, but the audio is still quite good. You won't get the best bass response out there, but the audio gets plenty loud for the vast majority of situations.
Audio isn't as good as on the Samsung Galaxy S23 Ultra though — which is the device's biggest competition. The Galaxy S23 Ultra offers more depth and more detail.
Xiaomi 13 Pro performance
Under the hood, the Xiaomi 13 Pro comes with a Qualcomm Snapdragon 8 Gen 2 chipset, which is Qualcomm's latest and greatest. That's coupled with either 8GB or 12GB of RAM and up to 512GB of storage.
The Xiaomi 13 Pro is a heavy-hitter when it comes to performance. It easily handles things like heavy multitasking and mobile gaming, and as one of the best-performing Android phones out there, even very heavy users will have no issues.
Benchmark results confirm the excellent day-to-day performance. Here's a look at the benchmark results we achieved.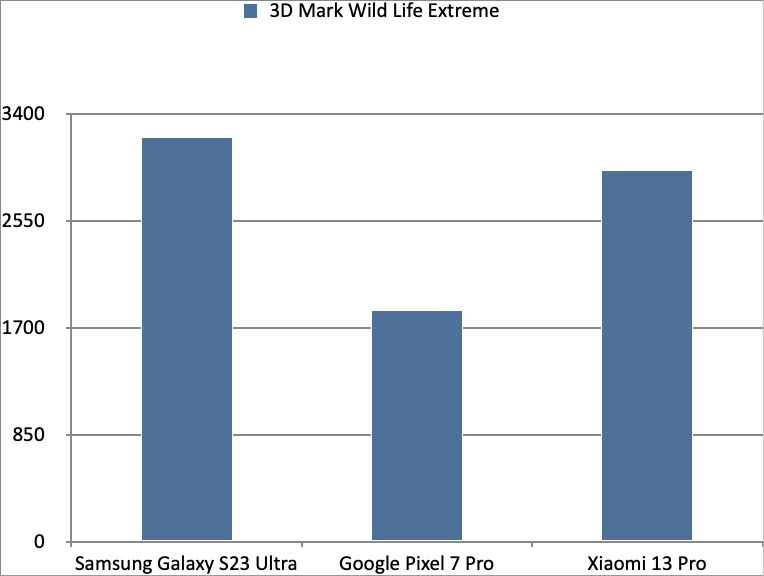 These results are excellent and prove the Xiaomi 13 Pro as a top-tier device in 2023. We would expect very good results from a device with a Snapdragon 8 Gen 2, but it's still nice to see that the phone can go up against the likes of the Galaxy S23 Ultra with ease.
Xiaomi 13 Pro camera
The camera is one of the main events here, as it should be. The Xiaomi 13 Pro comes with a triple rear-facing camera, which is made up of a 50.3-megapixel main camera with optical image stabilization, a 50-megapixel telephoto camera with 3.2x optical zoom, and a 50-megapixel ultrawide camera.
It's the important trifecta of cameras, and normally it would be hard to complain. But in this price range, the Xiaomi 13 Pro goes up against the Samsung Galaxy S23 Ultra, which adds a periscope telephoto camera at 10x optical zoom. That makes the Samsung device that extra bit more versatile.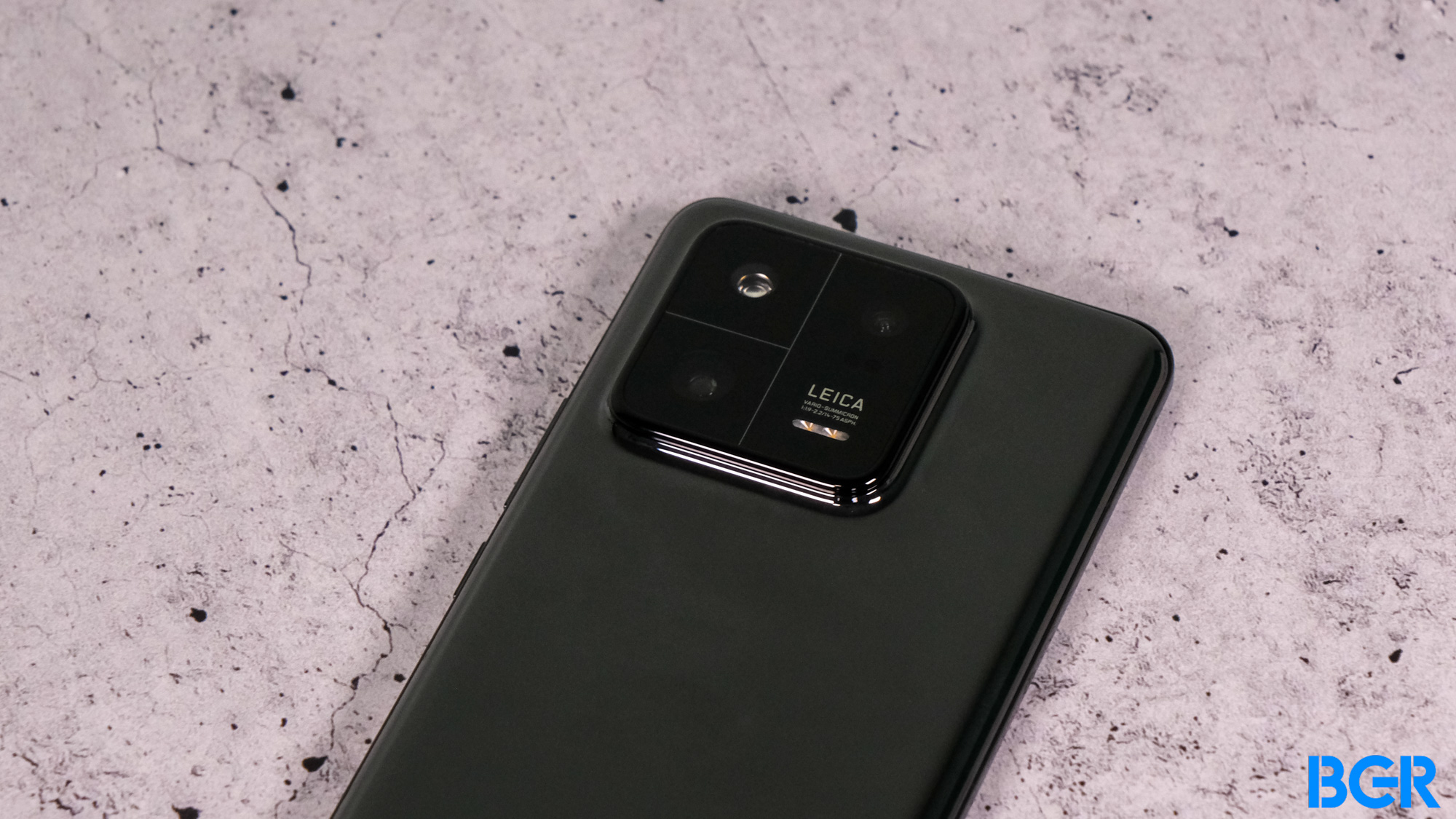 That said, Xiaomi's partnership with Leica is starting to shine. The 1-inch main sensor is particularly impressive, showing off vibrant colors and impressive detail. When you open up the camera, you'll be able to pick from a few different styles, too, which is cool.
In well-lit environments, the 13 Pro is able to deliver detailed images with excellent color reproduction. Images are relatively consistent across lenses, and while at the maximum 70x zoom, you won't get much of an image, at up to around 20x or so, you'll get a decent image.
Even in low light, the camera is able to produce relatively detailed shots. Like any camera, they won't be as impressive as with good lighting, but Xiaomi is showing that it can compete with any competition in this respect.
Xiaomi has included some cool AI camera features too. There's a Google Magic Eraser ripoff that works very well, for example.
Generally, the camera is one of the best things about the Xiaomi 13 Pro, and easily a good reason to buy the phone.
Xiaomi 13 Pro software
The software experience on the Xiaomi 13 Pro isn't bad either. Some people really love Samsung's user interface, but I prefer a more classic Android interface, closer to that on the Pixel. The Xiaomi 13 Pro is kind of in the middle. It's far from stock, but it also doesn't go quite as far as the likes of Samsung when it comes to tweaks to the software in general.
Still, there's a lot to dislike about the software too. Based on Android 14, MIUI 14 can get a little cluttered and a little over-the-top. As someone who uses iOS quite a bit, I appreciate the inclusion of a quick settings shade, but if you're new to the MIUI interface, it may take some getting used to. Also, I don't like square icons.
Generally, while MIUI isn't my favorite take on Android ever, most will get used to it pretty quickly.
Conclusions
The Xiaomi 13 Pro is a serious phone. The device offers an excellent camera, with top-tier performance and more. The hardware is excellent. The software is fine, but the device is a little let down by the software experience. I'm hoping Xiaomi will improve on MIUI over the next few years.
The competition
The biggest competition to the device right now is the Samsung Galaxy S23 Ultra, which in general, is probably the slightly better phone. It has a slightly more versatile camera and a more cohesive software experience (even if that software is more Samsung-specific).
There's also the Pixel 7 Pro, which is much more aggressively priced. It definitely offers better value for money, but you won't get the same level of performance. That said, of the three, I think the Pixel 7 Pro is the best option.
Should I buy the Xiaomi 13 Pro?
Yes. It's an incredible phone with a lot to offer.