Sony's WH-1000 series headphones have long been considered among the best wireless noise-cancelling headphones out there, and for good reason. In recent years, however, they've come up against increasing competition, from the likes of Apple, and from some of the higher-end headphone companies that have started launching their own take on consumer cans. Now, Sony wants to claw back its title as the best in the business — with the latest-generation Sony WH-1000XM5 headphones.
For the first time in a few years, the headphones boast an all-new design, with some sweet new features, and more. Can they continue to compete with Bose, Apple, and the other fresh alternatives? I've been using the Sony WH-1000XM5 headphones to find out.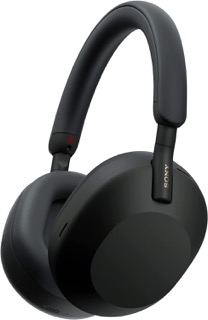 BGR may receive a commission
Pros
Great design
Excellent audio
Great ANC
Well-designed app
Bluetooth multipoint
Sony WH-1000XM5 design
As mentioned, the WH-1000XM5 headphones offer a new design, though it's still made from lightweight plastic. They feel decently strong, though, and the new design certainly helps ensure that the headphones remain fresh-feeling.
The new changes to the headphones include a new friction rod earcup extension system, though unfortunately the headphones no longer fold — making them slightly less portable. I don't find this to be a huge deal though — they still fit fine in my backpack without adding too much weight.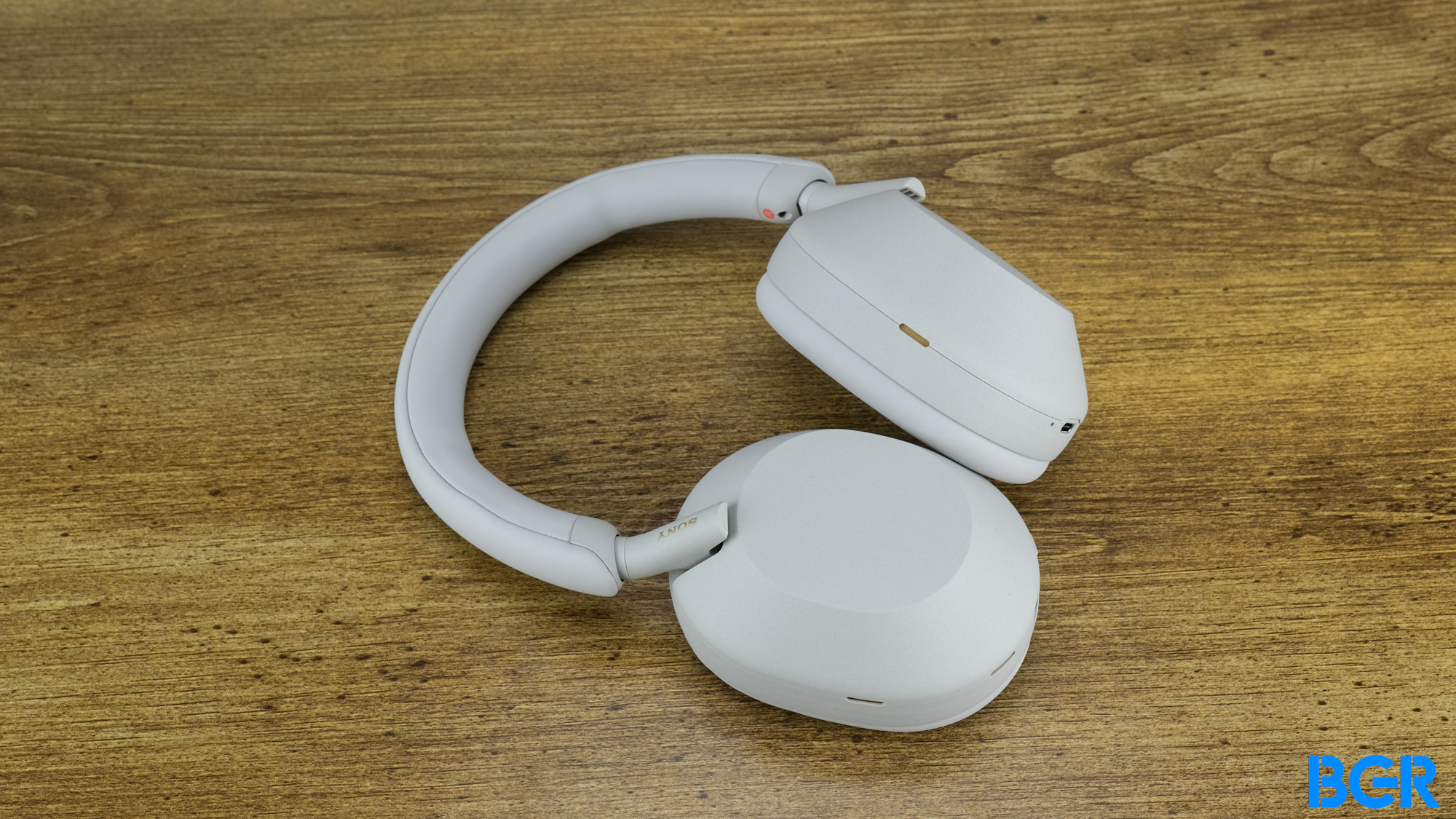 The left earcup has the power button, a 3.5mm headphone jack, and a button to control the noise cancellation and transparency modes. The right earcup has a USB-C port for charging.
The headphones also come with a brand new travel case, which is strong and well-designed. It has space for cables, and it's relatively slim, so it's easy to slot into a bag or purse.
Sony WH-1000XM5 features and battery
Like the previous-generation headphones, the WH-1000XM5 headphones are some of the smartest headphones out there. As you would expect, they offer both ANC and transparency mode. They also work with the Sony Headphones Connect app, which allows you to control noise cancellation and transparency levels, tweak their EQ, and more. The app also allows you to set location-based profiles, which is one of the cooler features of the headphones. For example, you can set them to offer more intense cancellation at your workplace than at home.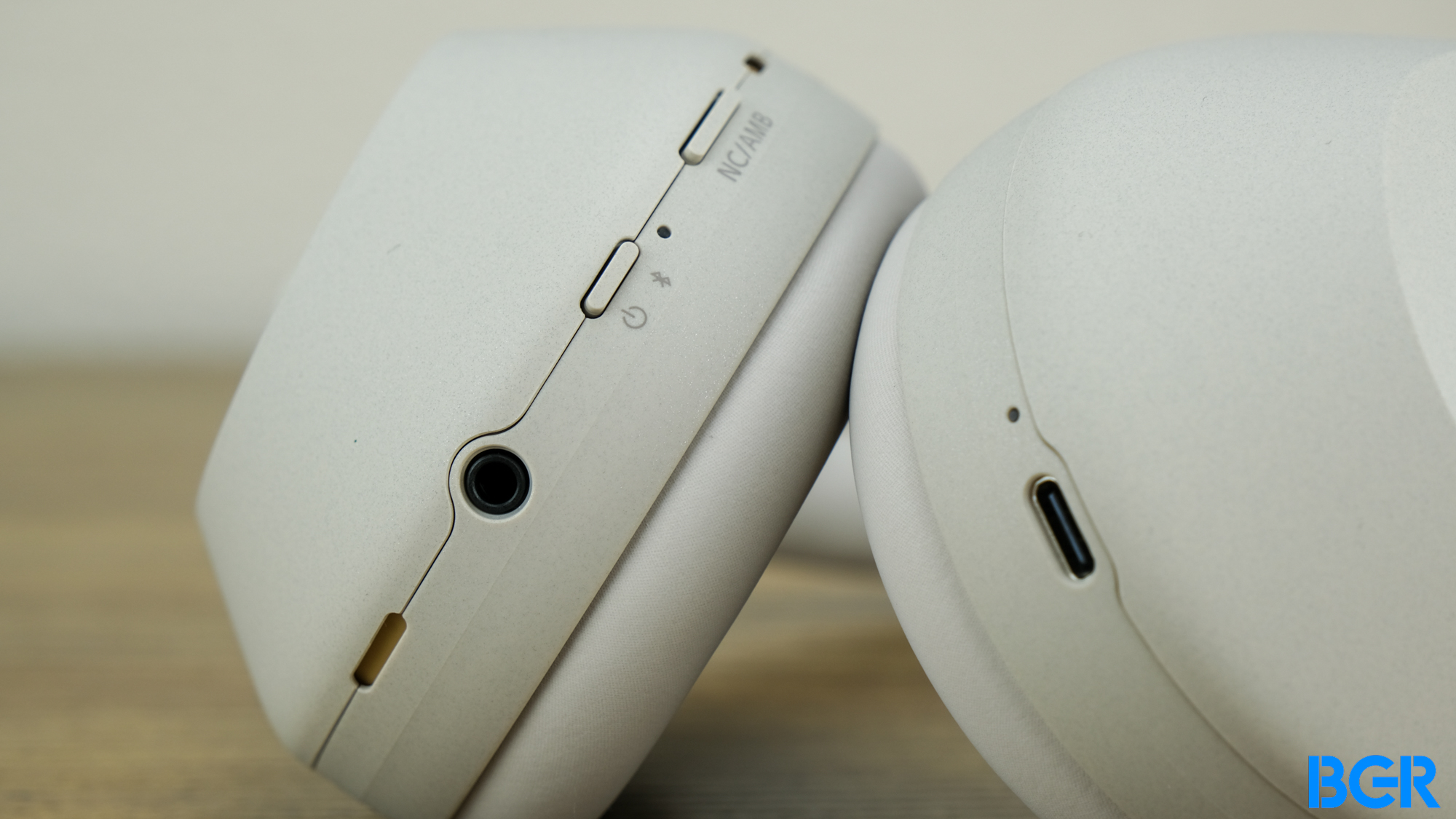 Generally, the Headphones Connect app is one of the better headphone control apps out there.
That said, you won't be able to enjoy the same first-party features as you can from Apple's AirPods Max. They don't support things like automatic pairing with all of your devices, though you can still enjoy dual Bluetooth connection, so you can connect to two devices at a time.
Finally, battery life. The headphones offer an impressive 30 hours of battery with ANC on, and 40 hours without. That's very good, and should be able to get you through some fairly long trips without a recharge, or a few weeks of normal use.
Sony WH-1000XM5 comfort
The previous-generation WH-1000XM4 headphones were some of the most comfortable headphones out there. Thankfully, these continue that legacy, with a lightweight and easy-to-wear build that makes extended use a breeze. There's plenty of padding in the earcups and under the headband, and the lightweight build puts them ahead of the likes of the AirPods Max when it comes to comfort.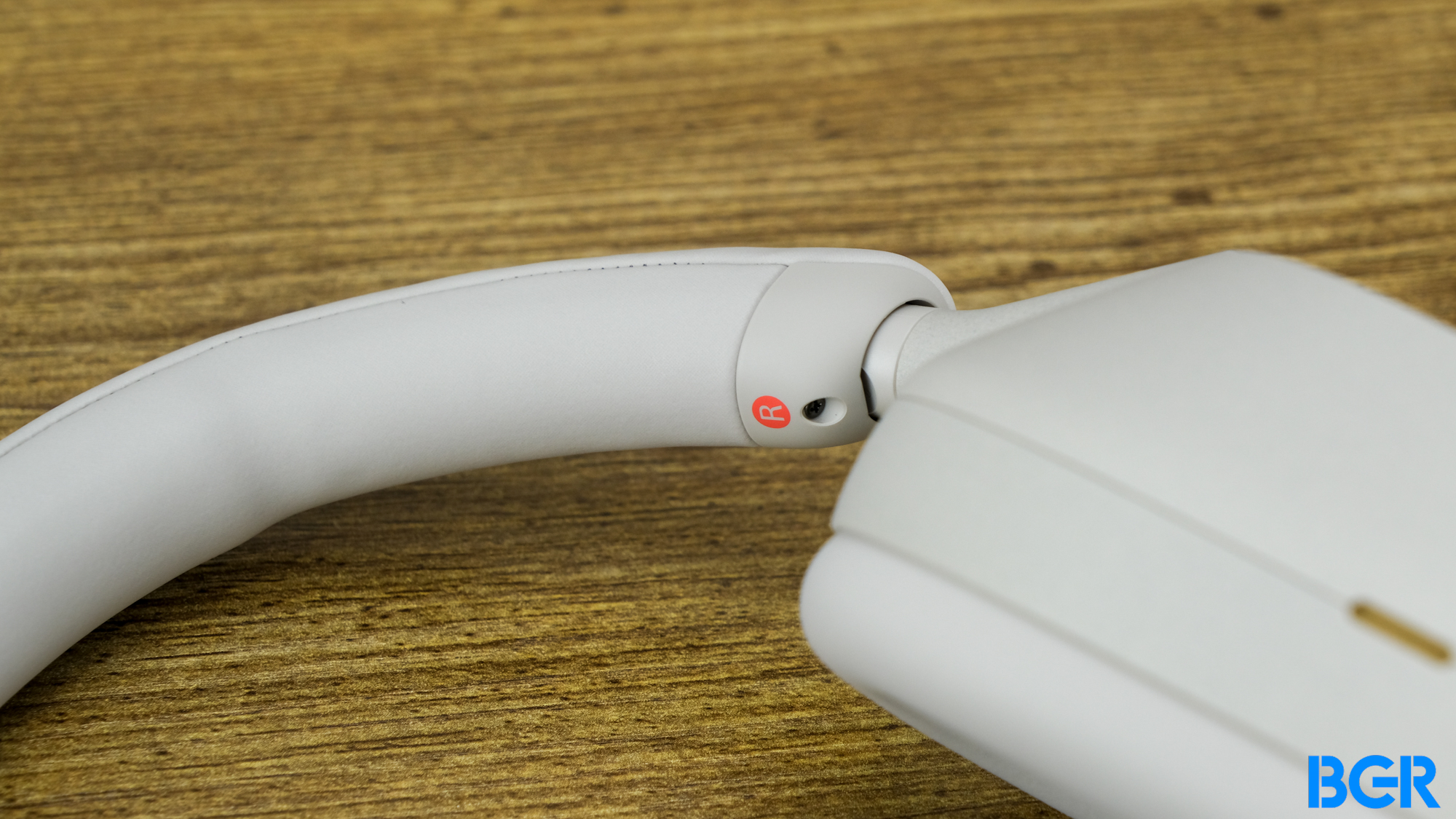 I was able to wear the headphones for hours on end without experiencing any discomfort. The fit is also great — and, thanks to the new friction rod earcup extension system, you can easily adjust the fit of the headphones.
Sony WH-1000XM5 sound
The WH-1000XM5 headphones offer smaller drivers than the XM4s, but thankfully that doesn't seem to negatively affect sound. The bass is impactful, thanks to the powerful drivers, while mids are well-tuned and balanced. Highs are crisp and clear too, however not quite as sharp as some of the more expensive audiophile headphones
The headphones support EQ tuning through the Sony Headphones Connect app, so you can tweak their sound to your liking. In other words, if you don't like the sound out of the box, you can still tweak them to something you do like.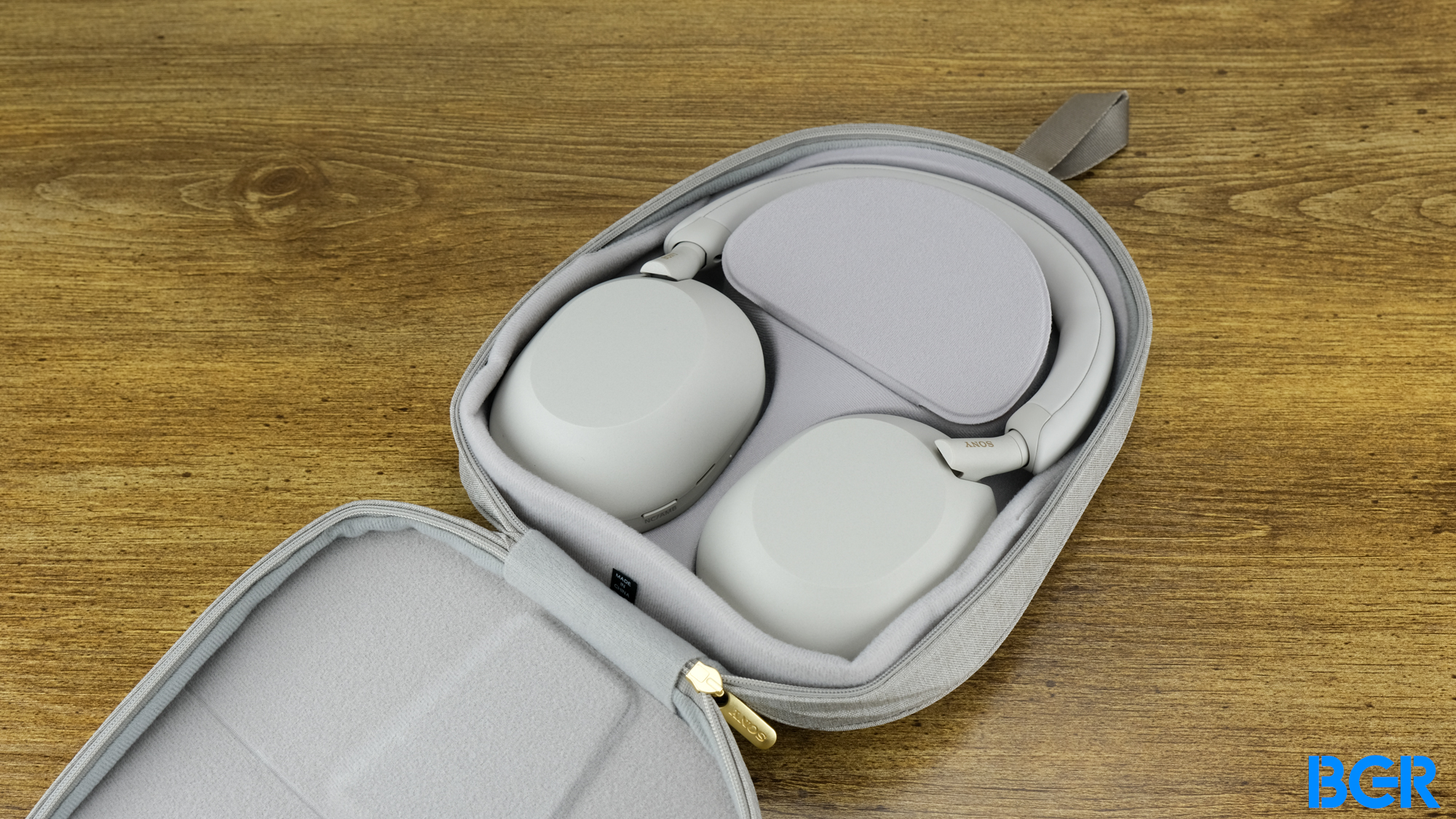 ANC performance is also very good. They're not the best out there — the AirPods Max are slightly better when it comes to ANC — but they do a very good job of blocking out intrusive noises. The same goes for transparency mode — not as good as AirPods, but still very good.
Conclusions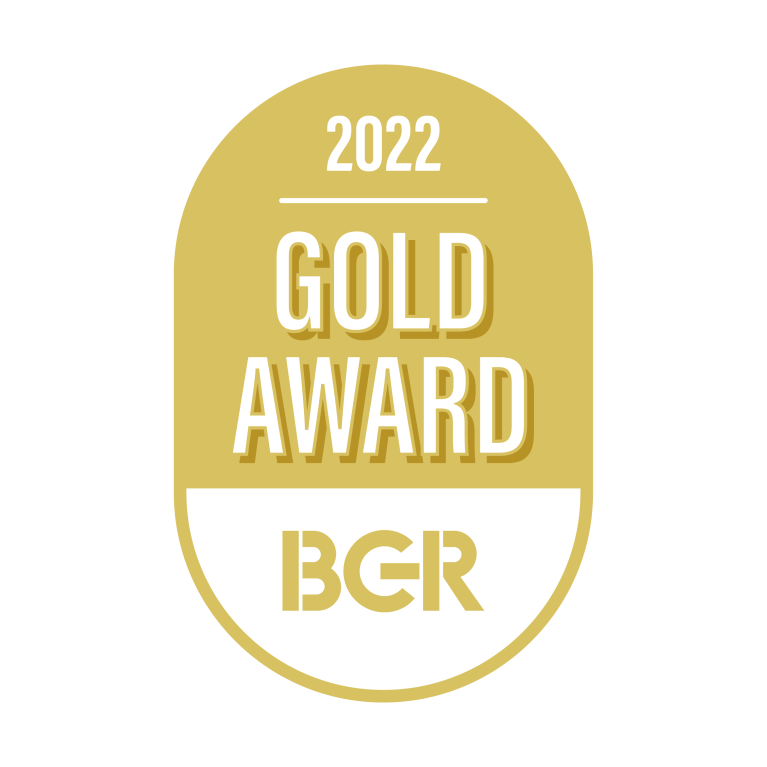 The Sony WH-1000XM5 headphones are an all-round great package. They boast an improved design, a well-featured app, good battery life, and great sound. They don't quite match the AirPods Max for first-party features, but for those looking for a more balanced experience, or something that works with more than just Apple products, they're the best option right now.
The competition
Perhaps the biggest competition right now comes from Apple and Bose. Ultimately, I find these to be a more well-rounded product than either of them. I still tend to reach for the AirPods Max, simply because I like the ability to switch between my iPhone, iPad, MacBook, and Apple TV, without having to pair and re-pair all the time. But the WH-1000XM5 headphones are more comfortable, offer on-par sound, and are cheaper, than Apple's offering.
It's also worth considering the WH-1000XM4 headphones, which are still available. If you can find them at a good price, they may be worth getting instead — especially considering the fact that they sound just as good and are cheaper.
Should I buy the Sony WH-1000XM5 headphones?
Yes. They're among the best wireless noise-cancelling headphones out there right now.