The Samsung Galaxy S23 Ultra offers a stunning design, top-tier performance, and an awesome camera. Is it worth the money?
Pros
Stunning design
Excellent camera
Great battery life
Very powerful
Beautiful display
To many consumers, there is no battle between the iPhone and Android. Sure, that's perhaps based on ignorance — but the battle that many think about in the phone world is between the iPhone and Samsung. Nearly 13 years after the launch of the original Samsung Galaxy S device, Samsung still, to many, represents the best of what Android can offer, and the charge is currently being lead by the Samsung Galaxy S23 Ultra.
The Galaxy S23 Ultra perhaps isn't the most exciting Galaxy release of the past 13 years. After the death of the note series and subsequent adoption of its design in the Galaxy S22 Ultra, the S23 Ultra is much more iterative.
But the iterative releases are often the best. They take the new designs and experimental new features from the last generation, and refine on them, making for a better overall experience, despite not often offering anything radically groundbreaking.
That's where the Samsung Galaxy S23 Ultra lies. It's a better device in almost every way than the Galaxy S22 Ultra, but if you put them side-by-side, you'll notice immediate similarities. You don't need to upgrade from the Galaxy S22 Ultra — but if you have anything older, or lower-end, it makes a seriously compelling case for itself.
Samsung Galaxy S23 Ultra specs
Here's a look at the specs on offer by the Galaxy S23 Ultra.
Dimensions
6.43 x 3.07 x 0.35 inches
IP rating
IP68
Display resolution
1440 x 3088
Display size
6.8 inches
Display type
Dynamic AMOLED
Display refresh rate
120Hz
Display brightness
1750 nits peak
Chipset
Qualcomm Snapdragon 8 Gen 2
Memory
8GB, 12GB
Storage
256GB, 512GB, 1TB
Rear cameras
Wide: 200MP, f/1.7
Telephoto: 10MP, f/2.4, 3x optical zoom
Periscope telephoto: 10MP, f/4.9, 10x optical zoom
Ultrawide: 12MP, f/2.2, 120-degrees
Video
8K at 30fps, 4K at 60fps, 1080p at 240fps, 1080p at 960fps
Front camera
12MP, f/2.2
Ports
USB-C 3.2
Battery size
5,000mAh
Charging
45W wired, 15W wireless, 4.5W reverse wireless
Connectivity
Bluetooth 5.3, Wi-Fi 6E, 5G
Colors
Green, Phantom Black, Lavender, Cream
Price
$1,199.99+
Samsung Galaxy S23 Ultra design
Perhaps the first thing to notice about the Samsung Galaxy S23 Ultra is its design, and it's far from a bad-looking device. Sure, it looks very similar to the previous-generation Galaxy S22 Ultra, but that's not necessarily a bad thing. It's generally a handsome-looking device that most should like.
On the bottom, there's a USB-C port flanked by a slot for the S Pen, which has become a staple feature on the Ultra model after the death of the Note series. The power button and volume rocker are on the right side.
On the back, you'll find a quad camera array, which is the same as the Galaxy S22 Ultra. We'll get into the details of those cameras later on.
There are still some differences with the Galaxy S23 Ultra compared to the last-generation model — for one, the camera module is larger, but still not too big. It's also slightly less curved at the edges, which I personally prefer. In terms of colors, you have three options of Phantom Black, Cream, Green, and Lavender. There are other options if you order straight from Samsung, including Graphite, Lime, Light Blue, and Red.
The Galaxy S23 Ultra, as mentioned, comes with an S Pen. I'm not the biggest stylus fan, and didn't use it all that much — but it was very well-built and offered a range of features. If you like styluses, you'll like the S Pen with the Galaxy S23 Ultra.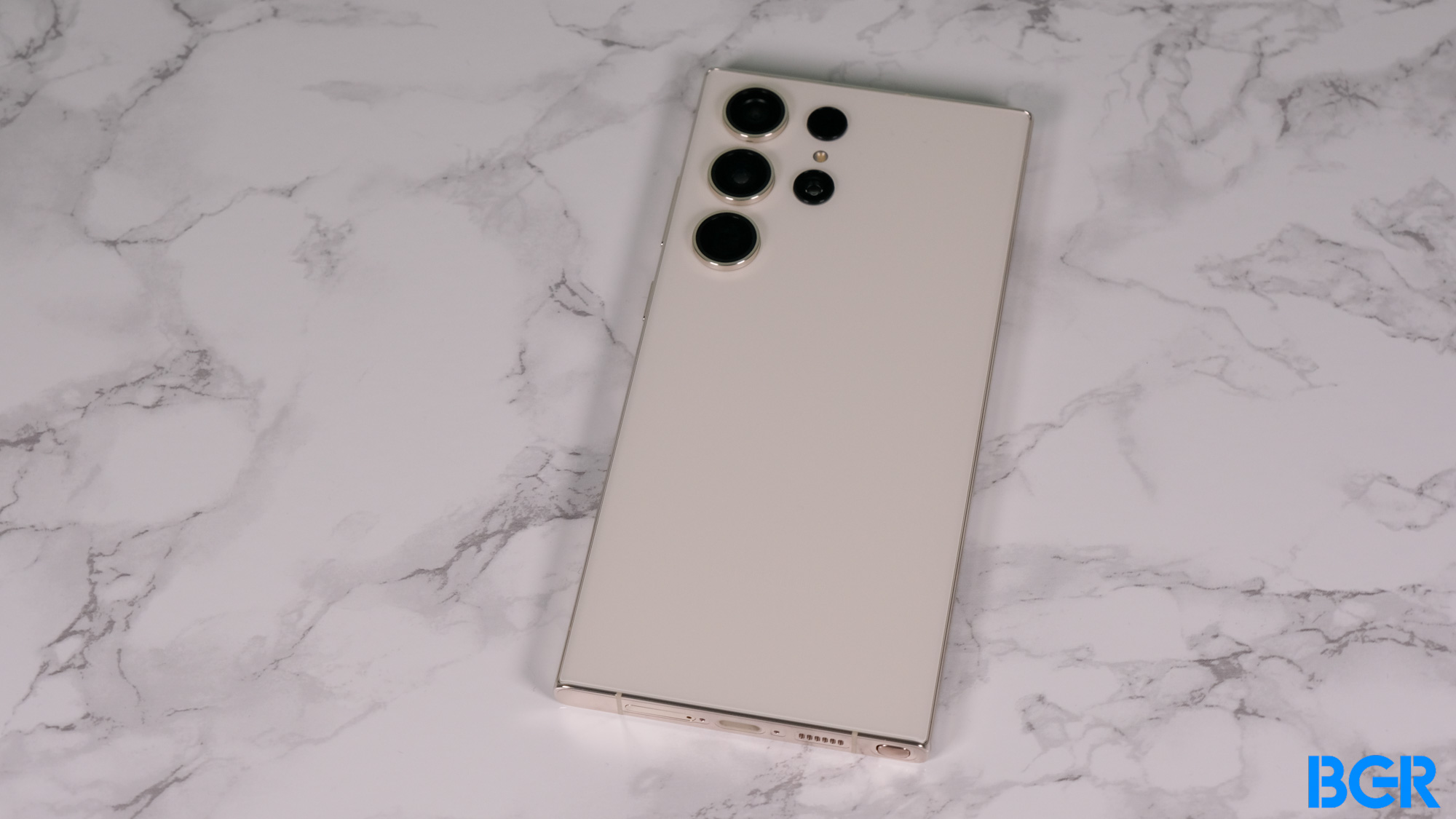 The phone feels very premium in the hand. The device is clearly well-built, and the metal rails and glass front and back feel as such. You would expect that from a device in this price range, but it's still important to keep in mind.
Samsung Galaxy S23 Ultra display
The Samsung Galaxy S23 Ultra is built to offer an incredible display experience, and it succeeds in doing so. The device boasts a 6.8-inch AMOLED display with a 1,440p resolution and a refresh rate that can cycle between 1Hz and 120Hz.
It's a stunning screen. Text is crisp, and colors are bright and vibrant. It supports HDR10+, though in classic Samsung fashion there's no Dolby Vision support.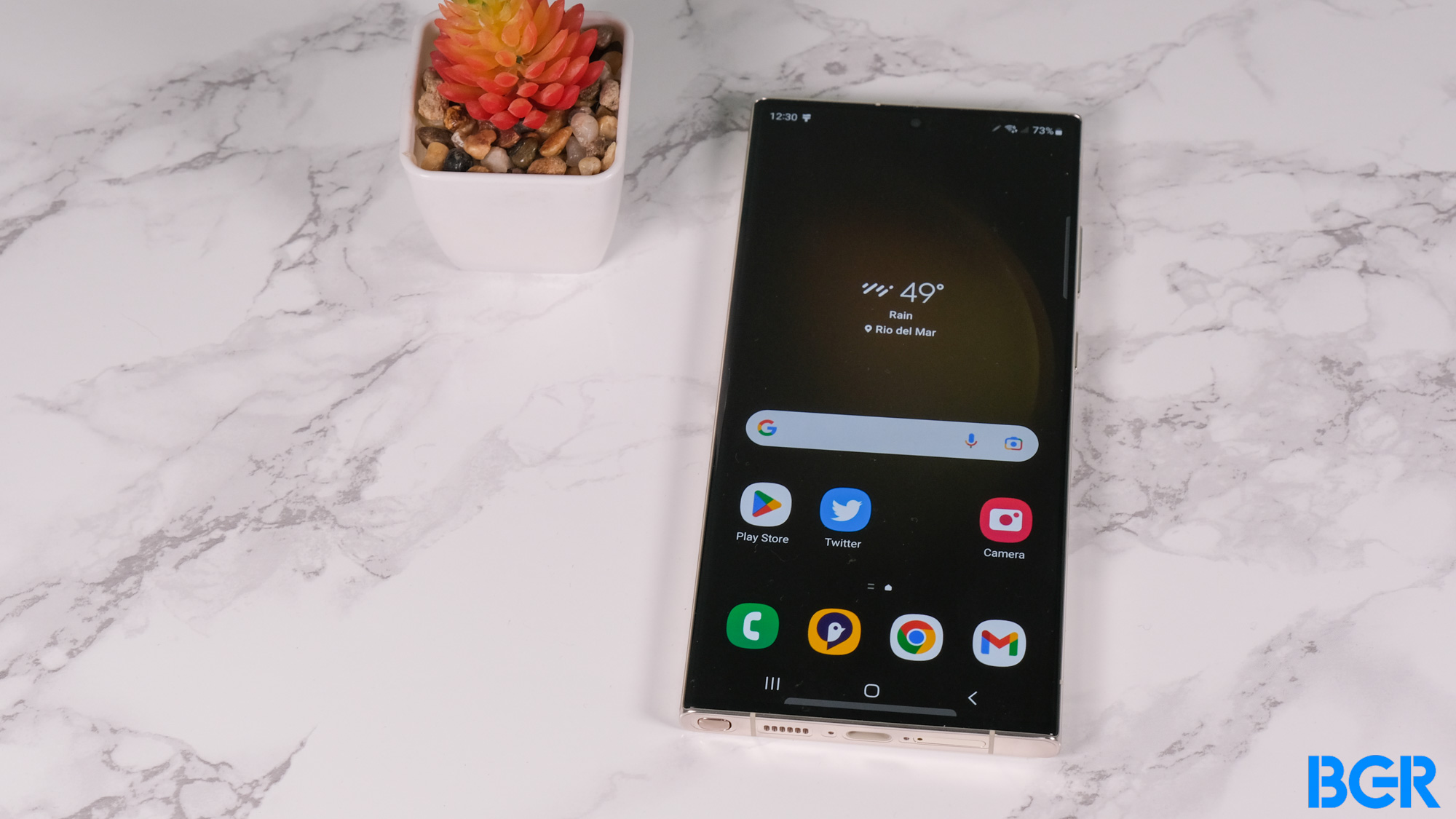 One of the best things about the screen is how smooth it is, without significantly draining battery. That's because of the variable refresh rate. It's tech that's been available for a while and certainly not unique to this phone, but I still really appreciate it.
Samsung rates the screen as offering up to a 1,750-nit peak brightness, which is pretty high, though the same as the S22 Ultra. It's easily bright enough for all use-cases, including use in direct sunlight outside.
Samsung Galaxy S23 Ultra speakers
The Galaxy S23 Ultra comes with stereo speakers, including one under-screen speaker at the top, and one bottom-firing speaker at the bottom.
The speaker quality here is excellent, for a phone. While it doesn't necessarily compete with a pair of decent headphones, the speakers provided a relatively rich and deep listening experience that make them perfect for use casual use, like watching videos in bed or scrolling TikTok.
The speakers get pretty loud too. You might find some distortion occurs at higher volumes, but it's not unreasonable, and still far better than the majority of other phone speakers.
Samsung Galaxy S23 Ultra performance
The Samsung Galaxy S23 Ultra comes with a Qualcomm Snapdragon 8 Gen 2 chipset, coupled with either 8GB or 12GB of RAM and up to a hefty 1TB of storage. It's a small step up from the last generation, but means that the device is keeping up with the best of the best performance in Android phones.
In day to day use, the phone easily keeps up with everything you can throw at it. It loads apps and games quickly, handles multitasking with ease, and so on. Mobile gamers will find that it's easily able to keep up with high frame rates, even for more demanding games like Call of Duty: Mobile.
Benchmark results confirmed the excellent performance. Here's a look at the benchmark results we achieved with the phone.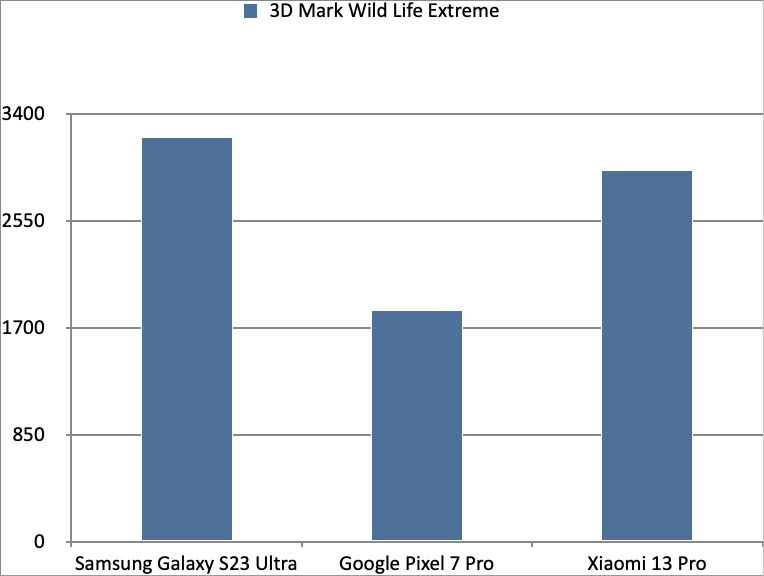 These are excellent scores, and about in line with what we would expect from a phone equipped with a Snapdragon 8 Gen 2. They should a phone that's at the top of the game when it comes to an Android phone — though not quite on-par with the iPhones of the world.
Samsung Galaxy S23 Ultra battery and charging
Powering it all is a 5,000mAh battery, which supports wired charging up to 45W and wireless charging up to 15W.
The battery is large enough for the majority of users. I found that it was pretty easily able to get me through a full day of relatively heavy use, and most of the way into a second day. Even heavier users should find the battery life to be excellent, and if you're good at charging at night, you'll never have issues with the battery life.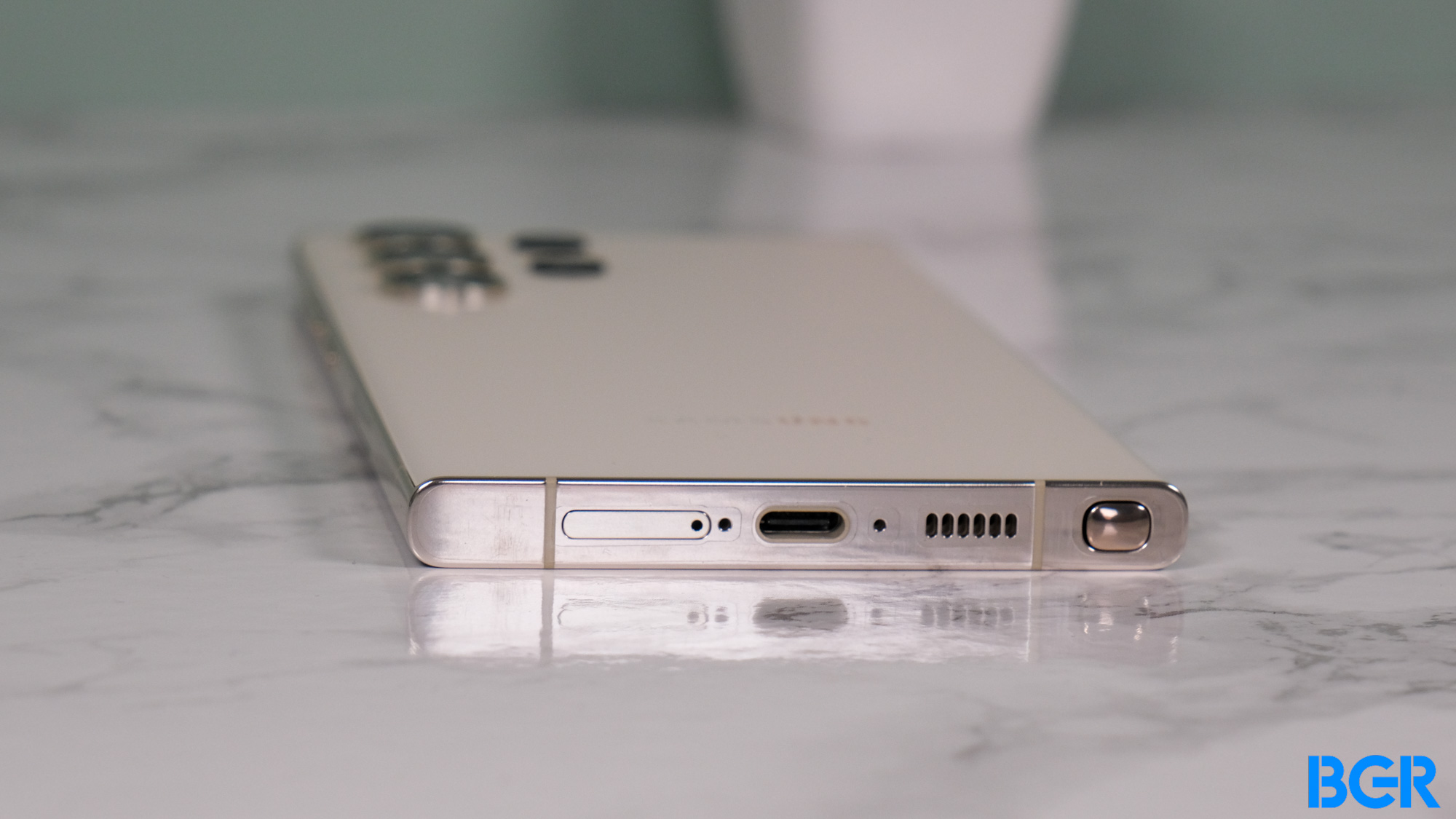 The only issue I have is that while 45W wired charging is fine, it's not even close to some of the competition from China. At MWC 2023, Realme announced a phone that can charge at a whopping 240W. I don't expect Samsung to compete in pushing fast-charging forward, but it would be nice if its devices could charge a little faster, for those times when you're in a pinch. Thankfully, the device does support wireless charging, and it does so at 15W, which is perfectly fine. It also supports reverse wireless charging at 4.5W, which can be used to charge earbuds and wearables that support Qi.
Still, as mentioned, the battery life on the phone is excellent.
Samsung Galaxy S23 Ultra camera
The camera is perhaps where the biggest upgrades to the device lie. The phone boasts a monster five cameras, with the main camera sitting in at a hefty 200 megapixels. That camera supports a range of tech, like optical image stabilization, laser autofocus, and more.
The main camera is supported by a range of others. There's a 10-megapixel periscope telephoto camera that offers an impressive 10x optical zoom, along with a 10-megapixel standard telephoto camera with 3x optical zoom, and a 12-megapixel ultrawide camera.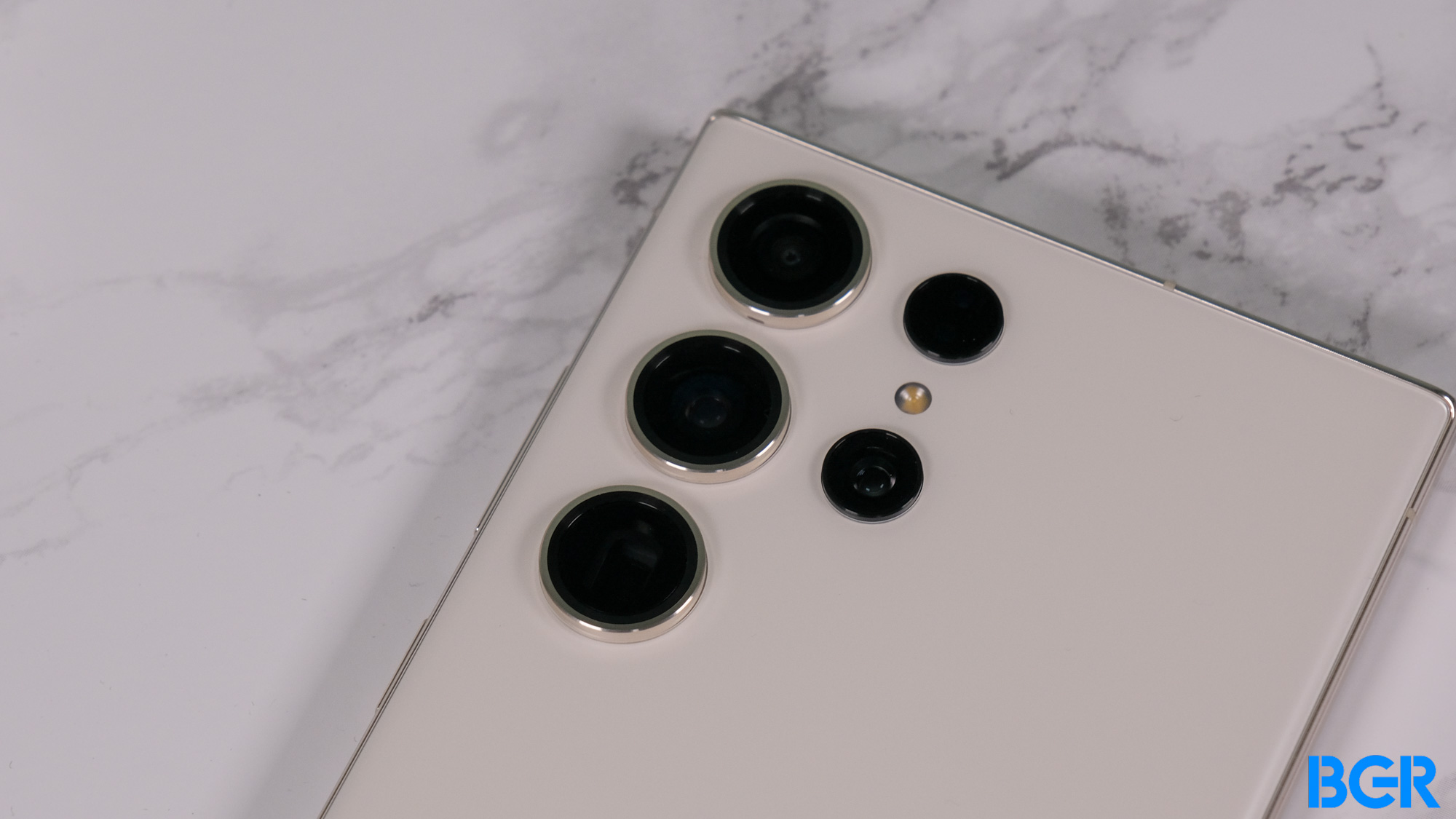 It's really an excellent selection of cameras, and makes for an incredibly versatile camera experience overall.
So what about image quality? Again, it's excellent. In well-lit environments, the Galaxy S23 Ultra was able to capture stunningly detailed images. Images were pretty consistent across lenses, and colors were generally vibrant too, which is always nice.
Like many other top-tier phones right now, the Galaxy S23 Ultra uses pixel binning tech to produce brighter, more detailed images. It works very well here. The camera wasn't quite as contrast-heavy as the Pixel or iPhone 14 Pro, for example, but that's not necessarily a bad things, it's just a choice that Samsung has made for its phone.
One of the best things about the phone is how versatile it is, and indeed any images captured between 0.6x and 10x look just as detailed as each other. As you start to zoom in more, detail does degrade — and at 100x, don't expect anything approaching a realistic experience. But the fact that you still have the option to take photos at 100x zoom is pretty incredible. Again, you probably won't use it all that much, considering the quality of images produced, but you might zoom up to around 20x or so, and still get high-quality, detailed images.
In low light, the camera is still able to capture some pretty impressive images, and better than the vast majority of smartphones out there. The phone wasn't as consistent in low light than in brighter environments, but that's pretty common. Hopefully phone makers will continue to improve on this.
The front-facing camera is quite good too. The camera sits in at 12 megapixels, and was able to produce colorful and detailed images, again.
Samsung Galaxy S23 Ultra software
The Galaxy S23 Ultra ships with Samsung's One UI 5.1, which is based on Android 13. If you've used a Samsung phone in recent memory, you'll be fine with the software experience here — but if you're new to it, it may take some getting used to.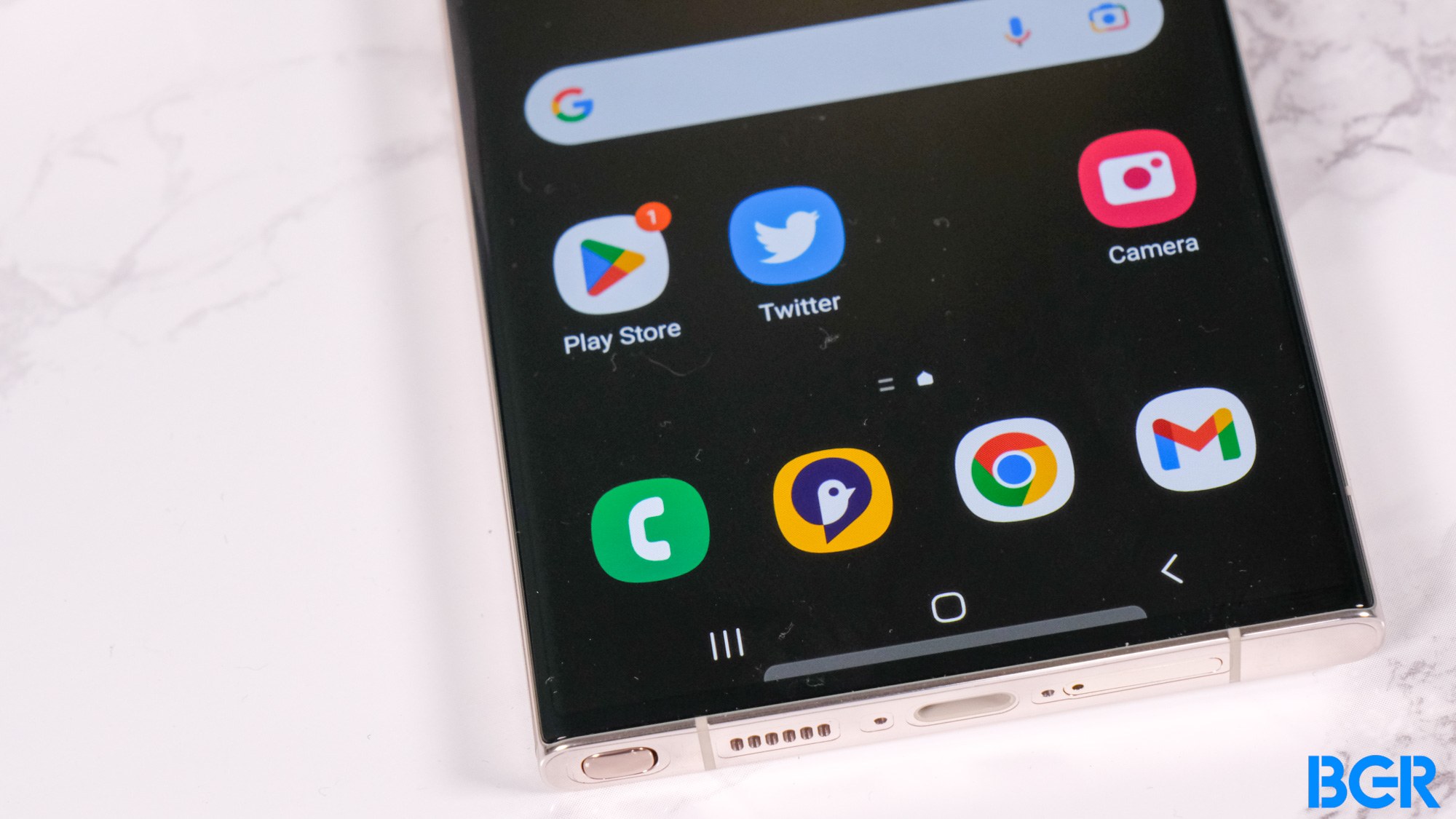 One UI has never been my favorite, but to be fair it's far from the old day of TouchWiz bloat. The operating system feels relatively modern and stylish, and while there are still some apps and features that probably aren't necessary, most of the experience feels intuitive. You will have to get used to using Samsung apps instead of Google's (or have two Clock apps, for example), but again, these apps are well-designed and work well.
Overall, One UI is well-designed and easy to navigate. Many really like Samsung's software approach, and it remains mostly the same here, if not slightly more refined compared to previous generations.
Conclusions
The Samsung Galaxy S23 Ultra is a phone with no compromises — except, perhaps, price. The device is extremely powerful, offers an excellent camera, a long-lasting battery, and a sleek and stylish design. If you're looking for the best Android phone right now, this device is a real contender.
The competition
There isn't a ton of competition to the Galaxy S23 Ultra in the U.S., unfortunately. There is outside of the U.S. — like the newly-announced Honor Magic5 Pro, which squarely targets the Galaxy device in the camera and display department. In the U.S., perhaps the best competition comes from the Google Pixel 7 Pro, though that's maybe a little unfair considering they're in very different price ranges. If you want value for money, the Pixel 7 Pro is a better option, but for raw performance and overall quality, the Galaxy S23 Ultra is a stellar phone.
Should I buy the Samsung Galaxy S23 Ultra?
Yes. It's the best ultra-premium Android phone right now.