Nothing made a big splash a few years ago with the launch of the original Nothing Ear (1) earbuds, which served as the first of the new Carl Pei company's products, preceding the launch of the Nothing Phone (1). Those original earbuds were hailed for their slick new design and excellent features for the money. Now, Nothing is back with a follow-up — aptly titled the Nothing Ear (2) earbuds.
The earbuds aren't necessarily radically different than the original buds, but they do build on the originals in a few important, meaningful ways. And, they keep the same (revised) price of $150, from the original buds — meaning that they undercut the likes of the AirPods Pro and the Sony WF-1000XM4 earbuds.
So how much better are the Nothing Ear (2) earbuds? I've been using them for a while now to find out.
BGR may receive a commission
Pros
Slick design
Great audio quality
Comfortable fit
Wireless charging
App works well
Cons
Physical controls can be slightly confusing
Nothing Ear (2) design
The original Nothing Ear (1) earbuds were hailed for their great design, and it made sense. The earbuds managed to offer a stem design similar to the AirPods Pro, while still looking unique and interesting, thanks to the see-through plastic look and the black, white, and red color scheme.
The Nothing Ear (2) earbuds are exactly as unique as the original buds — because they look pretty much the same. To be clear, that's not necessarily a bad thing. As I said, the original buds looked great. But if you're looking for a redesign, you won't get it here.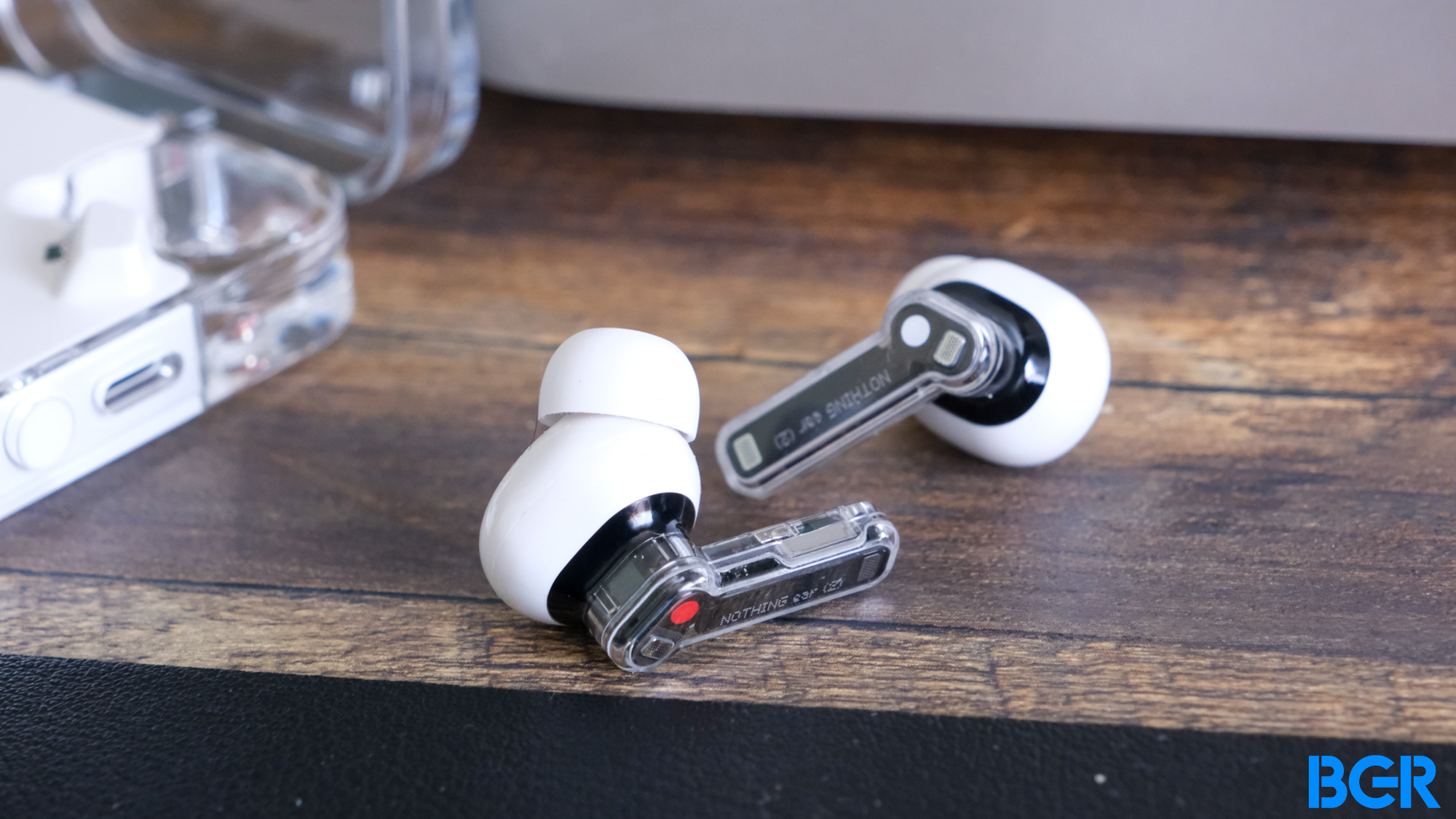 As mentioned, the earbuds have a stem design with a body that's built to create a seal in your ears, and silicone ear tips. The main bud is white, with see-through black stems and a red dot on the right earbud, and a white dot on the left. It's a trendy look and one that I quite like.
Nothing Ear (2) controls
Along with the stem, the Nothing Ear (2) earbuds also take another design feature from the AirPods — squeeze controls. I'm glad these are still here. They're by far the best way to control wireless earbuds, as they avoid finicky touch controls, or buttons that force you to push the earbuds deeper into your ears. The controls are easy to use, and you'll get audio responses when you use them, which is always helpful.
By default, you can't control volume with the squeeze controls, however you can add that functionality in the app. I recommend doing so, as being able to control volume can be very helpful.
Nothing Ear (2) charging case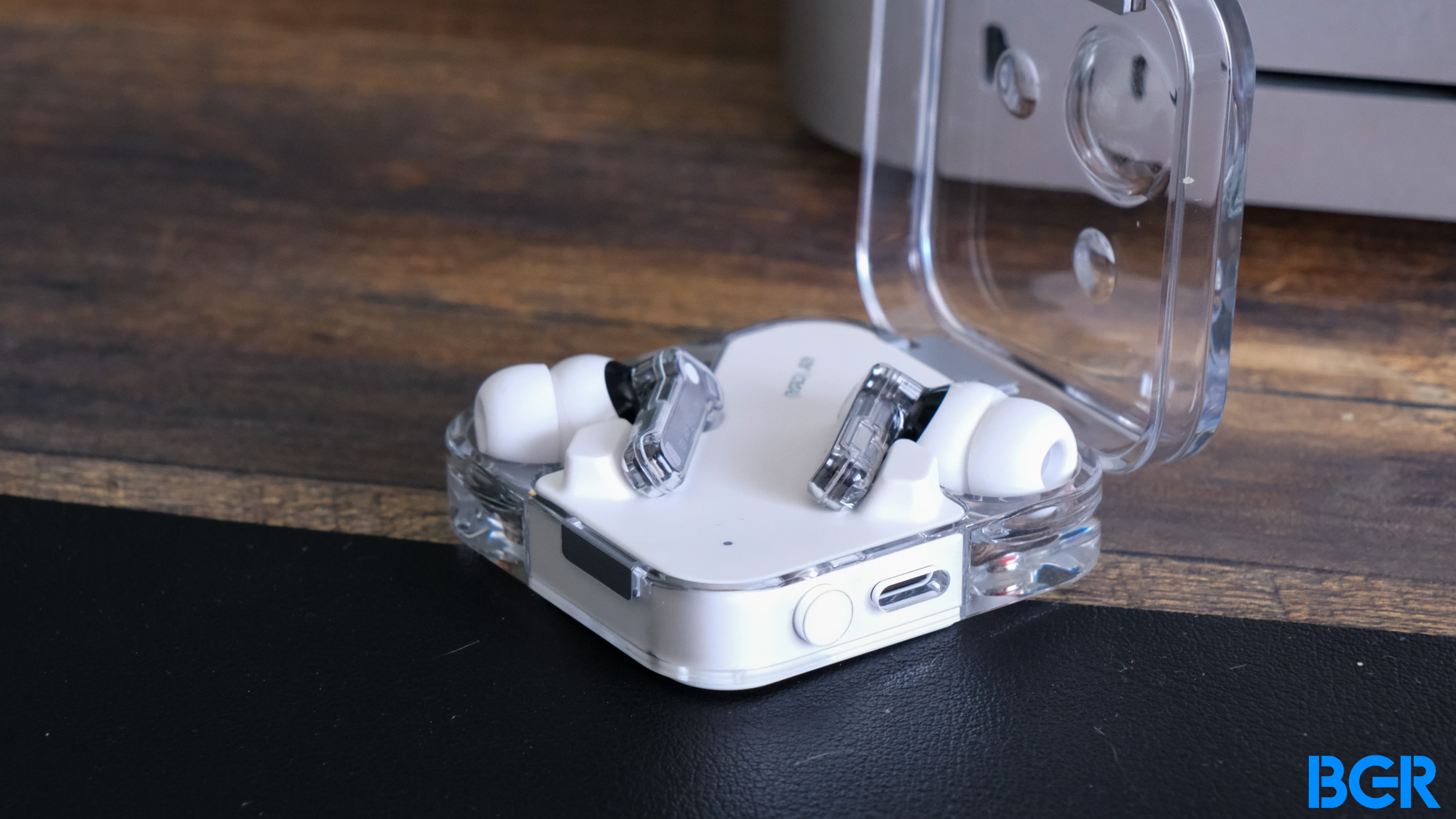 The charging case is pretty sleek and stylish too. It also offers a see-through plastic look, with a clamshell lid, and a dimple on the lid to make the earbuds easier to hold. On the side of the charging case can be found a USB-C port for charging, and a pairing button.
The only major downside to the case is that it's a little bigger than the better portable cases. I really appreciate the small and slim charging case that you'll get with the AirPods and AirPods Pro, and the Nothing Ear (2) case is quite a bit bigger than those. Hopefully, the Ear (3) earbuds will offer a similarly small and portable charging case.
Nothing Ear (2) features and battery
One of the best things about Nothing earbuds has been that they offer premium features at a relatively low price, and that seems to remain true here — though there aren't really any radically new features to speak of.
For starters, the earbuds offer noise cancellation, and it's not bad. Like the previous generation Ear (1) earbuds, I found that it's not quite as impressive as the noise cancellation on offer by the AirPods Pro. But you will still get the ability to change noise cancellation level, which is a feature not available on the AirPods, and a decent transparency mode.
Nothing Ear (2) app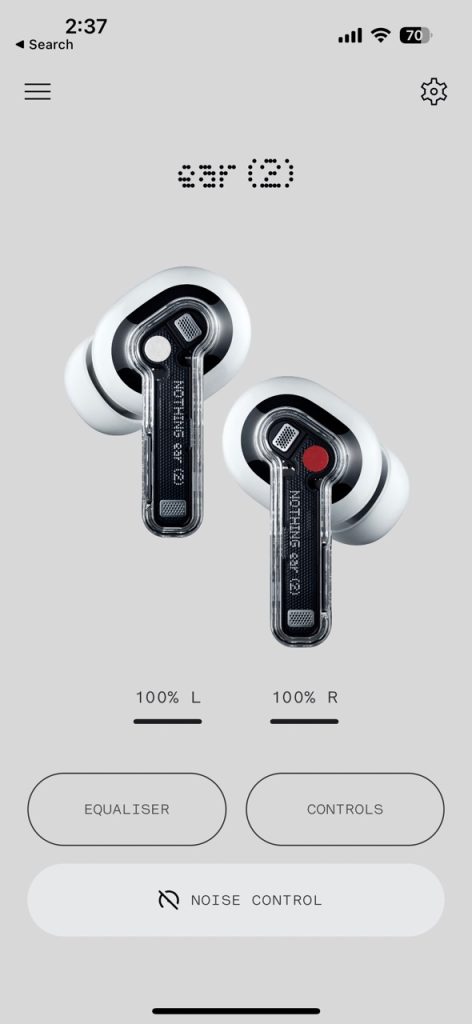 In general, the app is well-designed and very easy to use.
From the Home Screen, you can control noise mode, and tweak the controls of the earbuds. You can also use an equalizer, which is always nice to see. The equalizer comes with four presets (balanced, more bass, more treble, and voice), but there's also a custom EQ for those who want to tweak things to their preferences.
The EQ only has three bands, which is a little limiting, and the bands are basically there to control "bass," "mid," and "treble," without indication as to the actual frequencies that you're controlling. Still, if you tweak the EQ while you're listening to music you should be able to reach an EQ that you like.
Other features that can be controlled within the app include in-ear detection, whereby audio will be paused and played when you take out and put in the earbuds. There's also a personalized ANC mode, which is built to calibrate noise cancellation to your hearing — though I didn't really notice a difference.
Also, there's a Find My Earbuds feature, through which audio will be played loudly through buds in range, helping you find them. It's not as advanced as Apple's Find My feature, but it's certainly better than nothing.
Nothing Ear (2) battery and charging
Next, the battery life. The Nothing Ear (2) earbuds have an improved battery life, now offering 36 hours of use in total, with ANC turned off, or up to 22.5 hours with it on. They also offer 6.3 hours of continuous use with ANC off, or four hours with it on.
While the total listening time is pretty good, the continuous listening time is less than stellar. The AirPods Pro can squeeze an extra 30 minutes of listening time with noise cancellation on, and generally, I hope companies continue to improve on earbud battery life.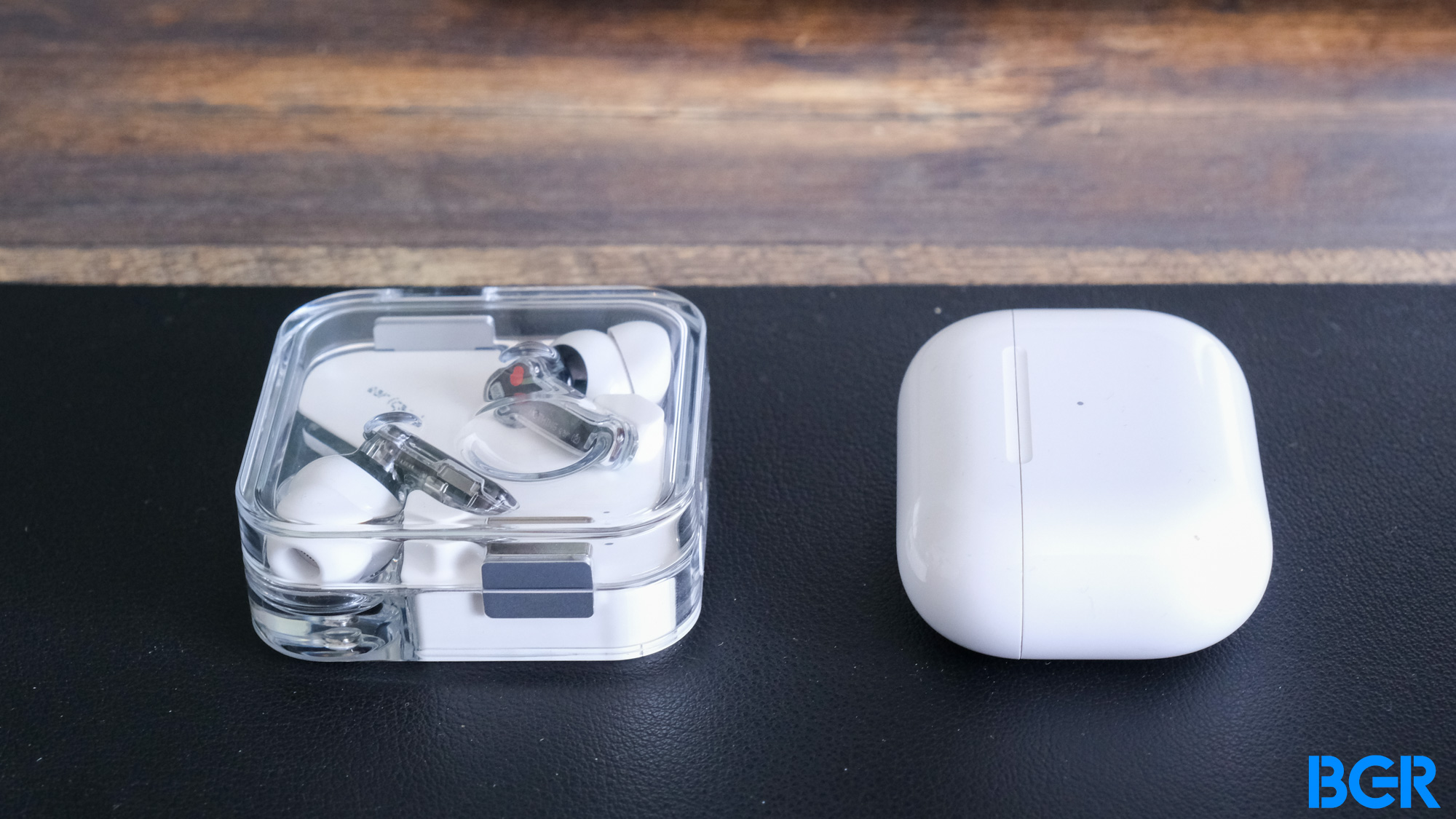 Thankfully, it's pretty easy to charge the earbuds. As mentioned, there's a USB-C port for charging, and Nothing says they'll get 8 hours of use out of 10 minutes of charging. They also support Qi wireless charging at 2.5W, which is expected, but still always nice to see.
Nothing Ear (2) comfort
One of the best things about the original Nothing Ear (1) earbuds was the fact that they were pretty comfortable, and thankfully the Ear (2) earbuds carry that over. I found that I was able to wear the Nothing Ear (2) earbuds for hours without finding them uncomfortable.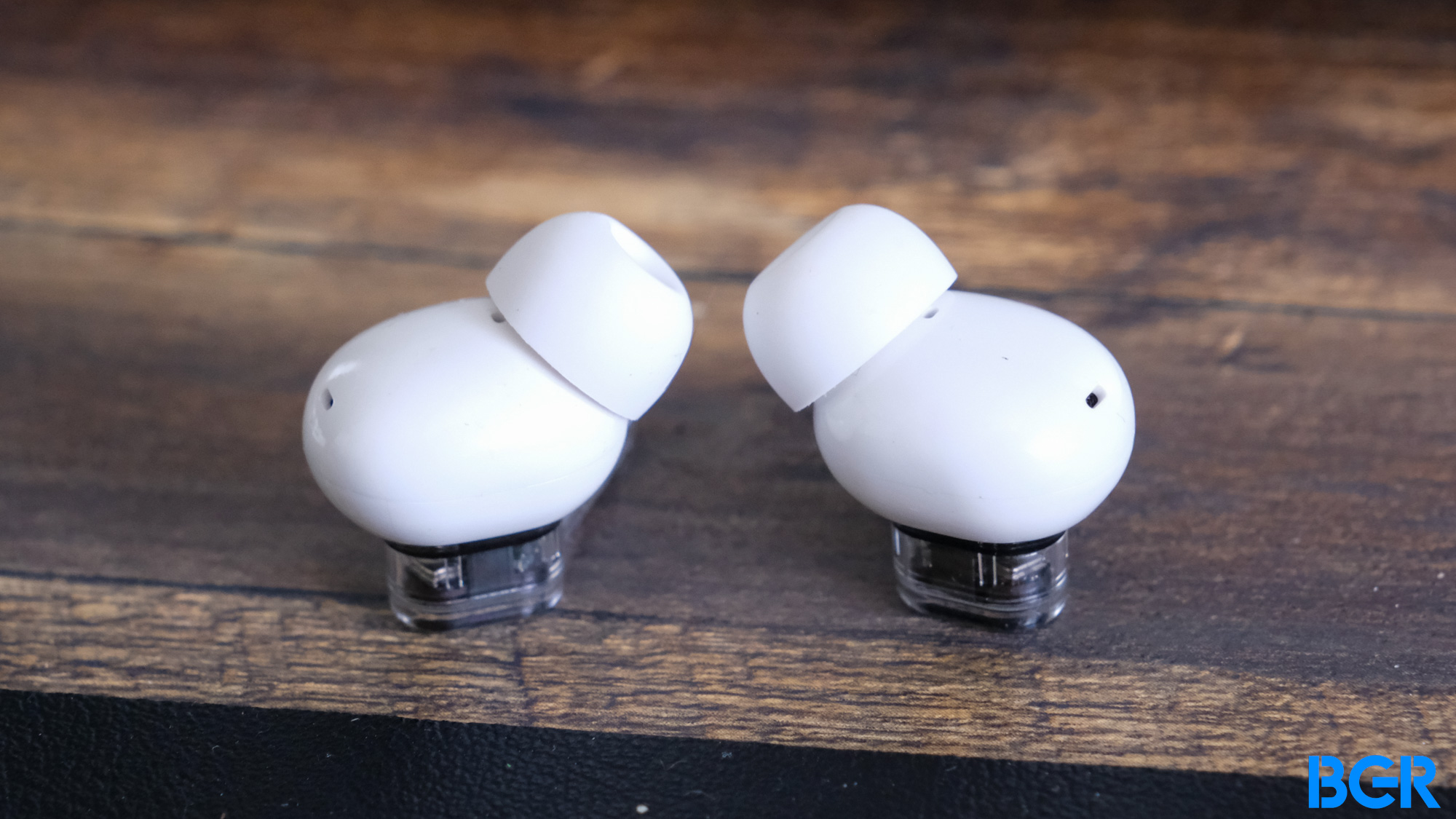 Earbuds in general are getting more comfortable, but the Nothing Ear (2) earbuds are among the best, in my experience. They're lightweight and a comfortable shape, and most will be able to forget that the earbuds are even there.
Nothing Ear (2) sound
Of course, perhaps the most important consideration to make is how the earbuds sound — and the Nothing Ear (2) earbuds sound excellent, especially for a pair of earbuds in this price range.
The bass response, for starters, is very strong. With the balanced EQ preset, the earbuds generally delivered a solid yet slightly laid-back kick, with enough bass to ensure that the bass sounded accurate and clean. I really liked listening to music with the "more bass" preset, which gave kick drums and bass in general a lot more oomph, and without overshadowing the highs.
The mids are well-tuned too. The high mids delivered enough bite and grit to give electric guitars on Back in Black the sound that they deserve, without overly boosting high mids in a way that makes audio sound like an AM radio (like the voice EQ preset did, frankly).
The highs were particularly impressive here. The high-end made for a clear and detailed audio quality overall, something that many earbuds fail to do. With good high-end response, you'll find that the earbuds sound more exciting, and more true-to-life. Low-end earbuds often accentuate the bass, without giving much attention to the highs — and that ensures that they sound cheap.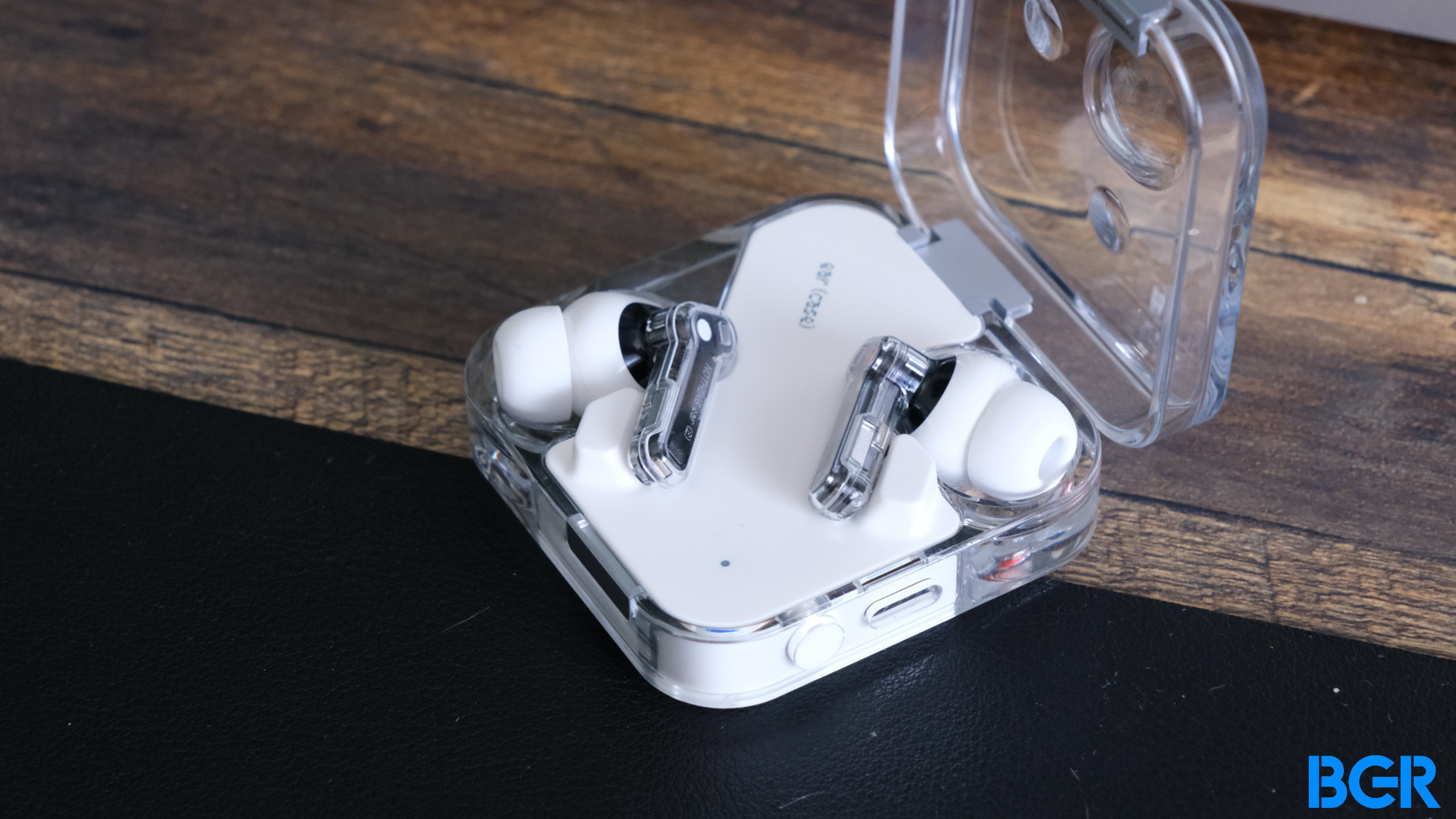 So what did all this translate to? Kick drums in Back in Black got a little more oomph than they otherwise do, while the bass in Kendrick Lamar's Alright sounded absolutely huge. Likewise, cymbals and percussion in both songs got enough sparkle to ensure an exciting sound profile overall. Many will prefer to stick with the balanced EQ preset, though as mentioned, I really liked listening with the "more bass" profile, even though it wasn't necessarily all that true to life.
Conclusions
The Nothing Ear (2) earbuds are an excellent product. They don't reinvent the wheel, and they don't necessarily offer any features that you can't find elsewhere. But they do offer them all in a complete, defined package that undercuts much of the competition in price — while remaining sleek and stylish in the process.
The competition
I still generally recommend the AirPods Pro for Apple users with more than two Apple devices, as they have features that can't exist elsewhere. Those include the likes of automatic switching and quick pairing.
But those who don't use more than two Apple products, and don't plan on doing so, should seriously consider the Nothing Ear (2) earbuds. They offer excellent sound and a host of features at a lower price than the vast majority of the competition.
Should I buy the Nothing Ear (2) earbuds?
Yes. They're an excellent pair of wireless earbuds at a great price.