The Dell XPS 15 is a super portable laptop with high-end internals and more. But how does it compete in a highly competitive price bracket?
Pros
Solid design
Good performance
Stunning display
Good battery life
Solid keyboard
Cons
Webcam is sub-par
Limited port selection
The Dell XPS 13 has always been among the best thin-and-light laptops for the masses, offering excellent performance in a portable body. So much so that the XPS 15 sometimes gets a little…forgotten. It's not entirely surprising, given the fact that buyers of the XPS 15 can often be convinced to get something slightly less portable — and thus higher-performance.
But under the hood, the XPS 15 (9530) is no slouch — not by a long shot. The laptop comes with 13th-gen silicon, with an OLED display, and more. And it's all at a relatively good price for the performance. How does it do in the real world? I've been using the XPS 15 for a while to find out.
Dell XPS 15 (9530) design
The latest-generation XPS 15 doesn't reinvent the wheel when it comes to design — it offers the same overall design as last year's model. That's not necessarily a bad thing, though.
The XPS 15 is built with a high-quality aluminum chassis that gives it an immediate feel of quality and durability. On the inside, there's a two-tone gray interior that is subtly stylish when you open the lid. You'll get super slim bezels around the display, too, making for a modern look overall.
When it comes to port selection, the Dell XPS 15 is, unfortunately, on the sparse side. On the right side of the laptop, you'll find a USB-C 3.2 port and an SD card slot. On the left, there are two Thunderbolt 4 ports. It's worth mentioning that the Thunderbolt 4 ports do support power delivery and DisplayPort, which adds some versatility.
However, this limited array of ports could be a sticking point for some users. The absence of an HDMI port, in particular, feels like a notable omission for a laptop in this price range. So, if you're someone who frequently needs to connect various peripherals or present on larger screens, you might need to invest in an adapter or docking station.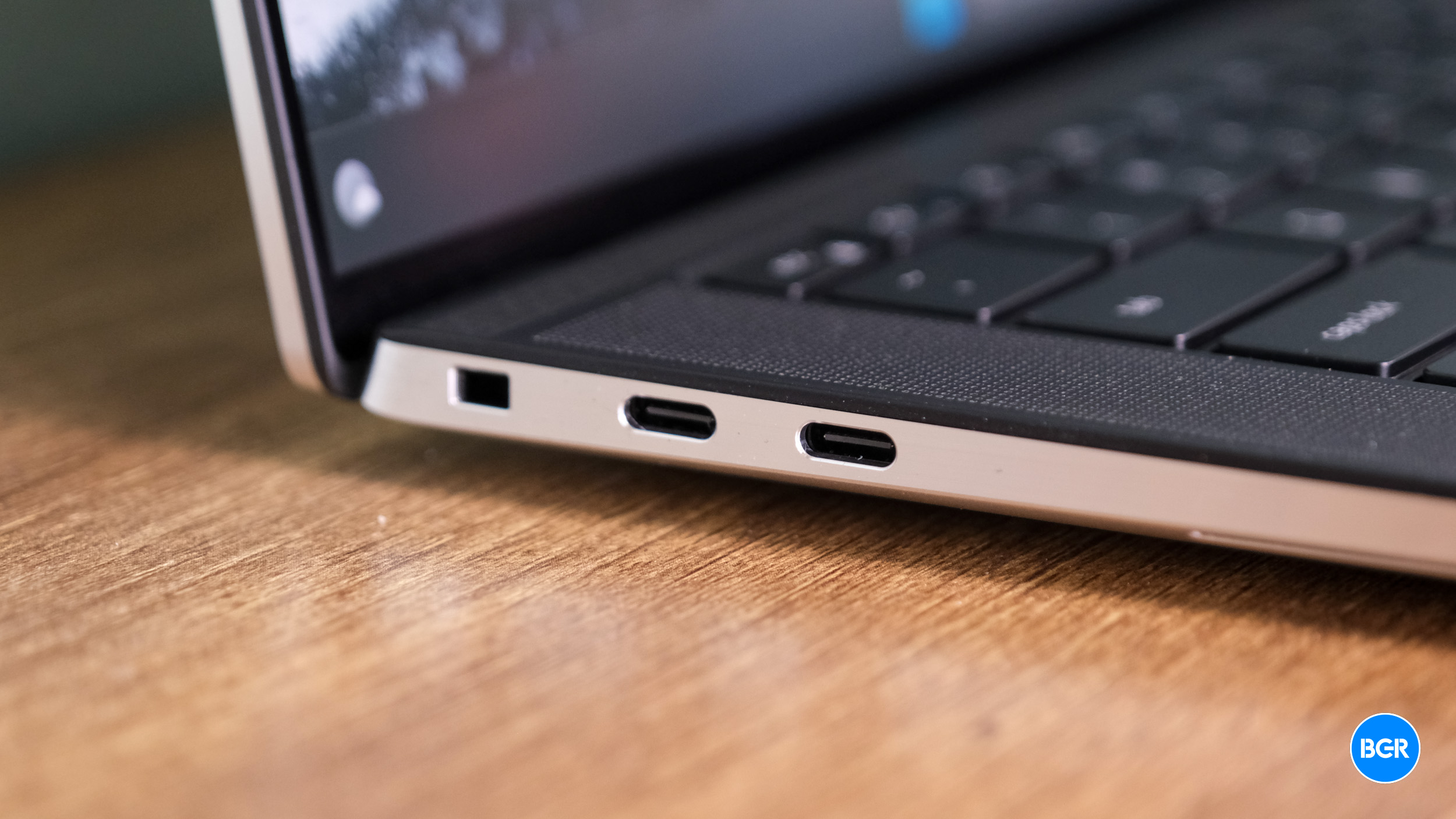 Despite this, the overall design of the Dell XPS 15 is very appealing. The laptop's build quality feels premium, it's robust yet elegant, and its sleekness only enhances its portability. Yes, the port selection could have been more generous, but that's a common compromise in many of today's ultra-thin and compact laptops. For the most part, the design of the XPS 15 strikes a satisfying balance between style, quality, and practicality.
Dell XPS 15 (9530) keyboard and touchpad
The Dell XPS 15 comes equipped with a keyboard that feels natural under your fingers, featuring just the right amount of travel and resistance for a comfortable typing experience. They're well-spaced, and typing on the laptop felt good. The keys are relatively quiet as well, ensuring that your typing won't be a distraction in quieter environments. Overall, the keyboard seems built to provide a pleasant typing experience that can comfortably accommodate prolonged use, an essential feature for anyone who spends a significant amount of time typing.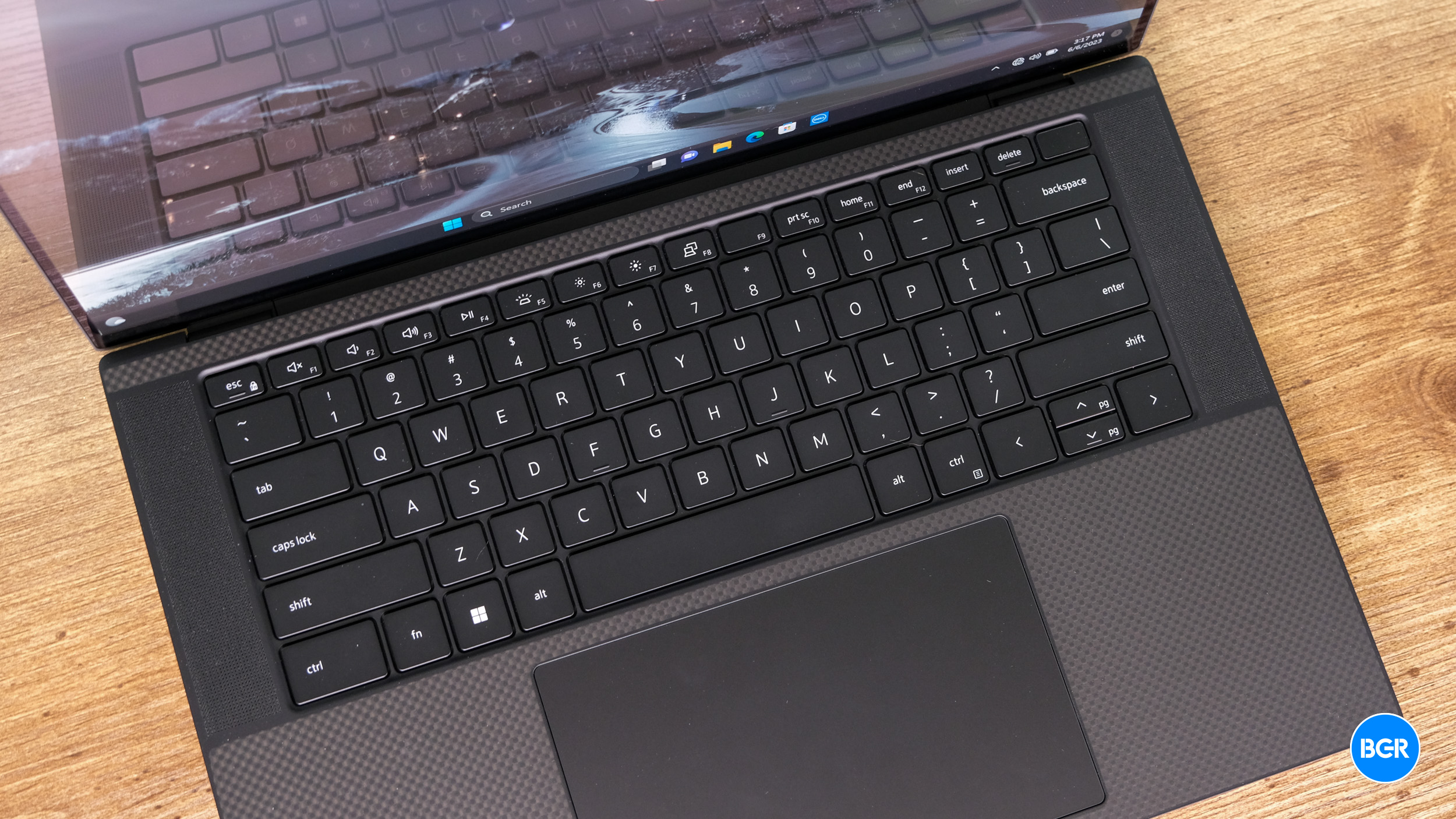 When it comes to the touchpad, the Dell XPS 15 comes with a decent-sized one, measuring 3.5 x 6 inches. This gives you ample room for all the multi-touch gestures that you might need to use. It feels mostly premium, aligning well with the overall aesthetic of the laptop.
However, it doesn't quite match the responsiveness or premium feel that you'll find with the MacBook lineup's touchpads. That being said, it's still highly functional and performs well for the majority of tasks.
Dell XPS 15 (9530) speakers
The Dell XPS 15 is equipped with two 2.5-watt woofers and two 1.5-watt tweeters, designed to deliver balanced audio output for multimedia consumption. The speakers sound fine, but they don't exactly shine when compared to dedicated external speakers or higher-end laptop audio systems. They're certainly adequate for casual listening, like watching YouTube videos or listening to podcasts.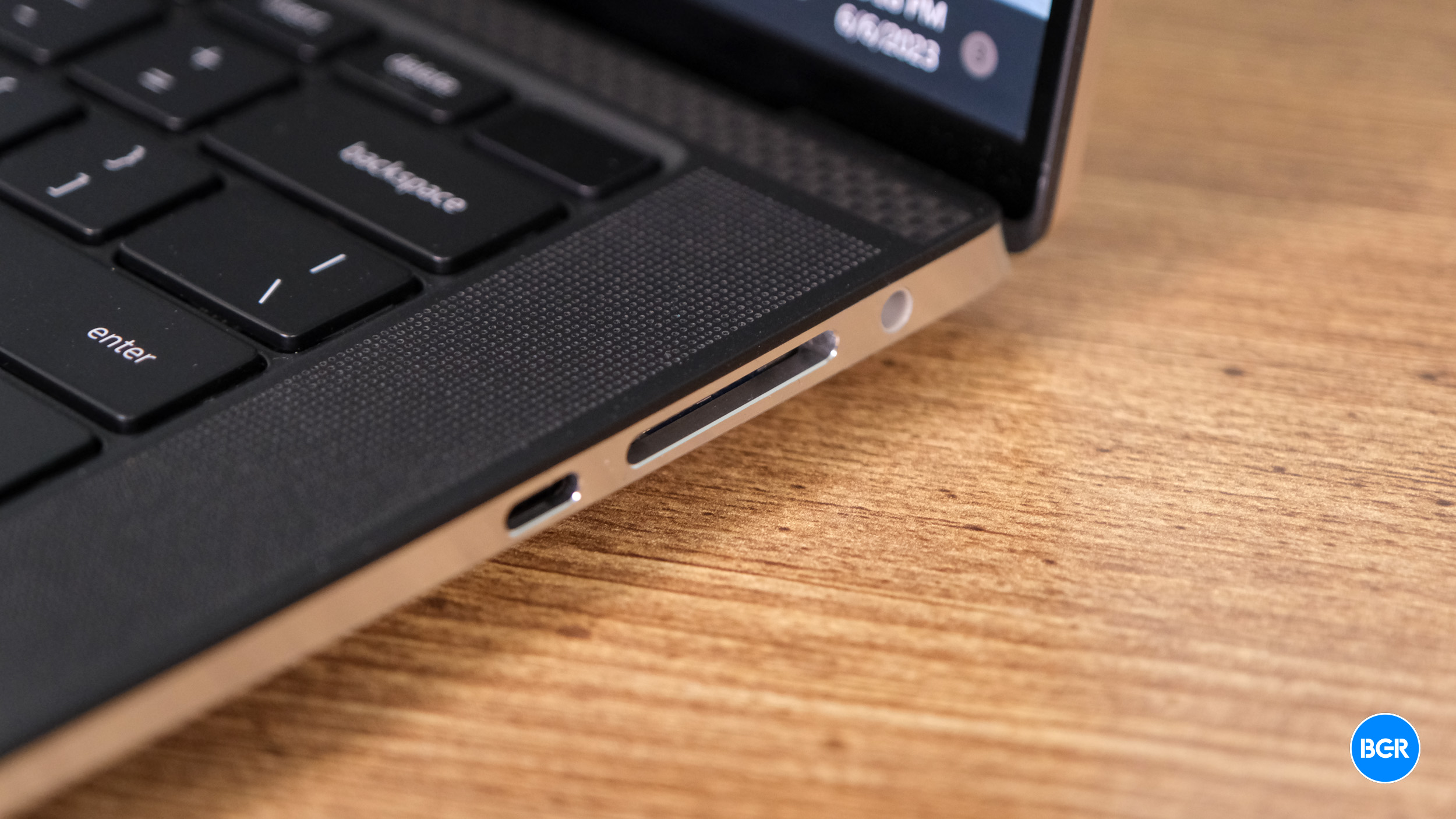 However, for any audiophile activities, such as critically listening to music or engaging in professional audio work, users will likely want to opt for a good pair of external speakers or headphones. The laptop's built-in speakers simply don't deliver the depth or precision that a dedicated audio setup can provide. That said, they do have a substantial volume output. The speakers get loud enough to fill a medium-sized room, which is great for impromptu presentations or when you want to watch a movie without using headphones. Overall, the speakers are functional and appropriate for most casual uses, but they won't blow away any audiophiles.
Dell XPS 15 (9530) display and webcam
The Dell XPS 15 sports a top-notch OLED display with a resolution of 3.5K and a 16:10 aspect ratio. This high-resolution panel ensures that text appears razor-sharp and images are reproduced with great detail, making for a visually immersive user experience. What makes this display stand out is its incredible contrast ratio. Thanks to the inherent properties of OLED technology, the screen can produce super deep black levels, meaning that darker areas in videos or images appear truly black, which in turn enhances the perceived contrast and depth in visual content.
The color reproduction on the XPS 15 is commendable as well. The screen generates vivid and rich colors, giving images and videos a vibrancy. The one area where the display might not completely impress is brightness. While the brightness level is entirely adequate for most indoor scenarios, it may not be sufficient for outdoor use under bright sunlight. Nevertheless, the overall visual performance of this laptop's display is quite impressive and provides an outstanding user experience.
Note there is a cheaper display on offer — our model has the higher-end display. The cheaper option has a 1920 x 1200 resolution, and it is not an OLED display.
The webcam is relatively underwhelming. It sits in at 720p, not 1080p like most other high-end models these days. It's not very detailed, and colors aren't all that bright. It'll do the trick for basic video chats, but I do hope Dell improves on webcam quality for future iterations.
Dell XPS 15 (9530) performance
Under the hood, the XPS 15 (9530) has a lot to offer. The laptop comes with 13th-gen Intel chips, with the base model offering an Intel Core i7-13700H, with Intel Arc A370M graphics and 16GB of RAM. It can be specced up to offer an Intel Core i9-13900H, with an RTX 4070 and 64GB of RAM. Our model has the i7, with 32GB of RAM.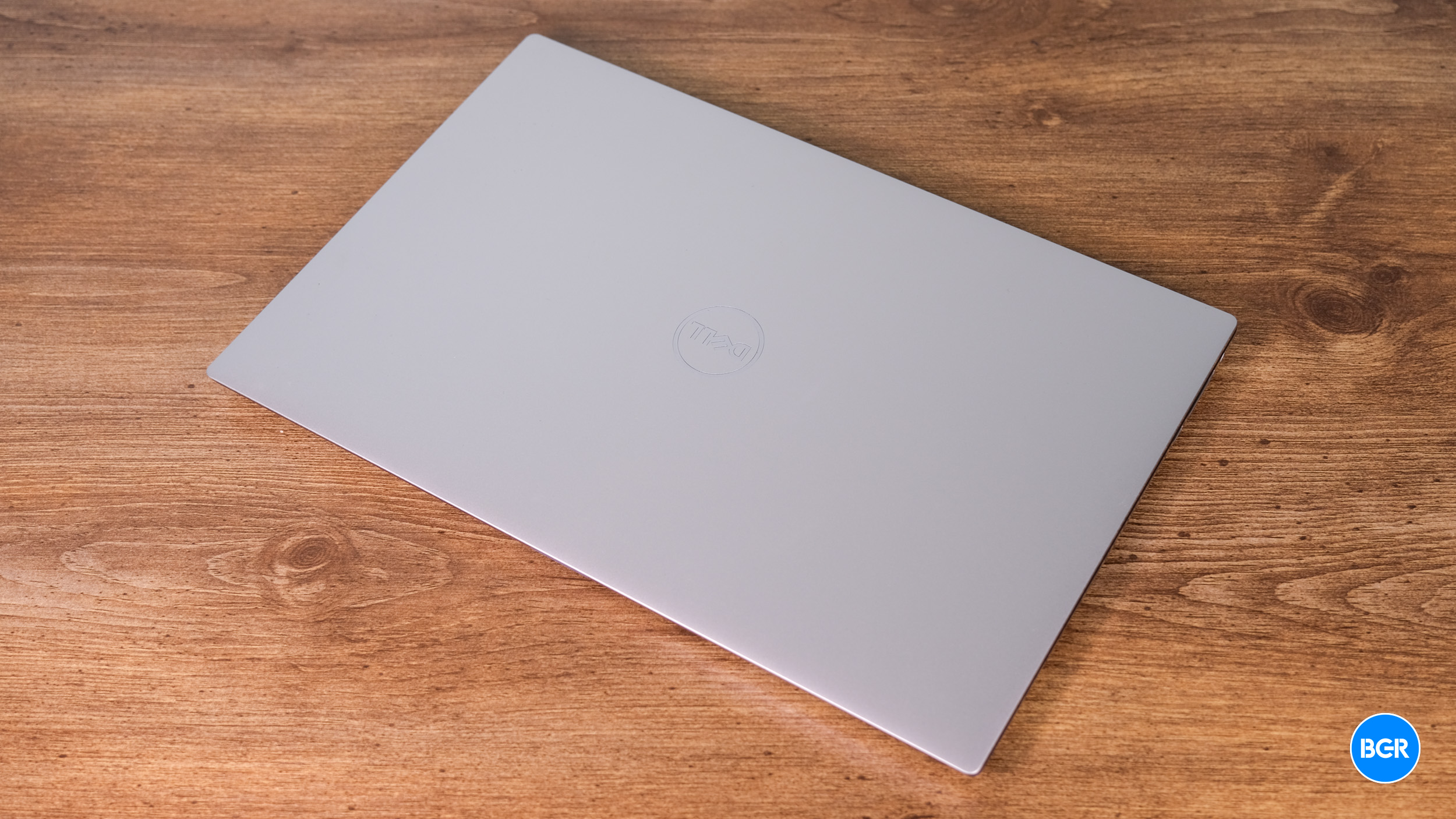 In day-to-day life, the laptop was easily able to handle everything I threw at it. It multitasked with ease, and while my workload wasn't necessarily the most demanding, I did find that it was able to handle basic video editing. Presumably, those who buy a model with a higher-end GPU could get a decently high-end editing or rendering machine — though, of course, it won't replace a desktop workstation for those kinds of needs.
Dell XPS 15 (9530) battery
The Dell XPS 15 is equipped with a respectable 86 Whr battery, which, importantly, is user-replaceable. This gives the laptop a considerable advantage, as it allows users to swap out the battery themselves when it eventually degrades, extending the overall life span of the device. The battery performance of the XPS 15 is quite good overall, reliably powering the device for a full workday with a relatively light workload.
During our testing, the laptop handled an 8-hour workday of web browsing, document editing, and occasional video streaming, with not much battery life to spare by the end. This performance, though commendable, does not quite match up to the excellent battery life offered by competitors like the MacBook Air or the MacBook Pro. This discrepancy, however, is not surprising, considering the power-hungry nature of the XPS 15's powerful internals.
Conclusions
The Dell XPS 15 represents another great option in the XPS lineup. Again, the laptop doesn't reinvent the wheel. This year's model is a spec bump. But that isn't necessarily a bad thing, and while the design can feel like it's aging a little, the XPS 15 still boasts a great screen, powerful internals, and more.
The competition
But is it the best option in its price range? In this price range, it's seriously worth considering the likes of the Samsung Galaxy Book 3 Ultra, which offers similarly high-end internals with a faster display refresh rate. Of course, if you aren't tied to Windows, it's also worth considering the 14-inch MacBook Pro, which has a superior battery life, high-end performance, and, interestingly, a better port selection.
Should I buy the Dell XPS 15 (9530)?
Yes. It's a great laptop in its price range.