The BenQ Mobiuz EX480UZ offers that classic OLED contrast and huge screen for a monitor, but comes at a high price.
Pros
Great contrast
Huge screen
Good port selection
Excellent response time
| Buy From | List Price | Sale Price | |
| --- | --- | --- | --- |
| | $1904.99 | $1904.99 | See It |
It wasn't long ago that the idea of a 40-inch or larger monitor was inconceivable — but with the rise of low-latency OLED panels, the concept has become a little less absurd. We've seen plenty of users start making use of LG OLED TVs as monitors — but now, there are dedicated 48-inch monitors specifically for gaming. A newer example of this is the BenQ Mobiuz EX480UZ, which is built to offer a huge-screen experience and good image quality, in a gaming monitor.
But how well does the monitor compete? And do you really need a 48-inch monitor? I've been using the BenQ Mobiuz EX480UZ monitor to find out.
BenQ Mobiuz EX480UZ design and setup
The BenQ Mobiuz EX480UZ gaming monitor boasts a mostly gamer-friendly design, featuring slim bezels on the top and sides of the screen and a larger chin at the bottom. This gives the monitor a sleek and modern appearance, perfect for immersive gaming experiences. Although it is quite large, measuring in at a massive 49 inches, this doesn't detract from its overall premium look and feel. The build quality is solid and adds to the high-end aesthetic that most gamers will appreciate.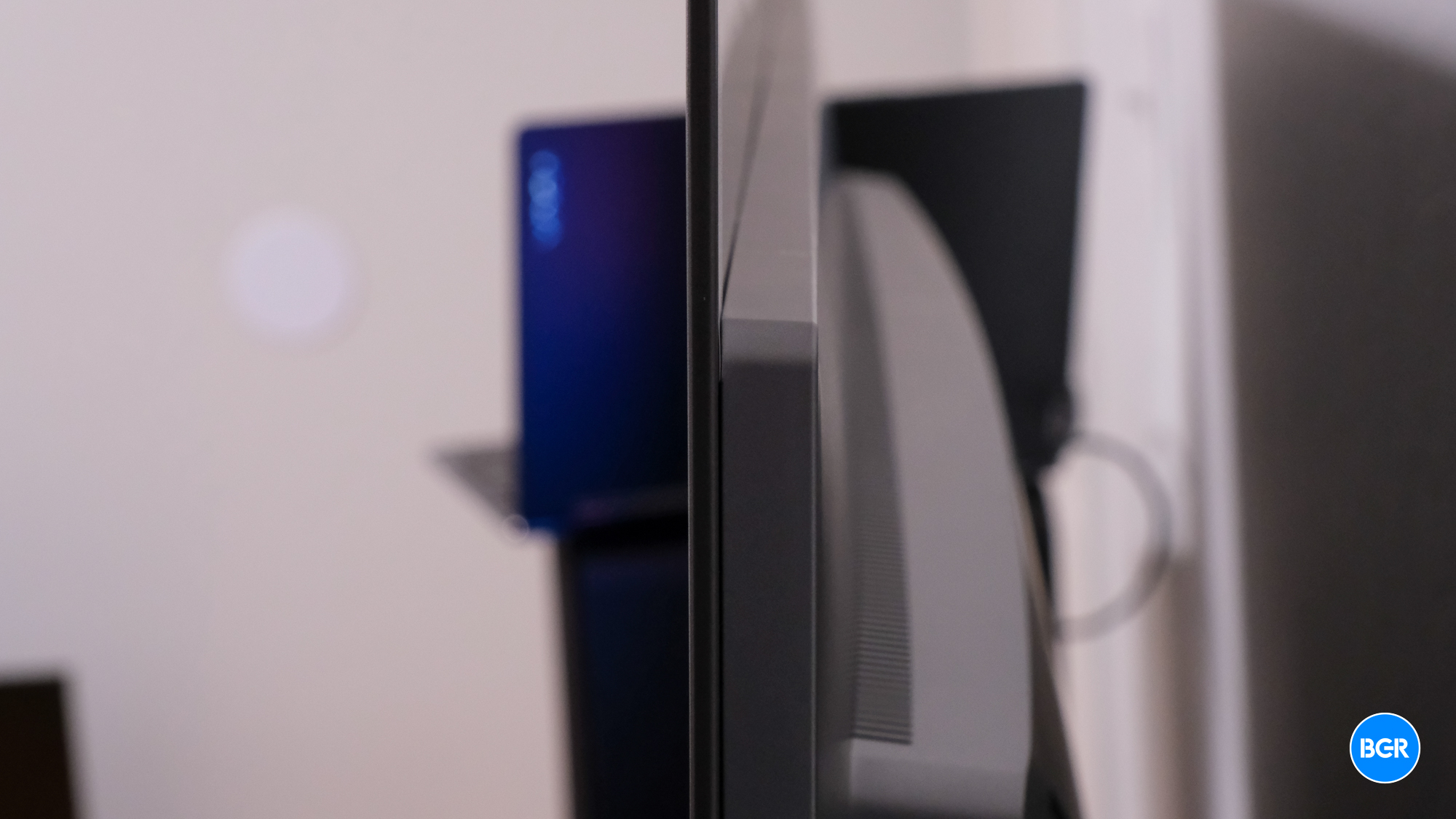 Setting up the BenQ Mobiuz EX480UZ is a breeze, as the foot easily attaches to the back of the monitor with the included screws and screwdriver, followed by the cover. However, due to its size, the monitor might not fit on everyone's desk without some rearrangement. In my experience, I had to move things around on my desk to accommodate the monitor comfortably. You'll want to think long and hard about whether or not a monitor this size is right for your setup.
The controls for the display are conveniently located on the bottom right of the screen, making adjustments quick and easy. Additionally, the monitor comes with a remote control that is user-friendly, although many users may find themselves not using it very often once everything is set up.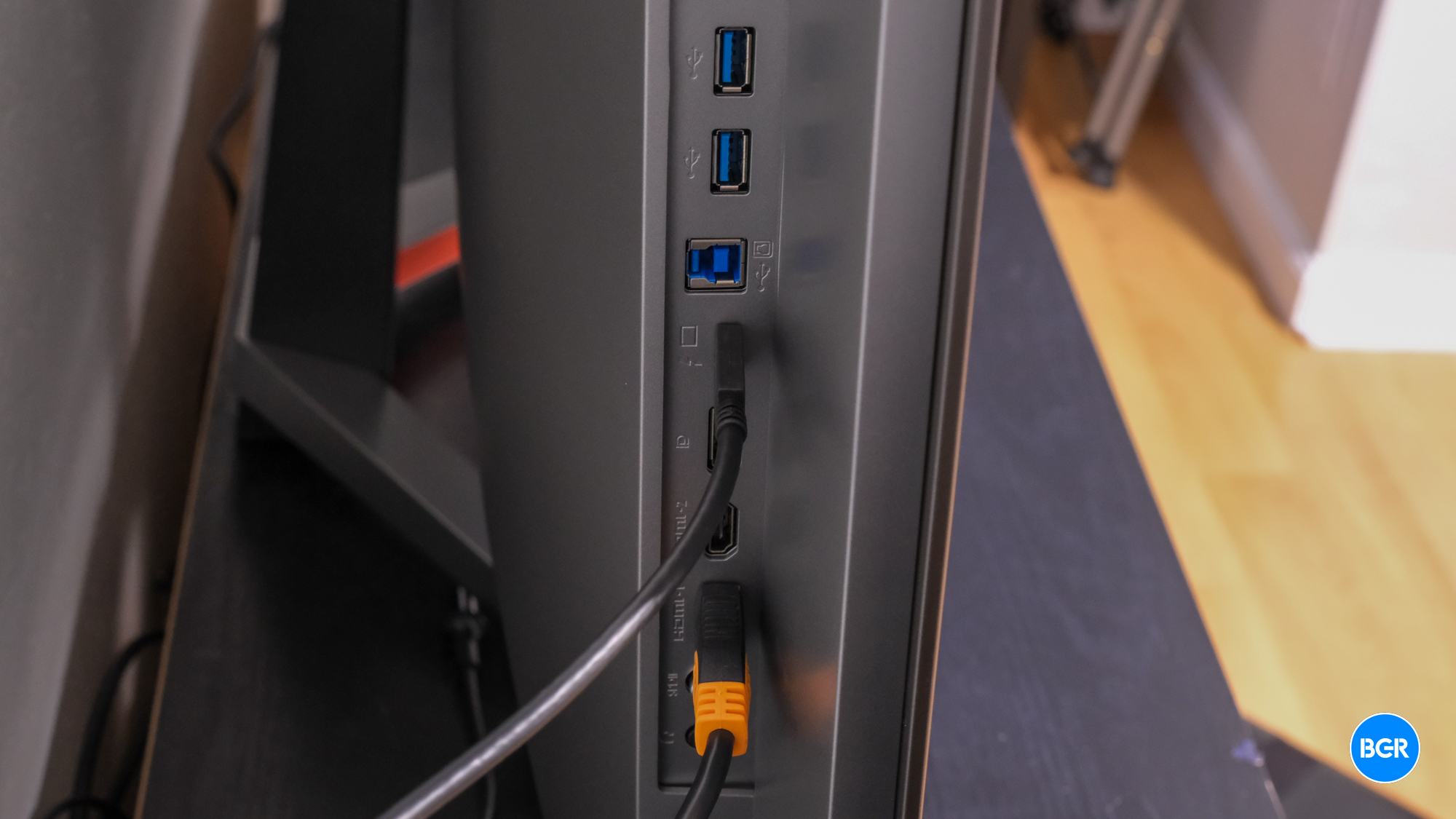 The BenQ Mobiuz EX480UZ gaming monitor offers a good selection of ports to accommodate various gaming setups. These include two HDMI 2.1 ports, a DisplayPort 1.4 port, a USB-C port with 90W power delivery, USB Type-B, and two USB 3.2 ports. This variety of ports ensures compatibility with a wide range of devices and peripherals, making the monitor a versatile choice for gamers seeking an upgrade.
Overall, the design and features of the BenQ Mobiuz EX480UZ make it an excellent option for those looking to enhance their gaming experience.
BenQ Mobiuz EX480UZ features
Of course, while the Mobiuz uses an LG OLED panel, it's built for gamers — and, as such, comes with some features you might not get elsewhere.
As mentioned, there are two HDMI 2.1 ports, providing support for 120Hz and a variable refresh rate. This monitor is compatible with both AMD FreeSync and Nvidia G-Sync, ensuring that users can enjoy smooth, tear-free gaming sessions regardless of their graphics card preference.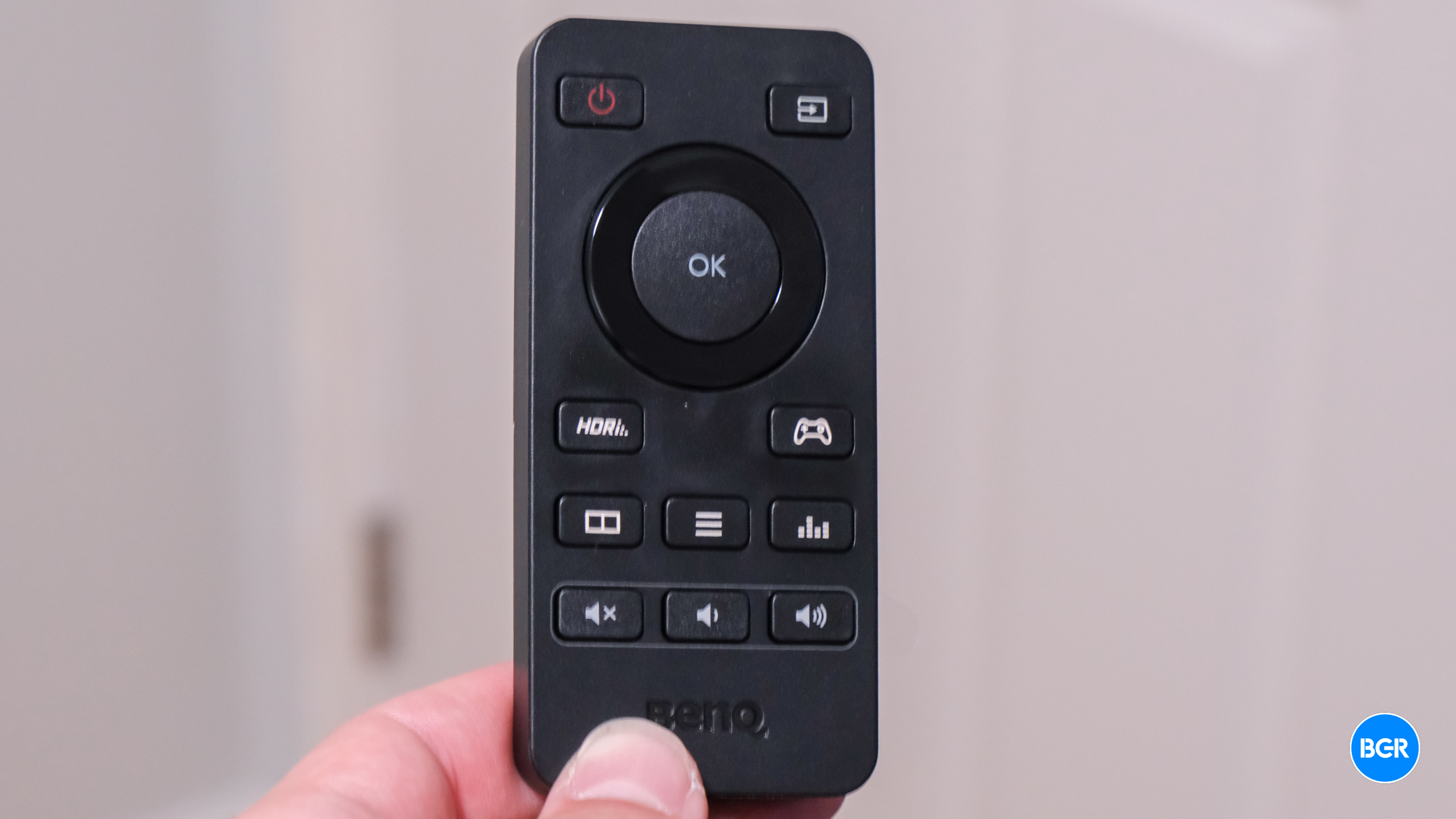 Another impressive feature of the BenQ Mobiuz EX480UZ monitor is its lightning-fast 0.1ms response time, allowing gamers to play with unparalleled precision. This quick response time means that you'll get a crisp and clear display that keeps up with even the most fast-paced games. It's important to note that the Mobiuz EX480UZ is a monitor and not a TV, meaning it does not have a built-in smart TV operating system or similar features. However, this is not a significant drawback, as the monitor's primary focus is on delivering an exceptional gaming experience that meets the demands of today's gamers.
BenQ Mobiuz EX480UZ performance
The performance of the BenQ Mobiuz EX480UZ monitor is quite good. However, as with any OLED panel, there are some drawbacks to consider. The monitor has a peak brightness of 450 nits and a full-screen brightness of 135 nits, which is not very bright compared to some other displays, even other OLED ones. This might not be ideal for users who prioritize high brightness levels in their viewing experience.
In an environment that isn't too bright, the Mobiuz EX480UZ truly shines when it comes to color reproduction and black levels. Colors appear vibrant and accurate, while the black levels are inky and deep, as expected from an OLED display. This monitor delivers an outstanding viewing experience when the ambient light is well controlled.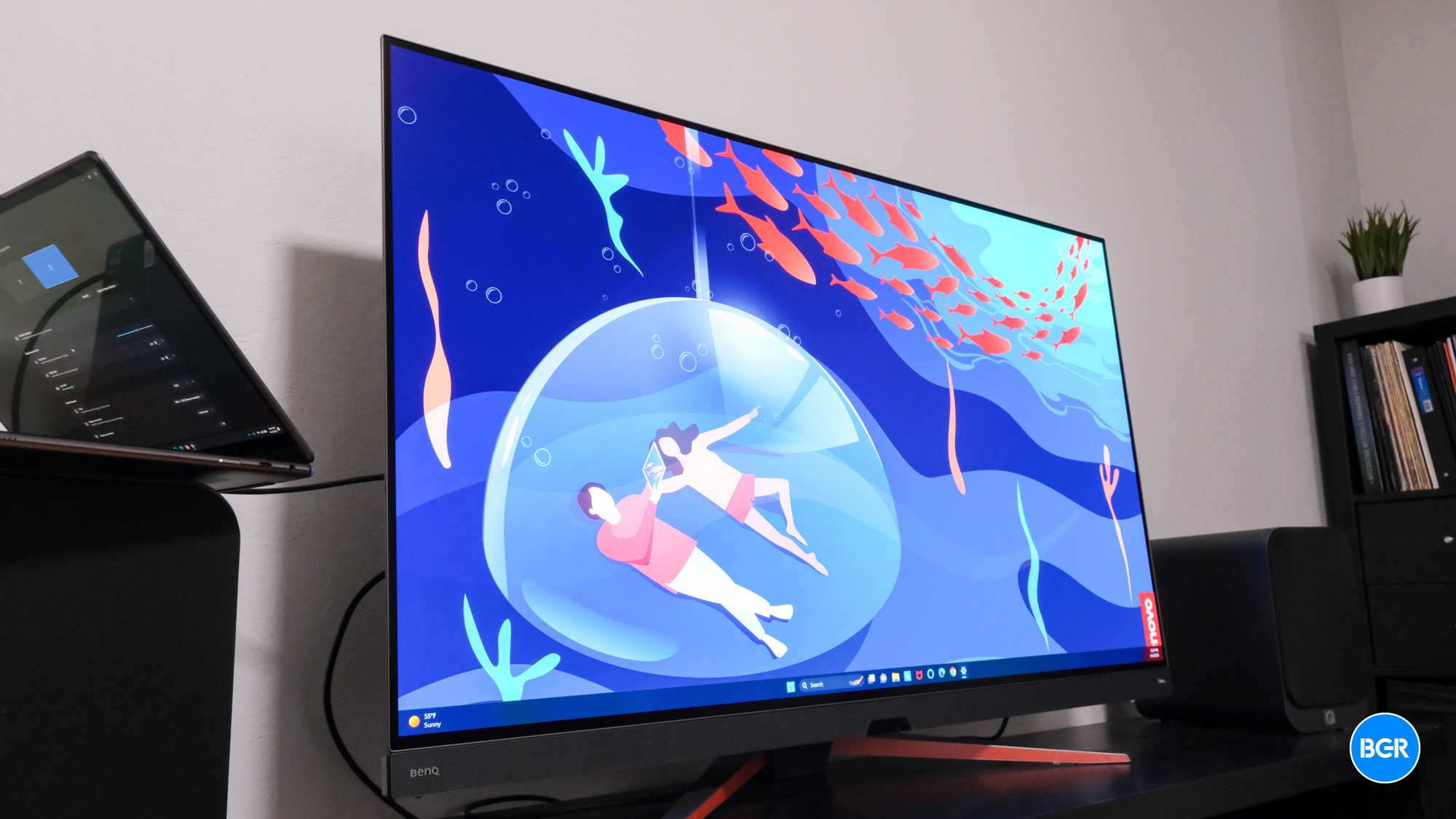 However, it is worth noting that in brightly lit environments, such as when there is a window facing the monitor, the viewing experience can be challenging. To mitigate this issue, I had to close the blinds on a window that was facing the TV, where I didn't necessarily have to do so with other screens. Experimenting with various viewing modes is worth doing, depending on how you plan on using the monitor.
Overall, the BenQ Mobiuz EX480UZ offers an excellent visual experience in the right environment, making it a solid choice for gamers and content enthusiasts alike.
BenQ Mobiuz EX480UZ audio
The BenQ Mobiuz EX480UZ monitor is equipped with integrated speakers that offer better audio quality than what is typically found in standard monitors. That said, the audio may be better than a typical monitor, but it's not much better than a typical TV.
The bass response of the integrated speakers is not particularly impressive, which may leave some users desiring more depth in the lower frequencies. The midrange frequencies deliver a decent performance, and while the low mids offer little warmth, the high mids provide a slightly better response.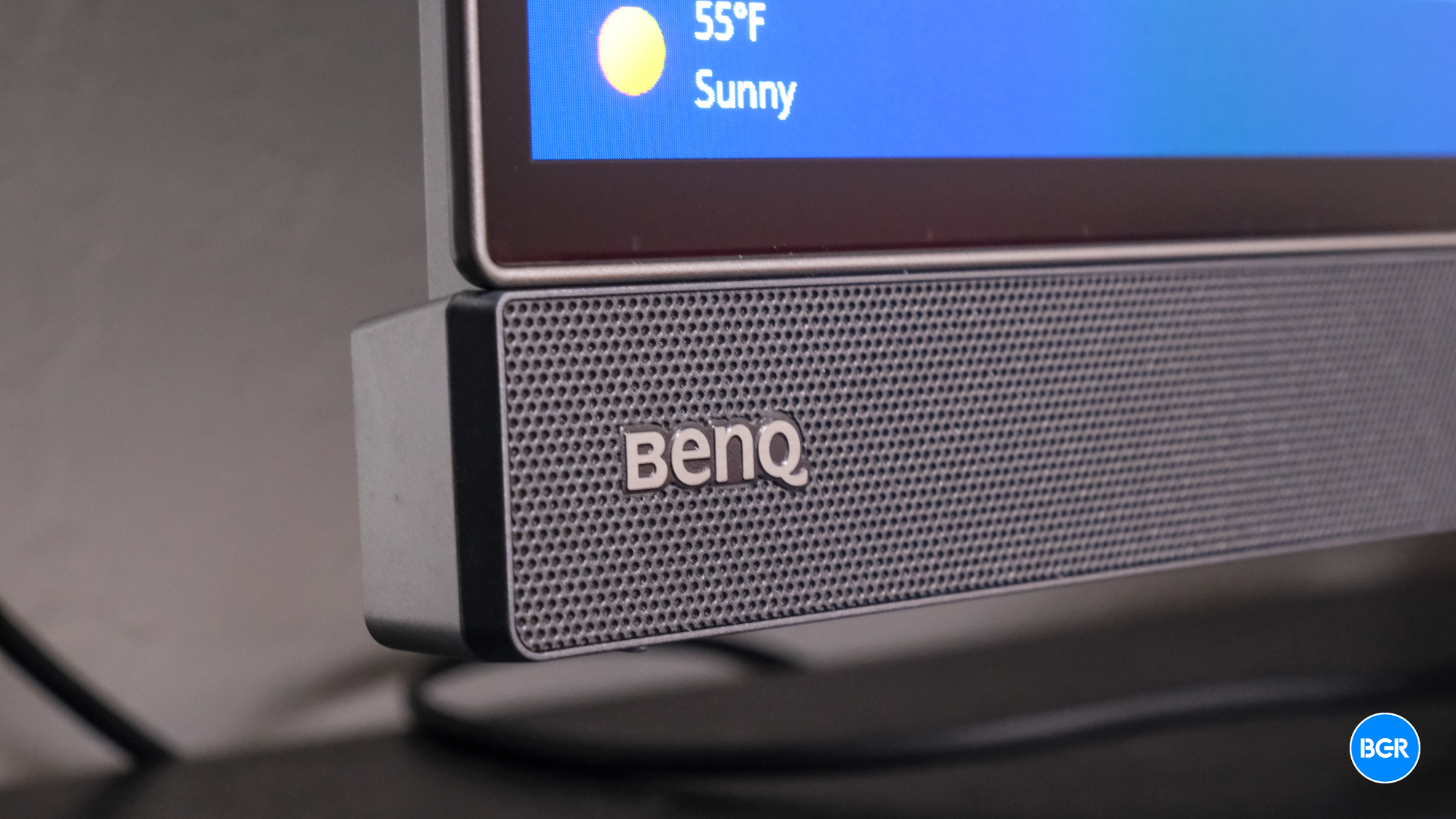 In terms of detail, the Mobiuz EX480UZ monitor's integrated speakers offer some level of clarity, though it is not outstanding. Ultimately, while the audio quality is adequate for everyday use, it should not be the primary reason for purchasing this monitor. The Mobiuz EX480UZ is best suited for gamers and content enthusiasts who prioritize visual performance, while those seeking good audio quality may want to consider investing in a dedicated sound system.
Conclusions
The BenQ Mobiuz EX480UZ is a commendable gaming monitor that offers a massive screen, solid visual performance, and compatibility with AMD FreeSync and Nvidia G-Sync. While it may not be the perfect fit for everyone, especially those with limited desk space, it is a fantastic choice for gamers and content enthusiasts who prioritize a captivating visual experience.
For those who are considering upgrading to a 48-inch gaming monitor, the BenQ Mobiuz EX480UZ is a worthy contender. Its sleek design, ease of setup, and gaming-focused features make it an attractive option for those looking to elevate their gaming experience to new heights. If you can accommodate its size, are willing to invest in a separate sound system, and don't mind a display that doesn't get very bright, this monitor could be the perfect addition to your gaming setup.
The competition
There are tons of gaming monitors out there, but perhaps the best competition for this particular monitor is actually a TV. It's definitely worth considering an LG TV, considering the same response time, the same support for FreeSync and G-Sync, and a higher level of brightness. The LG TV also adds the benefit of smart software — though you won't get things like a DisplayPort.
Should I buy the BenQ Mobiuz EX480UZ?
Yes, but only if you don't mind lower brightness and high price.