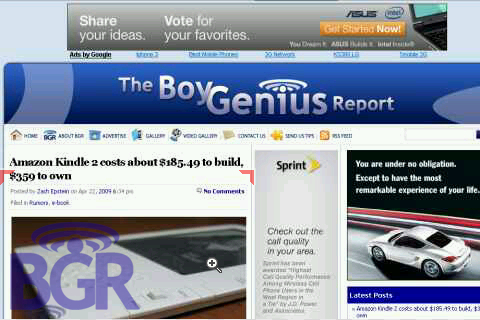 What, you thought Skyfire for BlackBerry was totally dead in the water? Nope. They're back at it again, restarting their alpha program for testers. The latest version is upped to 3.5 and has some nice improvements like downloading files from the browser to your device, setting Skyfire as the default BlackBerry browser and a bunch more. Check out the release notes after the jump.
"We are coming back with a new iteration for the Blackberry Alpha.
As you are aware we temporarily closed the Blackberry Alpha. We planned for a certain number of users on our Alpha system that was quickly exceeded with the leak of the client outside the Alpha community. Please stick to the understanding of the Alpha program and NDA – it is NOT for open distribution. It just creates hassle for all people involved and spoils the experience for our Alpha participants.
This Alpha 3.5 is still targeted for Blackberry Bold mainly firmware 4.6.0.167 and 4.6.0.247 devices. , Feel free to try out the build as well on Blackberry 8900 and 5.0.xx firmware versions of Bold.
The version of Alpha 3.5 is 1.0.0.12799.
What got removed in Alpha 3.5 (vs. Alpha 3.1)?
Stream Mode: We are actively working on an alternate method to provide streaming for Blackberry that will provide better performance and reduces the number of errors during streaming. This work has not been concluded yet. In the meantime we removed the existing stream mode. Stay tuned!
Thus please focus feedback for Alpha 3.5 on page load experience and basic browsing vs. the media experience.
What's new in Alpha 3.5
Inline Text Entry: You can now edit/enter form elements directly within the page, without being interrupted by a dialog box. Makes it more direct, convenient and retains the context.
Click-to Call: The Blackberry client now will utilize tags in websites that trigger a phone call, when clicked (e.g. callto: and tel: links). You have to confirm before the call is initiated.
Set as Default Browser: when set, links will open Skyfire
Downloading of Files: you can now invoke the download of files to your device.
Improved Scrolling: Further tweaking since the last Alpha.
Reduced Checkerboard occurrences
Alpha limit: We implemented a simple mechanism to limit the number of new users in our system. Once reached you see a message. If you encounter this and are part of this Alpha group then please contact us.
Known bugs in this Alpha
Clear cookies: When you clear cookies in advanced settings it will not work. Will be addressed in the next release.
Inline Text: We are seeing several issues.
Sometimes old text is visible (Issue 331 & 409), when re-entering text box, the cursor is positioned at the beginning of the text field (Issue 333).
Download: timeout when downloading large files (Issue 435)"