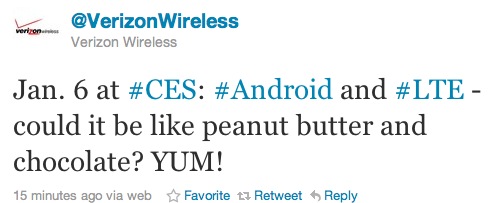 Waiting on pins and needles for the first (of many) LTE-powered Android handsets on Verizon? Verizon Wireless just posted the following tweet from their Twitter account:
Jan. 6 at #CES: #Android and #LTE – could it be like peanut butter and chocolate? YUM!
There's been no doubt Verizon will introduce a number of LTE-capable Android handsets at CES this year, starting with Ivan Seidenberg's keynote, but Verizon has now made the news official.