The music industry is in ruins. As we've gravitated over the last 10 years to purchasing, and now streaming, single songs as opposed to albums, record labels have taken a huge hit in revenue. But I actually still buy music. And I buy it on iTunes. I just like having something locally stored on my computers and devices so it's always there. If you don't have cell or Wi-Fi service, you still have your full music collection at your fingertips.
But over the past couple of years, my usage of streaming services has grown. First Pandora, then Spotify. I didn't mess around with any of the junky ones with whatever horrible names you can think of. I did, however, sign up for a Beats Music subscription and I fell in love with two things about it: curated playlists from different brands and artists, and playlists for different activities. It made for an incredible listening, discovery and rediscovery experience.
That's why I'm so excited about Apple Music, which will be launching soon after this article is published.
DON'T MISS: Apple Continues to Crush Samsung Where It Matters Most
Apple Music combines unlimited music streaming of most of Apple's library of music, the ability to save those songs to your device for offline playback, Apple's brand new always-on 24/7 streaming music station called Beats 1, curated radio stations and playlists, and Connect, a way to connect directly with the artists you care about most.
With Apple Music (the service), comes a brand new redesigned Music app on your iPhone or iPad, and it's absolutely gorgeous. Here's a brief overview based on some time I was able to spend with the app and service: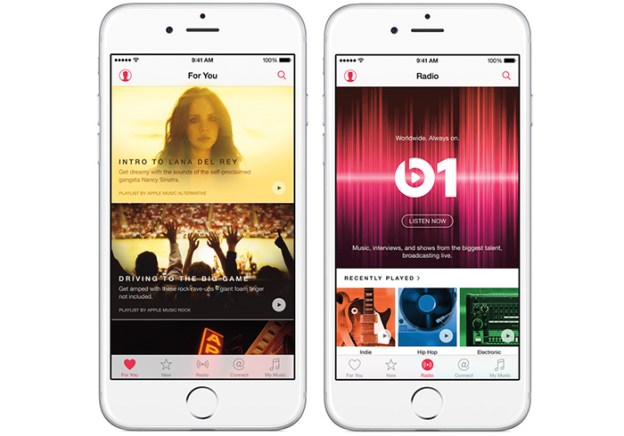 My Music — The entire old music app lives and is accessed on this tab. At the top of the screen is a recently added section which shows the last three albums or songs you downloaded for easy access. Then there's a more traditional view of your music library.
For You — A feed of albums and playlists that are recommended to you based on your taste. When you first join Apple Music, you go through a quick intro where you can pick your favorite genres and artists, and the service also uses your iTunes purchase history to recommend songs and artists based on your personal tastes.
New — All of the new releases across all genres live here. Hot new tracks, big releases, charting… this is a great place to discover new music. In the middle of the tab it shows recommendations from Apple editors, an "activities" section shows playlists catered to specific activities, and "curators" are third-party guests who create playlists, similar to what Beats Music offered.
Radio — This is the big one. Beats 1, to be exact. Three great DJs plus loads of celebrity shows from people ranging from Elton John to Pharrell to Dr. Dre. It makes for a unique streaming radio station that's always on, and it plays the same show at the same time across the entire globe. There's also no program director to deal with, or advertisers to make happy, so we're all collectively excited about hearing the best music because it's good, not because it's been mandated to be played.
Connect — Here's a space where artists and fans come together. Artists can broadcast messages to their fans, and even share directly from iOS apps right to their connect page, whether it's a photo, video, song snippet or voice memo — anything. Artists you see in this section will be based on your library and likes, and you can manually follow artists, too.
Other things about Apple Music that impressed me included the Siri integration — this is amazing. You can use Siri to access Apple Music with commands like "play the top 10 songs," or something truly incredible like, "play the number one song from 1978."
Something else that is included with Apple Music is Cloud Library. This is similar to iTunes Match, where the service looks through your music collection on your computer and any song that you have that is not in Apple's online library can be uploaded to the cloud so you can enjoy it from wherever you are. This supports 25,000 songs, though Apple is working on bumping this up to 100,000 songs at some point in the future.
Apple Music is $9.99 a month, but offers the best family plan for music streaming I have ever seen. For only $14.99 a month you can add up to six accounts for different members of your family, all unique so there's no sharing of recommendations or anything like that. I find it very hard to believe regular people are going to go out of their way to subscribe to another streaming service after Apple Music launches. It's a game-changer.
Apple Music is available at 11:00 a.m. ET today as part of a free software update to iOS 8.4. Make sure you update fast, because the first Beats 1 broadcast is set to begin at noon ET.
UPDATE: Apple Music has launched! Check out this post for all the details and to get iOS 8.4.