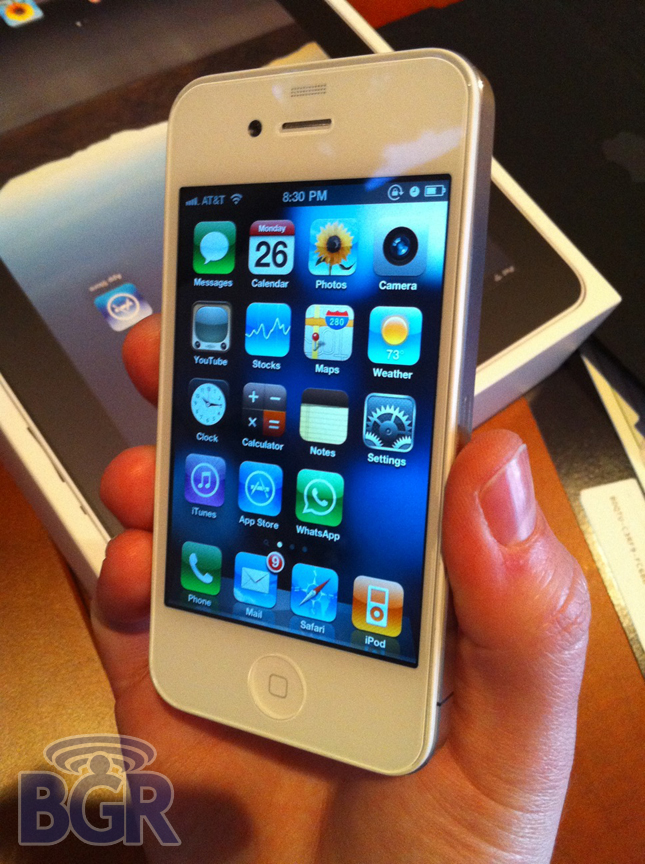 While it seems Apple isn't able to manufacture enough of the white iPhone 4 model, white iPhone 4 parts have started to become available. In fact, you'll actually remember that there were white parts before the phone was even announced. Recently, however, the white iPhone 4 front and rear case pieces have been harder and harder to come by giving credibility that there actually is some sort of manufacturing problem Apple needs to overcome with the white variant. We hit up our friends at CNN.cn, and they have come through for us, but in our first go-around, we witnessed first hand one possible issue Apple might be facing with the front white display assembly. In our second go-around, we realized even more manufacturing/production problems.
After disassembling our black iPhone 4 oh-so-carefully, and then putting everything back together with the new white front LCD and powering it up, we noticed something… odd. The LCD itself looked fine (beautiful as ever) but the screen was kind of transparent. Not transparent like you could see the phone's internal components through the display, but there wasn't a proper backing it seemed. Yet when we disassembled the phone again to switch back to the black display, we compared both and they looked identical.
Round 2… After CNN.cn sent us another white LCD to try, we noticed a couple things. First off, those whispers of Apple not being happy with the exact color or tint of white are probably true. There's a noticeable difference between the actual white glass LCD front and the white plastic home button. Second, the white LCD front display is a tad thicker (the glass it seems), and when the phone was assembled, this made the home button feel very out of place. It didn't feel right because it was sunk in a little bit. Lastly, the proximity sensor didn't work at all. We'll be trying Round 3 pretty soon when our package from China arrives.
We're not sure what's going on with the white models, but once we have a fully working white unit, we'll care a little less. Unfortunately I didn't take photos of the fully assembled white unit, but will do so when it's up and running.
Thanks to Richard Lai for the emotional support!