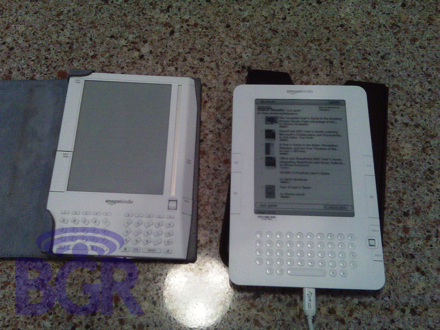 Yes, people. You're looking at the first shots of Amazon's Kindle 2. The follow-up to their popular e-book reader. Our ninja sent us a ton of shots, and we have to admit, they look pretty good. The unit didn't go down too much in size which is unfortunate, but then again, you want something pretty large so it's comfortable to read on. He says that the unit is a little wider and a little longer, but it should help those that thought the first unit was a little too awkwardly-shaped. What's even better is that with the new unit, while holding it, you won't accidentally flip the page like the old one. Hit the jump for the rest!
As far as buttons go, on the right side, the bottoms from top to bottom are: Home, Next Page, Menu, a joystick, and Undo. On the left side, there's Previous, Page, and Next Page. We're told the buttons are significantly smaller to avoid accidental page turning. The joystick takes the place of the scroll wheel and it "takes a little getting used to." As far as the redesigned keyboard… it "has a good layout, but lettering on the keys could be darker." Continuing our tour around the unit, next to the sliding sleep button, there's the headphone jack, and on the right side edge you've got the volume up/down buttons. What's interesting (and you can see this in the photos) is that the backside of the unit is mostly metal with the speakers at the bottom pf the back. One more plus? They've finally ditched their own charger. The Kindle 2 is able to be charged with a miniUSB cable.
Our ninja didn't have a pocket ruler, but he said that the size of the display is approximately the exact same as the original Kindle even though at first glance it looks a little smaller. What might be a little troublesome is the fact that the battery does not look to be user-accessible, and there's no more SD card slot. In the top left corner of the device, it gives you a display of how much memory is left, and our guy's unit showed 1403 MB. Lastly, it still uses EV-DO for downloads, and it comes with a leather pouch as opposed to the binder-style piece of nonsense that would constantly let the unit fall out. All in all, the unit is thinner, has a slightly heavier feel, and it feels much sturdier. Mr. Badass Ninja doesn't like the metal back, and he's not convinced on the joystick yet. That's all for now, folks! Thank our ninja in the comments, and let us know what you think. Shots are of course in the world-famous BGR gallery
Thanks, BCU1!
Click on over to our Amazon Kindle 2 gallery!