TikTok is a huge source of music discovery now, but getting those songs into your music app is a bit of a pain. You have to figure out what the song is and then search for and add that song to your preferred music app. Spotify is looking to make that process much easier.
Today, the company announced that it is integrating with the TikTok app so that you can add a song to your Spotify library right from the TikTok app. According to Spotify, "Spotify Free and Premium users in the U.S. and U.K. will be able to save songs you're hearing on TikTok straight to your Liked Songs playlist within your Spotify Library without having to switch apps."
Sten Garmark, Vice President and Global Head of Consumer Experience at Spotify, said in a statement that the company wants to integrate "across any platform or device." As a HomePod user, I really hope the company will live up to that promise and finally add native Siri support for the HomePod and HomePod mini.
"No matter where you are, or the moment you're in, we want to create less work to get to the audio you love. That means being everywhere our users are and creating seamless ways to save songs to Spotify to enjoy when and how they choose to listen. As the world's largest audio-streaming subscription service, our mission is to bring artists and fans together so you can listen to more of what you love, across any platform or device. Essentially, you won't need to find audio to suit the moment. It will find you."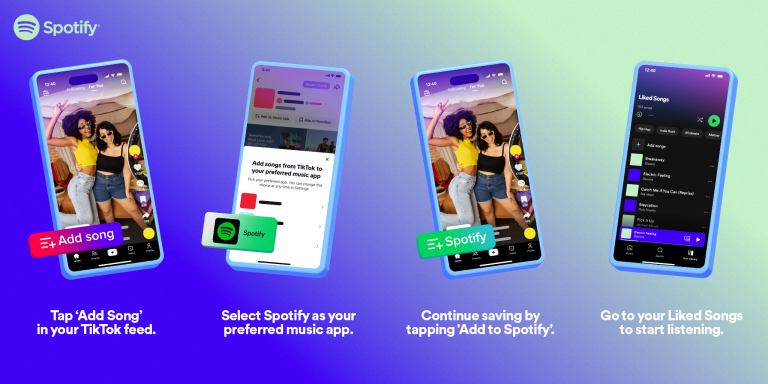 If you want to integrate your TikTok and Spotify accounts to start using the new feature, follow the steps below:
Make sure your Spotify and TikTok mobile apps are updated.
Set Spotify as your default streaming service on TikTok. You can do this the first time you use the new feature by tapping "Add Song" in the main TikTok feed and selecting Spotify, or under the Settings page on TikTok under Music.
Then, automatically save songs to Your Library by simply tapping the "Add to Spotify" button in TikTok. On Spotify, you'll find all your newly saved tracks in your Liked Songs playlist.
Head to your Liked Songs and get listening!
Spotify says that it is starting to roll out this feature to both iOS and Android today. It notes that it is starting with the United States and the United Kingdom with "more markets to follow." The company says that this is its latest social integration — the app already works with "BeReal, Meta, Instagram, Snapchat, and Twitter" (yes, even Spotify still called it Twitter in the blog post).
The announcement comes a week after Spotify also rolled out a new user experience for its TV app — making me once again consider a switch from Apple Music. The company also recently rolled out its new feature for Spotify Premium which lets users listen to up to 15 hours of over 200,000 available audiobooks per month as part of their subscription.
This is a great integration and something that I wish Apple Music did with apps like TikTok, Instagram Reels, and YouTube Shorts. Shortform video apps are great for music discovery and having an easy way to add music to your preferred app is a great idea.