We've told you for a while now that Netflix will launch its own Game of Thrones alternative in late 2019. The Witcher is easily one of the most exciting Thrones rivals that will premiere this year. Only Amazon's Lord of the Rings TV series might have a better chance of becoming the next Game of Thrones, but that show is still in pre-production whereas Netflix will make The Witcher available for streaming in the coming months. But Netflix isn't yet ready to reveal the actual launch date for the series. It only released the first trailer a few months ago, without disclosing an actual launch window. Late last month, someone claimed to have knowledge of the actual premiere date but Netflix quickly denied the rumor. Now, it turns out Netflix may have just accidentally leaked the actual release date itself.
The social media accounts of @NetflixNetherlands and @NetflixNL had this message up on Monday before someone deleted it, via Redanian Intelligence: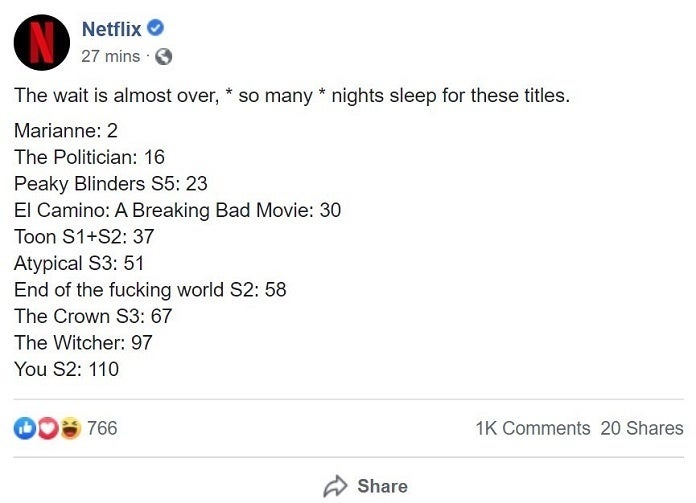 According to the post, we had 97 sleepless nights left to wait until The Witcher's release date. If the information is accurate, then we're looking at a December 17th release date for the TV series. That's a Tuesday if you were wondering, and Netflix typically releases new original content on Tuesdays and Fridays.
The list above also contains plenty of other titles supposedly hitting Netflix soon, including the first Breaking Bad movie. Netflix's message teased there are 30 sleepless nights left until the launch of El Camino: A Breaking Bad Movie, which would give the film an October 11th premiere date. As it turns out, that's the actual launch date for the movie, which is already official.
In other words, it sure looks like that Witcher date might be the real deal, and the highly anticipated TV series could drop just a few days before Christmas.