In all my years of gaming, I've encountered very few genres that fail to strike a chord with me. From RPGs to shooters to racing games to digital card games, I've always found an entry point. Except for when it comes to MOBAs.
League of Legends and Dota 2 are probably the two most popular multiplayer online battle arenas on the planet. They attract not only tens of thousands of players every month, but countless viewers as well who tune in to watch players play ranked matches and watch teams compete against one another in multi-million dollar tournaments.
But for whatever reason, I've never been able to find the fun in MOBAs. They're incredibly deep, and most require a significant time commitment to not only learn the mechanics and memorize the matchups between characters, but to even play a game. Most League games last over 30 minutes, while Dota 2 matches often stretch to 45.
After a few tries, I quickly realized that the genre just wasn't for me. And then I downloaded Arena of Valor.
Arena of Valor is a free-to-play mobile MOBA that began life as Honor of Kings overseas in 2015. Last year, it became the highest-grossing mobile game on the planet, raking in close to $900 million in revenue in the first quarter of 2017 alone. With 55 million daily users in China alone, it finally made its way West in late December.
In many ways, Arena of Valor is similar to the games mentioned above, particularly League of Legends. That doesn't come as much of a surprise though, as Tencent Games publishes both League of Legends and Arena of Valor/Honor of Kings. The primary differences between the two games are the barriers to entry and the speed of the matches.
Although my experience with League is admittedly limited, I remember feeling overwhelmed the first time I played it. On the contrary, the opening minutes of Arena of Valor are incredibly inviting, with one of the better tutorials I've ever seen in a game like this. Within ten minutes, I had all the basics down and was able to jump into a game.
What stands out about Arena of Valor is how it simplifies the control scheme and mechanics without totally diluting the game's depth. The virtual joystick it employs may not be as precise as the tap-to-move scheme of other touchscreen MOBAs, but it feels more natural and, once again, it's easier for the average gamer to pick up and understand. And the way that you can aim your skills by pressing and holding on the button it's attached to is brilliant.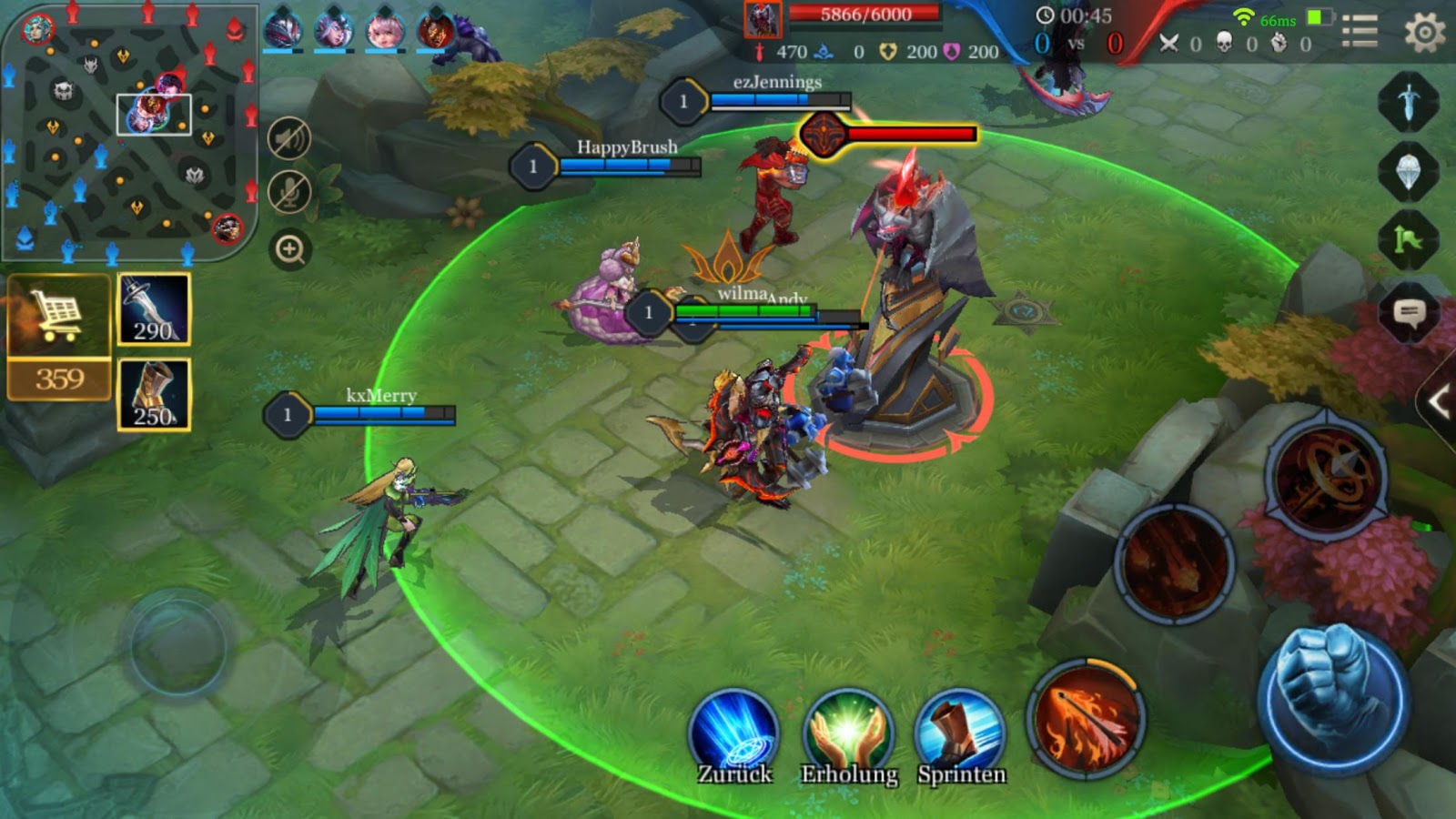 Having been around for over two years now in one form or another, Arena of Valor is also packed with content to explore. There are six different casual match varieties, ranked matches, bot matches and custom matches. There's also a fairly robust training camp if you want to test out a new hero before diving in with it.
And despite being such a financial behemoth, Arena of Valor is shockingly generous when it comes to giving away heroes. Having started playing the game just a week ago, I already have access to 14 of the game's 40 heroes. This is thanks in part to login rewards as well as an in-game event called Road to Glory, which awards players with a new hero every time they finish three matches in a day. Up to two heroes can be unlocked every day this way, with 14 heroes available in all. In fact, I'll have 19 heroes by the end of the day tomorrow.
Of course, all these carrots on sticks wouldn't matter if the game wasn't actually fun. Thankfully, it's fun, polished AND fast-paced — everything a mobile arena battler should be. If you've been looking to dip your toe in the water of this daunting world, Arena of Valor is a perfect place to start, no matter your skill level.