If you purchase an independently reviewed product or service through a link on our website, we may receive an affiliate commission.
Washing your hands is something that should ultimately come second nature to you, meaning, you'll pretty much do it after virtually any activity without even really realizing that you're doing it. This is arguably the best way to avoid the spread of germs and sickness and it's also something that needs to be done on a strict regimen. Of course, you're also going to need the right kind of hand soap to make it count. After all, running your hands under some cold water and drying them off on a used towel doesn't even constitute what would even be the bare minimum for "washing" your hands. But if you're someone who finds themselves constantly washing their hands quite thoroughly throughout the day, you should consider purchasing liquid hand soap that better targets germs and leaves your hands smelling fresh and clean. While a bar of soap is certainly a serviceable option, you can avoid their slippery and exposed nature for something that's more convenient and designed with hands — and hands only — in mind. So let's go through some of the best liquid hand soap for killing germs, and you can find the one that's right for you and those paws of yours.
Best Liquid Hand Soap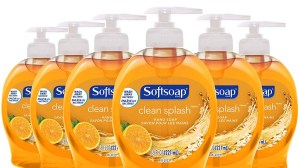 All things considered, you can't go wrong with this Softsoap Liquid Hand Soap, a dermatologist-tested hand washing formula that should be a staple in every bathroom and kitchen around the world. This fresh, citrus-scented hand soap smells phenomenal, yet it's not too overpowering, helping you maintain an authentic and all-natural scent. You only have to use a tiny amount, as it's rich, lathering, and mixes with water perfectly to give you a full clean every time. It's great in either the bathroom or the kitchen, as it effectively washes out dirt, grime, and bacteria. As an added bonus, it's even made with light moisturizers to keep your hands smooth and silky. For a fresh, great-smelling, and most of all, effective hand soap, look no further than this iteration from Softsoap.
Softsoap Liquid Hand Soap, Clean Splash - 7.5 fluid ounce (6 Pack)
Price:
Available from Amazon, BGR may receive a commission
Best Foaming Liquid Hand Soap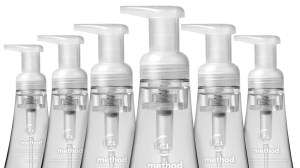 Admittedly, foamy soap is one of those guilty pleasures we all love, regardless of our age. Plus, it's a bit less messy, as it's not pure liquid and it's a little more formed than traditional liquid hand soap. If you're looking into foaming liquid soap, then this Method Foaming Hand Soap from Method Lights is an absolute no-brainer. This pack of six comes with — you guessed it — SIX 10 oz. bottles of naturally derived hand soap. You're not likely to find a hand soap as lathery as this one, plus, the formula is totally biodegradable, naturally derived, and contains zero dirty ingredients. It's also triclosan-free, de-ionized for purity, and extracted from an abundant source. And to top it all off, not only is the bottle itself recycled, but it's also 100% recyclable after that, making it totally environmentally-friendly in more ways than one.
Method Foaming Hand Soap, Sweet Water, 10 oz, 6 pack, Packaging May Vary
Price:
$19.74 ($0.33 / Ounce)
Available from Amazon, BGR may receive a commission
Best Hand Soap Dispenser Refill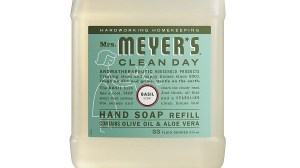 On the other hand, if you're thinking about utilizing a soap dispenser, whether it's in your office, home, or anywhere else, you're going to need a reliable liquid hand soap to fill it with. In this case, Mrs. Meyer's – Liquid Hand Soap Refill is a fantastic choice. This refill pack weighs around 2.5 pounds and is made with an intriguing and fresh-smelling blend of essential oils, Aloe vera, olive oil, and a variety of other thoughtfully chosen ingredients. It's also made with no parabens, phthalates, or artificial colors, making it a great natural alternative to other hand soaps. Plus, it's completely cruelty-free and not tested on any animals, so you can probably sleep a little better at night. This particular blend is made with a fresh basil scent, which gives your hands a totally organic and natural smell that's not overpowering but certainly packs a pleasant punch.
Mrs. Meyer's Liquid Hand Soap Refill, Cruelty Free and Biodegradable Hand Wash Formula Made wit…
Price:
$7.48 ($0.23 / Ounce)
Available from Amazon, BGR may receive a commission