Just four months after debuting its cheaper prepaid plans, Verizon has expanded upon the offering this week with the introduction of the Prepaid Family Account. The prepaid plans will stay the same, but going forward, customers will be able to add up to four additional lines to their prepaid accounts and receive a discount on every added line.
The prices of the prepaid family plans start the same as the individual plans: $40 for 3GB, $50 for 7GB, $60 for 10GB and $80 for unlimited data. But on a family plan, every line added will receive a discount. Lines 2 through 5 on a 3GB will get $10, dropping the price to $30, 7GB additional lines will get $15, and both 10GB and unlimited plans will pay $20 less per line, which amounts to a maximum savings of up to $80 for 5 lines on a unlimited plan.
While the discounts are nice, the best thing about the new Prepaid Family Account is that everyone on the plan will have their own data allotment, rather than the shared bucket that standard family plans feature. On a prepaid family plan, your brother can go over his individual allotment of data and the rest of the family won't suffer for it.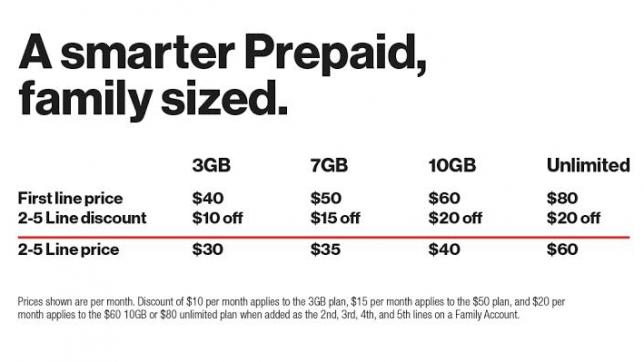 There are certainly cheaper prepaid family plans available from other carriers, but if you're already on Verizon and the standard family plan isn't cutting it for your family (or you're considering switching from a less reliable carrier to the carrier that still comes out on top in most tests), this might be worth looking into.