We've all likely experienced it — some sort of serious issue with a Google product, maybe having been locked out of an account or losing an important document, and you wish you could call or reach out to someone directly for help instead of searching on a web forum or the like. For customers of Google's paid cloud storage product Google One, at least, they now have the option of reaching out directly to Google customer support.
A TechCrunch writer today noted with pleasure that an email he received about his paid Google storage mentioned a host of benefits that come along with the product, including the ability to "talk to someone, who can (presumably) help … with issues like password recovery" and more.
Per that piece: "Brandon Badger, who is Google One product manager, says this is a critical component of the new storage package. 'Support is important to us, (and) we want people using our products to have a great experience and get questions or issues addressed in a timely manner,' Badger told TechCrunch. He added that users with paid storage plans often use many other Google products and services and this provides a way for customers to get answers to problems they have across the Google cloud ecosystem."
Google's G Suite business customers have had the ability to do this for a while now. Google says its Google One benefits include "access to Google experts," which presumably includes actual calls since the call icon is right there: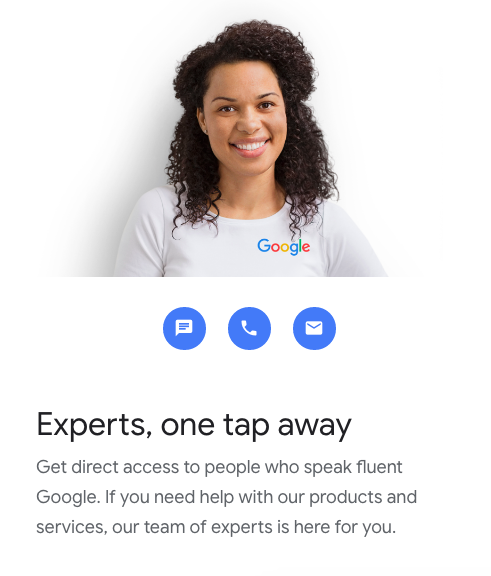 From a 9to5Google explanation of the motivation behind Google launching Google One, the company decided to revamp its cloud storage offerings "to better reflect the rise in high-res images and 4K video, especially due to Photos, while also integrating family plans. 'Google One' features simplified plans that are cheaper and also give subscribers other benefits, like deals and better customer support.
"All Google accounts receive 15GB of free storage, with the first paid tier starting at $1.99 per month for 100GB. Under 'Google One' this is not changing, but there is a new 200GB tier for $2.99. Meanwhile, instead of getting only a terabyte, $9.99 a month now provides 2TB of storage."
There are support pages for most Google products and services, that piece continues, which can be helpful, but might also leave you stuck if you've got a problem you can't find the answer to on the page's list of commonly asked questions. With Google One, the 9to5Google piece continues, "the company is now offering direct access to customer support for paying customers."