Samsung hung on to the top spot as the biggest smartphone maker in the world in the third quarter, but new data from Gartner shows a continuation of what has been a story of decline when it comes to the South Korea-based tech giant's handset business.
Samsung, according to the Gartner data, held on to almost 19% of the global smartphone market in the third quarter of this year, topping Huawei in second place with a 13.4% share and Apple with an 11.8% share. Samsung's share, meanwhile, was down from 22.3% in the third quarter — and it was also the largest year-over-year drop since Gartner began following global smartphone shipments.
"Samsung's smartphone sales declined 14% in the third quarter," Gartner points out in a release. "Samsung's Galaxy S9, S9+ and Note 9 struggled to revive demand in 2018, and its revamped midtier and entry-tier smartphones continued to face huge competition from top Chinese brands who grew market share in key markets, such as India, and their expansion into regions beyond Asia/Pacific continues to take away opportunities from Samsung."
This is yet another reason why 2019 will be an all-important year for Samsung's mobile business, since it will see not only the launch of the Galaxy S10, but also the company's much-touted foldable phone, which will bring a new form factor to the marketplace. Among other competitive worries for Samsung, though, Huawei's executives have made it clear they want to dethrone Samsung from the top spot and are working feverishly to accomplish that goal.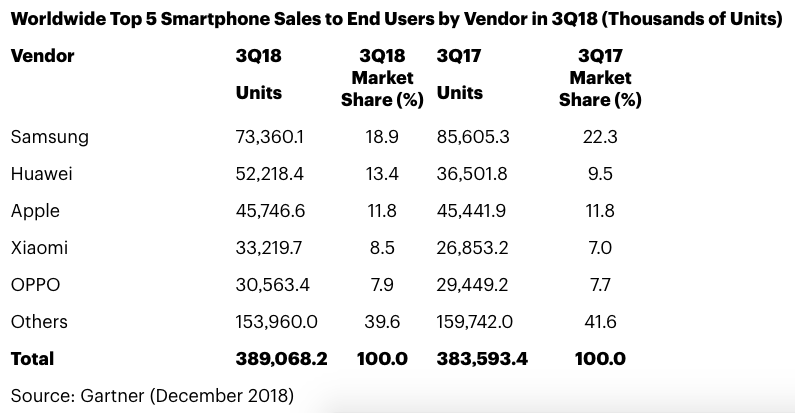 Among other takeaways from the new Gartner data is the fact that smartphone sales grew 1.4% overall in the third quarter, to hit 389 million units. That's a small increase, but if you take out the performance of Huawei and Xiaomi, you actually get an overall decline for the market.
According to Gartner research director Anshul Gupta: "If we had taken both Huawei and Xiaomi out of the global smartphone vendors list, smartphone sales to end users would have declined by 5.2 percent." The table above shows why that's the case. Huawei, for example, saw a big jump year-over-year, growing demand for its handsets by a whopping 43% in the third quarter.
In material accompanying the release of the new data today, Gartner also addresses future technologies, given that global smartphone sales continue to decelerate. That includes technologies like 5G and the foldable form factor that manufacturers hope will gin up new demand. But though major vendors like Samsung, Huawei and LG are moving ahead with foldable phones in 2019, Gartner cautions that it will take some time for interest in those to become mainstream.
And as far as 5G, Gartner research director Roberta Cozza says that it's "unlikely that 5G will be seen in mobile devices in significant volumes before 2020."