Apple wasn't the first company to release a smartphone, but it completely upended the industry when it finally entered the market in 2007. Companies like Nokia and BlackBerry were the biggest names in the business at the time, and those companies are now shells of their former selves. Nearly every smartphone on the planet had a keyboard at that point, and the ones that did have touchscreens needed a stylus. Now, nearly every smartphone on the planet features the form factor and touch-focused user experience that Apple popularized a decade ago.
Something similar happened in 2013 when Apple debuted the iPhone 5s. Again, Apple wasn't the first smartphone maker to release a handset that could be unlocked with a fingerprint sensor. But once it did, every other top smartphone maker in the world scrambled to add the nifty biometric authentication tech to their phones. The same can be said of so many things Apple has done with the iPhone over the years, but it's possible that the days of seeing Android makers copy every single one of Apple's major technology shifts could be coming to an end.
In 2017, Apple shocked many fans when its completely redesigned tenth-anniversary iPhone didn't have the Touch ID technology they had grown to love. Instead, the iPhone X features a new kind of biometric authentication tech called Face ID. Apple's new facial recognition feature is far more secure than Touch ID, but it can also be slower and less convenient in some case. Far worse is the fact that many users find it to be less reliable than Touch ID, though there are ways to reset Face ID so that it works better.
In any event, Apple executives were very clear on stage during the press conference at which the iPhone X was unveiled. Apple views Face ID, not Touch ID, as the future of mobile authentication. While other iPhone models unveiled in 2017 still included Touch ID fingerprint sensors, rumors suggest Apple plans to unveil three new iPhone models this coming September and they'll all feature all-screen designs with Face ID instead of Touch ID.
This is the type of major shift in strategy and technology that Android phone makers in the past would have been scrambling to copy. According to a new report, however, that might not be the case.
Our own sources have informed us that Samsung is already hard at work trying to replace its unsecure facial recognition tech with a more sophisticated solution to compete with Face ID. But Samsung is Samsung. Also, we've heard nothing suggesting that Samsung plans to abandon fingerprint authentication, as Apple seems to be doing — though I can easily see this as being the latest in a long line of things the company backtracks on, especially now that under-display fingerprint sensors are ready for primetime.
That brings us to a new report from Taiwan-based market research firm TrendForce. The company is often in tune with things that are happening behind the scenes in the smartphone supply chain, and it believes demand for fingerprint sensors in smartphones will not decline despite Apple's shift toward Face ID. In fact, quite the opposite; TrendForce says fingerprint sensor demand in the smartphone industry is set to explode in 2018 thanks to in-display sensors.
"Fingerprint sensors will still be the first choice for most Android phones in 2018, since other biometric authentication methods available for Android phone makers cannot completely replace fingerprint identification yet," TrendForce said in a press release. "Meanwhile, in-display fingerprint sensors are expected to make breakthrough this year, and vendors like Samsung, LG, OPPO, Vivo, Xiaomi, Huawei are likely to embed this technology, bringing the global fingerprint sensor penetration rate in smartphones to 60%."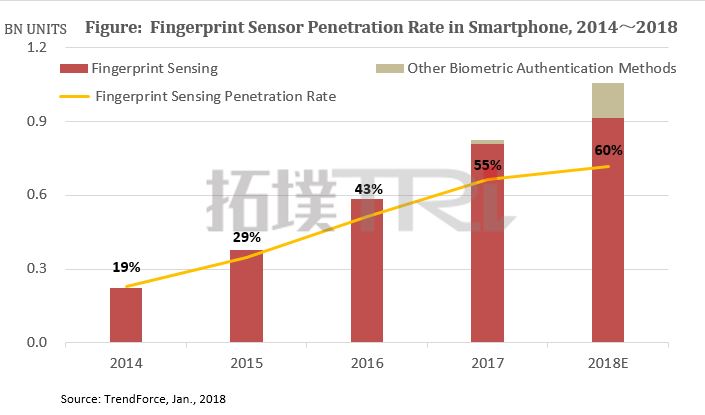 According to the firm's numbers, about 800 million smartphones with fingerprint sensors shipped in 2017. This year, TrendForce believe that number will increase to more than 900 million units. This would represent massive growth considering the iPhone X and its successors will be among the best-selling smartphones in the world in 2018, and none of them will have fingerprint sensors.
Is the age of seeing Android phone vendors copy each and every one of Apple's major strategy shifts now behind us? It's clearly too soon to tell, but it certainly appears as though none of the world's top Android phone makers plan to shift away from fingerprint authentication anytime soon.