What a day to be an Apple fan, am I right? First you guys get confirmation that the iPhone 8 will be unveiled on September 12th, and now you get 10 new paid iPhone and iPad apps on sale for free to fill up your iOS devices. These sales won't last, though, so be sure to grab all the freebies you can while there's still time.
This post covers paid iPhone and iPad apps that have been made available for free for a limited time by their developers. BGR is not affiliated with any developers. There is no way to tell how long they will be free. These sales could end an hour from now or a week from now — obviously, the only thing we can guarantee is that they were free at the time this post was written. If you click on a link and see a price listed next to an app instead of the word "get," it is no longer free. The sale has ended. If you download the app anyway, you will be charged by Apple.
Flow
Normally $4.99.
Overwhelmed by your mobile inbox?

Flow presents your mail as a continuous feed, allowing you to review and act on your mail without ever losing context, and marking each mail as read when it is scrolled above mid screen.

Tame your mobile inbox! Install on your iPhone today!

* For the time being Flow works with Gmail / Google Apps, iCloud, Outlook/Hotmail, Yahoo, QQ mail, 163 mail and all other IMAP mail services.
* We do not store emails on our server.
* Flow is not for everyone, but some people would addicted to it.
SysMonitor
Normally $0.99.
SysMonitor is a system data real-time monitoring application , which can add the monitoring data plug-in to the notification center, so you can keep abreast of the data of the equipment.

SysMonitor supports monitoring of multiple system data:
* Hardware data
* Battery data
* Disk data
* Memory data
* Network data
* Carrier data
* Localization data

SysMonitor Widget supports real-time monitoring of multiple system data:
* Network upload / download speed
* Disk usage
* Memory usage

You can enable the SysMonitor Widget in the "Today" page of the Notification Center for easy access to device data.
ESL Robot
Normally $4.99.
ESL Robot is an award-winning artificial intelligence application. It performed very strongly at the annual Loebner Artificial Intelligence Contest. In June 2013, it won 2nd place in the overall competition. In 2011, it won 1st place in the category judged by junior students, and 4th place overall. It won 3rd place in Chatterbox Challenge 2010.

This application is designed to help English learners practice speaking English. Learning a language requires a lot of practice, but it is often difficult or expensive to find someone to practice English with. ESL Robot is specifically designed to help users practice speaking English. Requiring only an Internet connection. ESL Robot never tires in providing human-like responses to all your inquiries on a range of subjects. It is a highly convenient and cost effective way for learners to simulate conversations with an English native speaker. In addition to speaking its response, ESL Robot displays the written text of the dialogue onscreen. In the event the bot fails to recognize your voice, you can type in your questions and responses. This serves as an excellent format to study, practice and improve your English.

After years of development, ESL Robot has become an experienced "English tutor". Its responses are both educational and entertaining. It can tell you jokes, riddles, and proverbs. You can ask grammar questions. It knows almost all the grammatical terms used in an English grammar textbook; it knows irregular verbs, and irregular plural forms of certain nouns; you can ask for advice about how to learn English. A predominant feature of ESL Robot is its capability to check for spelling and grammatical errors. When you type in a question, ESL Robot checks for common ESL spelling and grammatical errors. Up to now, over 2,500 common ESL errors have been collected. When an ESL error is detected, ESL Robot will give you a response such as, "You made an error. 'ENJOY' must be followed by a gerund not an infinitive."

ESL Robot is knowledgeable. It knows what happened today in history; it can tell you the capital city, population, and location of each country; you can ask him who is the current president of which country, and who wrote which book. It can also answer many general knowledge questions on geography, science, sports, pop culture, and current events, such as "What is the largest city in Spain?" or "How far away is the sun?" or "Who won the most gold medals in Beijing 2008?" ESL Robot has a good memory. If you tell it your name, age, birthday, etc., it will remember them when you ask it later in the conversation.

HOW TO USE THE APP

ESL Robot is easy to use. If your iPhone is 4S or up, it has voice input. Go to Settings – General – International – Voice Control to make sure English is chosen. Touch the microphone icon and start to speak; the robot will speak back to you with a voice. When you speak, the text will appear in the box for you to look at. If the app fails to recognize your voice input, you can correct the mistakes by typing before you click on the SEND button. Now you can talk to ESL Robot just like talking to your human English tutor.

Disclaimer: All the answers given by the robot are for language practice purposes; they are usually correct, but may not be 100 percent accurate.
ThumbVideo
Normally $0.99.
ThumbVideo is a video player forcused on thumb manipulation holding your device with one hand.
Recent iPhone with large size screen such as iPhone6/Plus has difficulty to control playback of video with one hand. But, you can do it with this App!!

More specifically:
1. Horizontal flick on the movie pane is available to forward or backward the video for some pre-set seconds.
2. Time slider (which is normally shown on the top or bottom of the screen horizontally) is shown at the left or right edge _vertically_!!
3. Drawing a circle gesture works as a jog dial like FF/REW control.
4. Long press at any point results 10x FF.

■How to play
You are able to play any of the following video files:
1. files copied via iTunes File Sharing.
2. files linked from any web page shown by in-app browser. *1
3. video captured with built-in camera
4. Movie, TV program, music video, video podcast, iTunesU contents from iTunes store (without DRM)
5. Video passed through "Open In…" feature from other App.
6. files linked with "thumbvideo://" scheme from Safari or other Apps.

■Other features
-With AirPlay or Apple Digital AV adopter, you can use iOS device as flick enabled remote controller while watching video on TV/Projector.
-You can play/pause/skip forward & backward with control buttons on ear-phones of Bluetooth headsets.
-The last timecode(played point) is synced through iCloud.
– The time to forward or backward by flicking can be set individually.
-Your secret video can be hidden in "Secret Folder" (can unlock with touchID)
-Bluetooth hadware keyboard Support.

Some Tips are available at out support blog (basically in Japanese, sometime in English). Please check it to enjoy this app. Comments in any languages are welcomed.

A tiny PHP script which render the HTML list of your video files has released. It will turns your PC/Mac or PHP enabled NAS into the server for this app. Please check my support URL.
Smart Merge Pro
Normally $2.99.
* Over 1,000,000 people love Smart Merge Pro :)

* Merge all duplicate contacts with one tap! *

MAIN FEATURES
○ Find & Merge duplicate contacts!
○ Remove contacts without name or phone number
○ One tap to backup your contacts!
○ Quickly find the contacts you need

Your contacts are the most important data in your phone which easily becomes messy if not consistently updated.
Smart Merge Pro easily helps you detect and merge duplicate contacts.

SIMPLY MERGE DUPLICATE CONTACTS
○ Merge all duplicate contacts with one tap!
○ Find & merge contacts with similar names.
○ Find & Merge contacts with duplicate phone or email.

CLEANUP
○ Remove contacts without name
○ Remove contacts without phone & email

BACKUP
○ Backup your contacts with one tap!
○ Quickly export your backups to Dropbox, Google Drive, Email
○ Move contacts between accounts (Exchange, iCloud, Local Address Book)

SMART FILTERS
○ Quickly find the contacts you need
○ Filter contacts by Company & Job title
○ Filter contacts by upcoming birthday & creation date

AVAILABLE IN 15 DIFFERENT LANGUAGES
English, Español, Français, Italiano, Deutsch, Português (Br.), 中文 (Simplified), 中文 (Traditional), 日本語, 한국어, Nederlands, Русский, Türkçe, العربية, עברית
Backgammon Premium
Normally $1.99.
Play the #1 Backgammon on the App Store! Now with the best online Backgammon experience with background match-making and two ways to play online: Turn-based gameplay or live games via Game Center. Challenge your friends, play against random opponents, compete for leaderboard glory, and earn achievements.

– – – – – –

** Recommended by MacWorld as a Top Download for your iPhone, iPod Touch, or iPad in their November 2010 issue.

** "Backgammon Premium is the crème-de-la-crème 'gammon'" 9 out of 10 stars Appaddicts.com!

** Nominated for "best dice game of 2009 in the 2009 Best App Ever Awards hosted by bestappever.com!

– – – – – –

Backgammon is believed to have started in Persia, eventually finding its way to Britain with the Roman conquest in the 1st century and was played by Emperor Claudius who even had his carriage equipped with a playing board! It became such a gambling mania that it was declared illegal under the Republic.

Playing on the history of the game, there are 6 visually pleasing, rich board designs; Egyptian, Roman, Medieval, Victorian, Modern and Classic.

We also offer, out of the box, two classic game variations: "Old English" and Nackgammon. "Old English" is the most popular game variation in England. Nackgammon is a more challenging variation designed to add more creativity and skill to the game.

With integrated Bluetooth Peer-to-Peer support you can play with your friends over Bluetooth with no network required! You can also play against the computer in either Easy, Medium or Hard difficulties, or play with a friend on a single device.

Features:
– Two ways to play online: Turn-based or live with Game Center
– Background match-making: search for opponents while you play!
– Single Player Games (with Easy, Medium, Hard or, soon, with our brand-new Expert player)
– Match support! Play to 3, 5, 9 or 15 points with Doubling. Matches use the Crawford Rule
– On the phone Multiplayer and Bluetooth peer to peer games
– Move-Assist, highlights available moves
– Unlimited "Undo" in single-player games
– Extensive game statistics
– Designed for iPhone & iPad
Glow Asteroids Shooter
Normally $4.99
LIKE Asteroids Shooter?
LIKE Space Battle?
LIKE Shoot em up?
TRY Classic Asteroids Arcade Game in Glow Neon Style!
Crashing glow asteroids, destroy the glow flying saucers (UFO)!
Destroy all space invaders in this battle!

Hold out as long as possible and earn a lot of points!
Tip: Use the hyperspace to avoid a collision with asteroids! BUT! Be careful – you can appear anywhere!

Features:
– Amazing glow neon graphic
– Easy gameplay and control
– Survival mode
– Nice music and sound
– Open space
Download Glow Asteroids Shooter
Rude TimeTable
Normally $0.99.
Rude TimeTable ( from Latin – incredible, great ) it is not just any timetable for students, it is your personal informal helper with studying process. It can even take responsibility for you skipping the lectures from time to time, but maybe not all the time.
With RT you could do so many various tasks: write all names of your tutors, classrooms, time of your lectures, extra curricular activities etc.
Vidget helps you to look at your timetable even from a locked screen. All you have to do is swipe down to notification centre.

RT is created for student by student, that what makes it extraordinary.
Klipped
Normally $0.99.
Beauty in simplicity.

Think of this as your whiteboard (or your blackboard).

Klipped is a text editor with an extremely simple feature set. Write ideas down. Paste text and use as a clipboard, Delete when you're done. Scribble ideas. Paste code snippets. Take notes. Rapid launch.

Just your text.

Advanced Features:
:: Shake for undo/redo
:: Lights off mode – swipe left or right with two fingers
:: Auto-correct
:: Coding mode (fixed width)
:: High-contrast mode
:: Options for auto-correct, auto-capitalize, spell check
Cityscape(s)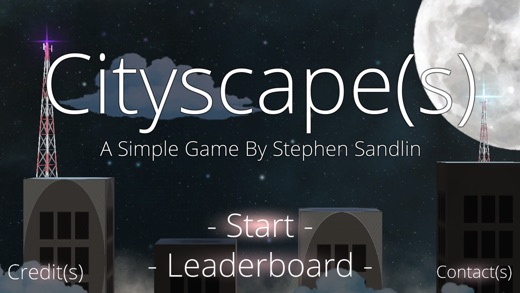 Normally $0.99.
See how far you can go as you hop across rooftops chasing the high score in this procedurally generated infinite runner. Each ball you start with and each rooftop you encounter are completely randomized and come with a special trait of their own to help you along the way. Try to beat your own high score or challenge your friends on the leaderboards. Either way, have fun in this simple game created by Stephen Sandlin.