When he's not busy making awesome movies, sparring with his wife on social media, or selling gin, Ryan Reynolds also sells smartphone plans under his Mint Mobile company. And he tries to make everyone else in the business look bad by comparison. The latest crazy move from Reynolds's MVNO carrier might have seemed bogus at first, but it was very real. You could sign up for a 25-year Mint smartphone plan at $100 a year. The offer was valid for one day only, and you just missed out on it. That being said, you had to pay for all 25 years upfront, and we doubt too many people are interested in a 25-year commitment.
The whole 300-month Mint smartphone plan was a great marketing gimmick, so it obviously had a timer on it. The "Bobby Bonilla Plan" allowed anyone to buy 25 years of cell phone service for $100 per year, which works out to $8.33 per month.
For that monthly fee, you'd get unlimited talk and text on Mint, 4GB of 4G and 5GB of data, and free international calls to Canada and Mexico. Free Mobile Hotspot and support for Wi-Fi calling and texting are also included in the deal. And the data is unlimited, but the speed will drop after you hit that 4GB monthly allowance. The plan also let you bring your own device and port your existing phone number.
"Long story short: we offer awesome wireless service at the lowest monthly price. Period," the carrier said.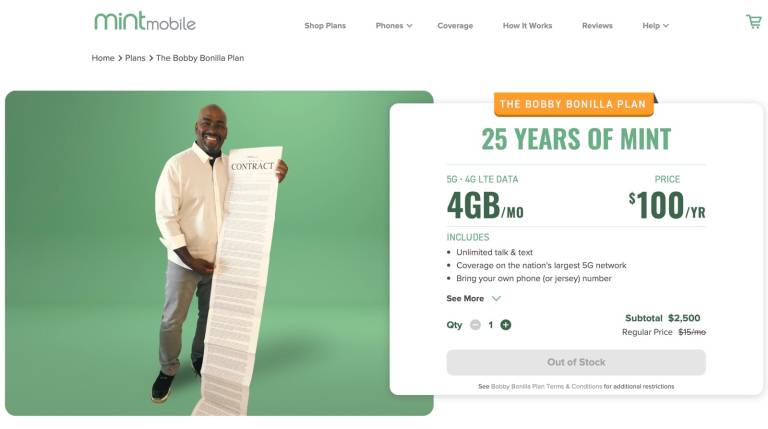 25-year Mint smartphone plan caveats
As impressive it might sound to get this special Mint plan, there are a few obvious caveats. First of all, this is an upfront type of deal. The plan above sells for $15/month regularly. To get access to it for just $8.33, you'd have to commit to the 25-year contract by paying $2,500 outright. That's a lot of money to pay for a service that you might not even want to use that long.
Who knows where Mint mobile will be in a few years from now. And you might want to change your mind and move your phone number to a different carrier down the road. After all, that's something we keep doing with our phone service. Not to mention that the plan doesn't account for the various innovations coming our way in the future. Unlimited data, of which only 4GB of traffic supports the maximum speeds, might not be enough in a few years. Also, technology will advance beyond the 4G and 5G connectivity that's included in the plan right now.
But there's one thing the Bobby Bonilla Plan did for Reynolds & Co. It got people talking. While you might have missed out on the limited deal, the same plan is still available for just $15 per month. Mint's plans are available at this link.