Next month, thousands of people throughout the United States will be treated to a beautiful and rare "Ring of Fire" eclipse. It's the only eclipse of its kind set to appear in 2023, and it will take place in mid-October. During the eclipse, the Moon will partially block the Sun's light, only allowing a "ring of fire" to appear around it.
Annular solar eclipses like this are especially exciting because they create quite a spectacle in the sky. While it isn't as drastic as the expected total eclipse of 2024, it will still create a beautiful scene you probably won't want to miss.
When to watch the 2023 annular eclipse
So where exactly will this upcoming Ring of Fire eclipse hit, and when should you expect to look for it in the sky? The eclipse will kick off on October 14, 2023. Luckily, that's on a Saturday, so it should hopefully be easy to work around other schedules if you want to see the eclipse for yourself. Like most sky-based events, how it looks will change much based on where you view it.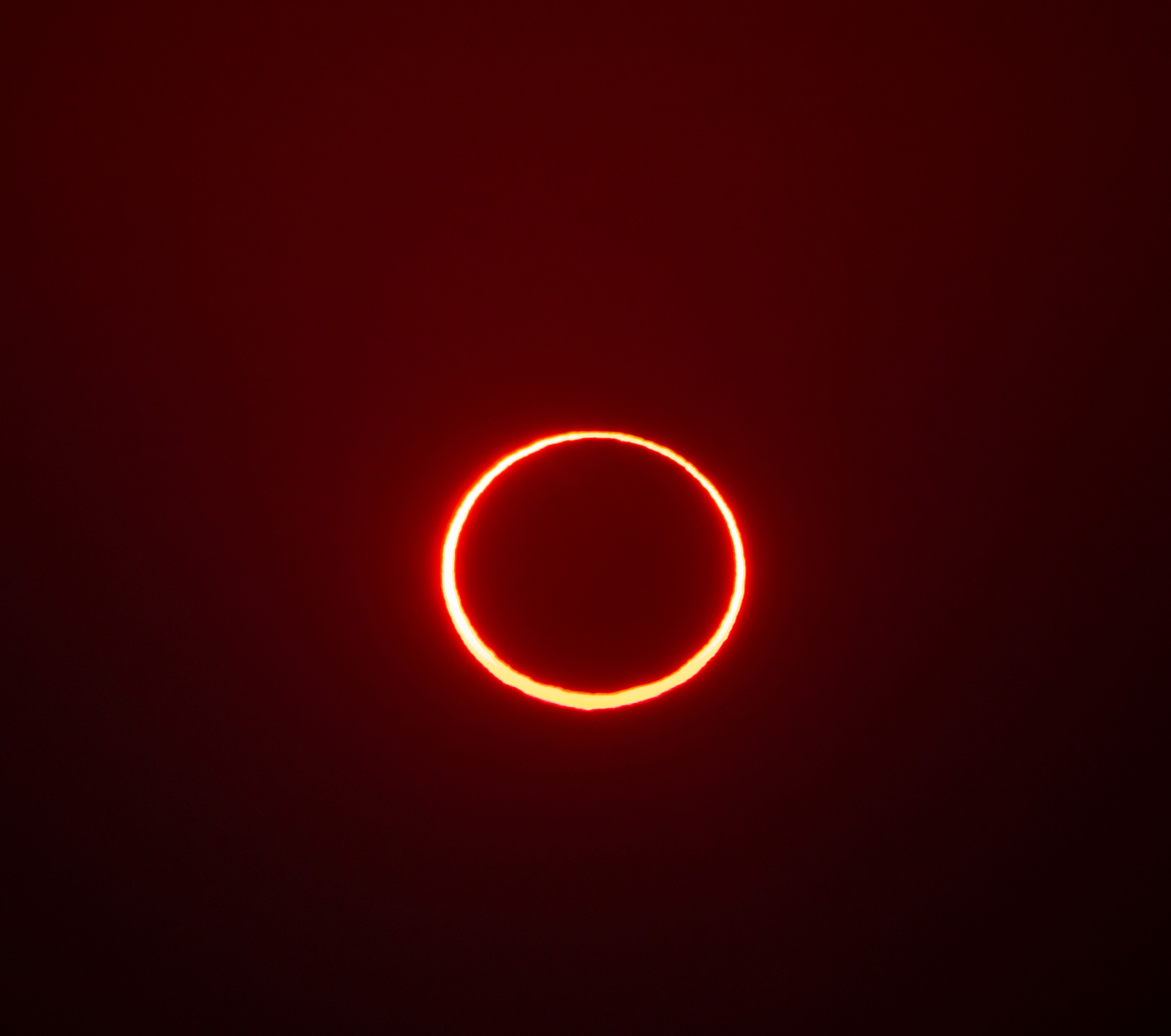 To get the most out of this upcoming annular solar eclipse, you will need to head to a small swath of the United States, though the main path will extend through parts of Oregon, Nevada, Utah, Northeastern Arizona, New Mexico, and even Texas. Other places in the world, like Panama, Honduras, Belize, and Nicaragua, will also get glimpses of the Ring of Fire eclipse this October.
Parts of Brazil and Colombia will also get glimpses of the annular eclipse, though the path will eventually turn off, heading eastbound across the ocean. For a more thorough breakdown of where to see the eclipse, you can check out NASA's report on the upcoming eclipse, which features some great visual maps from Great American Eclipse, LLC.
Want to see the Ring of Fire for yourself? Here's a list of popular places within the main line of the eclipse that you can visit to see the eclipse and when it will reach the maximum eclipse. Remember that the maximum exposure to the eclipse will last less than five minutes in all of these places.
Eugene, Oregon – 9:18 a.m. PDT
Alturas, California – 9:20 a.m. PDT
Battle Mountain, Nevada – 9:23 a.m. PDT
Richfield, Utah – 10:28 a.m. MDT
Albuquerque, New Mexico – 10:35 a.m. MDT
San Antonio, Texas – 11:54 a.m. CDT
How to watch the eclipse virtually
If you aren't included in the main area where the eclipse will be the longest and easiest to see, then you can always rely on a virtual viewing of the event. While it isn't quite as astounding as seeing it for yourself, it is still quite the show and definitely worth tuning into if you aren't in the main path of the eclipse.
There will be several options for viewing the 2023 Ringe of Fire eclipse virtually, including live streams by timeanddate.com and San Francisco's Exploratorium, both of which will be available during the event. It's also likely that other groups will join in on the live streams, as well, though these two are ones that have confirmed live streams for the event thus far.
NASA has also revealed that it will be running a virtual broadcast for anyone who can't see the eclipse in person, and it's going to be live throughout the entire event. It's also important to remember that solar events like this upcoming annular eclipse are dangerous to the human eyes, so you shouldn't be viewing them without special equipment designed for them.
What you need to watch the Ring of Fire solar eclipse in person
Special eclipse glasses offer darkened solar filters to help filter out the harmful radiation rays that the sun emits during these intense solar events. Further, many users who watch the eclipse through cameras or telescopes can also utilize special solar filters. However, you should never use eclipse glasses with binoculars, telescopes, or cameras, as they will not protect you from the sun's harmful rays.
If you aren't sure whether or not your binoculars or telescope are outfitted with the necessary equipment, then it is recommended that you do not use them to view the annular eclipse in October, as doing so without proper safety is ill-advised.
We're also expecting to see plenty of images from the event captured by astrophotographers in the area and some who like to travel to capture these types of events for themselves, so there will be plenty of ways to enjoy the spectacle that this event will create when it happens.
State parks where you can watch the Ring of Fire eclipse in 2023
Another cool way that some states are getting involved is by setting up designated state parks where you can watch it in person on the day of the eclipse with thousands of others. Several state parks throughout Texas will allow visitors to set up for the eclipse. Here's a complete list so far:
Big Spring
Choke Canyon
Devils River – Del Norte Unit
Garner
Goliad
Goose Island
Government Canyon
Guadalupe River
Hill Country
Kickapoo Cavern
Lake Corpus Christi
Lost Maples
Monahans Sandhills
Mustang Island
Old Tunnel
San Angelo
South Llano River
Each of the state parks listed above is within the path of totality for the Ring of Fire eclipse of 2023, which means you'll get even more time with the eclipse than if you were outside of it.
Of course, it is important to remember that Ring of Fire eclipses like this only last for a few minutes, with the maximum time expected for this one to be around four and a half minutes in the main line. Partial eclipses can last for several hours, so you'll be in for a show even if you miss the main event.