Last week, Elon Musk's SpaceX sent its Falcon Heavy rocket into the heavens. On board was Musk's own personal Tesla Roadster, acting as a dummy payload and providing some really glorious images to boot. You've probably seen plenty of photos of the vehicle with Earth in its rear view mirror already, but what you might not have noticed is that a second Tesla was also along for the ride. The Hot Wheels version of the Tesla Roadster was perched on the real Roadster's dashboard, and now collectors are paying big bucks for them.
The tiny car was barely a blip on the live stream, but you can definitely spot it in the various camera angles broadcast by SpaceX. Like most Hot Wheels toys, the tiny vehicle only cost about a dollar when it landed in toy stores a couple of years ago, but being sent into space has breathed some serious life into its collectability. It's now selling for as much as 100 times it retail price.
Listings for the red Roadster are climbing rapidly on eBay, where completed listings have gone for greater than $50, and some have crept much higher. Some pristine examples are being listed as high as $200 or more, but those aren't selling nearly as fast as those in the $50 range. Still, that's a remarkable climb for a toy that retailed for just over a buck.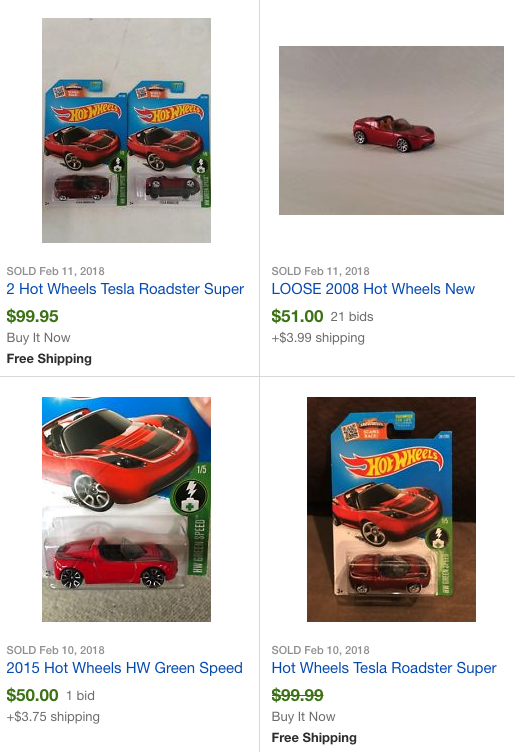 As CollectSpace points out, there are actually two version of the Tesla Roadster in the Hot Wheels lineup. The "mainline" and "Super Secret Treasure Hunt" variants have slightly different finishes, with the Super version sporting a metallic sheen and the standard edition painted in a more traditional red. Neither is a perfect match for the real Tesla Roadster, which has a bold red metallic paint job that doesn't quite match the Super, but is also shinier than the standard.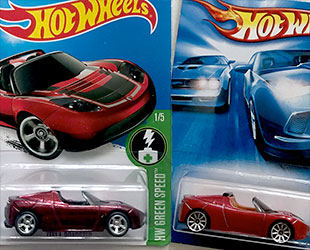 In any case, anyone who stocked up on Hot Wheels Roadsters prior to the Falcon Heavy launch is now sitting on a gold mine, and should have no problem offloading them to collectors and hobbyists willing to pay top dollar for a tiny piece of history.