Skywatchers in 10 states in the Midwestern United States got a treat early on Sunday evening as a fireball careened through the atmosphere and produced a fiery trail. Unlike some fireballs that are only spotted by a handful of people, or happen to be positioned over particularly remote areas, this speedy space rock caught the attention of hundreds.
The American Meteor Society says that it has amassed nearly 600 reports from witnesses spanning many states, but the object is believed to have been positioned mostly over Iowa and extreme Western Illinois.
As you can see from the video, the fireballs appears to spend a great deal of time cruising through the upper atmosphere as it bathes itself in flames. Many such rocks enter the atmosphere at a steep angle, causing a bright flash which rapidly dissipates, but this one appears to have visited Earth with a more shallow approach, and it's still unknown whether the object made it through the atmosphere or skimmed along it.
"The estimated 3D trajectory computed from the witness reports shows an shallow entry angle, one that could be associated with an Earth grazing fireball," the American Meteor Society explains in a new bulletin. "But many witnesses reported a fragmentation – it could mean the meteoroid actually went through the Earth atmosphere."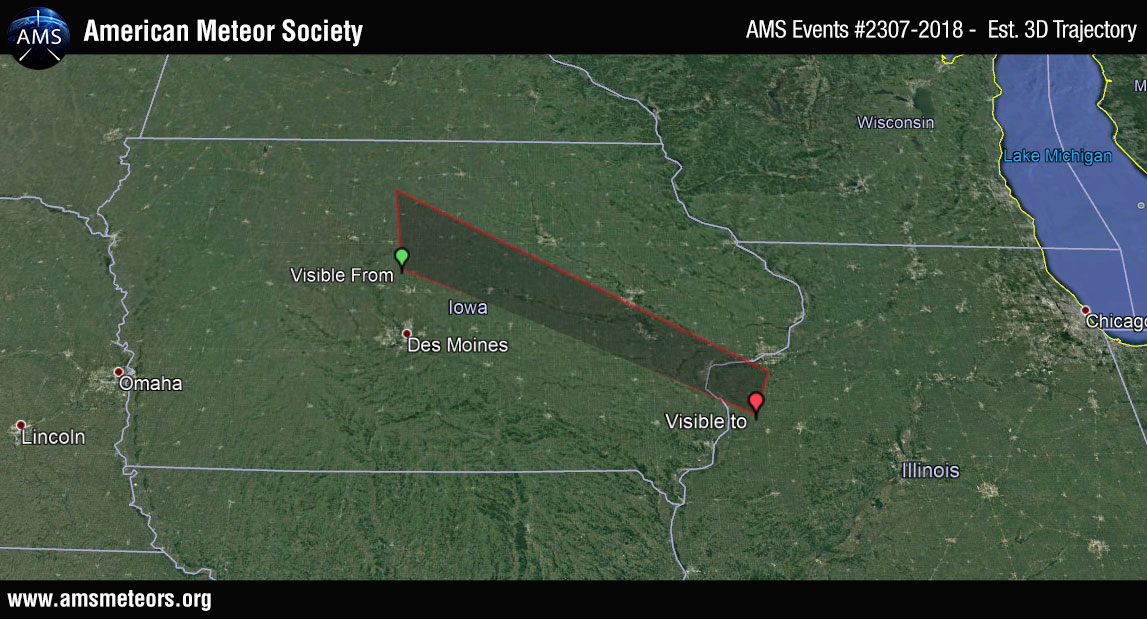 Witnesses report a bright light that flashed with neon green or blue hues, depending on where the object was seen from. Some have claimed that pieces of the object appeared to come off as it passed through the atmosphere, suggesting that it may have been destroyed by the frictional forces. There have been no reports of any material from the rock making it to the ground, so meteorite hunters don't need to spring into action this time around.