The OnePlus Open offers a sleek design and a unique software experience — and in fact, it's the complete foldable package.
Pros
Sleek design
Great camera
Solid battery
Excellent displays
Versatile software
| Buy From | List Price | Sale Price | |
| --- | --- | --- | --- |
| | $1,699.99 | $1,699.99 | See It |
Over the past few years, we've seen a number of great foldable and flipable phones get released…outside of the U.S. Sure, we get our fair share here, but companies like Honor and Oppo have arguably been making the most exciting options, and they don't launch phones here. Or at least, you may not think they do. The OnePlus Open is finally here — and it's a rebranded Oppo foldable phone.
Mind you, that's a good thing. As mentioned, Oppo has been making some of the more interesting options over the past few years, and it's great news that we're finally getting those state-side. But can the OnePlus Open really challenge the likes of the Samsung Galaxy Z Fold 5 and Google Pixel Fold?
Turns out, yes, it can.
OnePlus Open specs
Dimensions
153.4 x 143.1 x 5.8 mm
IP rating
IPX4
Display resolution
Exterior: 2484 x 1116
Interior: 2440 x 2268
Display size
Exterior: 6.31 inches
Interior: 7.82 inches
Display type
LTPO AMOLED
Display refresh rate
120Hz
Display brightness
2800 nits (peak)
Chipset
Qualcomm Snapdragon 8 Gen 2
Memory
16GB
Storage
512GB
Rear cameras
Wide: 48MP, f/1.7
Ultrawide: 48MP, f/2.2, 114-degrees
Telephoto: 48MP, f/1.8, 5x optical zoom
Video
4K at 60fps
Front cameras
Exterior: 20MP, f/2.2
Interior: 32MP, f/2.4
Ports
USB-C
Battery size
4,805mAh
Charging
67W wired
Connectivity
Bluetooth 5.3, Wi-Fi 7, 5G
Colors
Emerald Dusk, Voyager Black
Price
$1,699
OnePlus Open design
The OnePlus Open doesn't necessarily reinvent the wheel when it comes to foldable phones, but it does deliver a well-designed and high-end build that should appeal to anyone looking for a great foldable phone.
For starters, the phone is very thin. Unfolded, the device sits at only 5.8mm, and it feels very slim and premium. Of course, it's a little thicker than that folded — 11.7mm — but even then, it doesn't necessarily feel overly thick or bulky.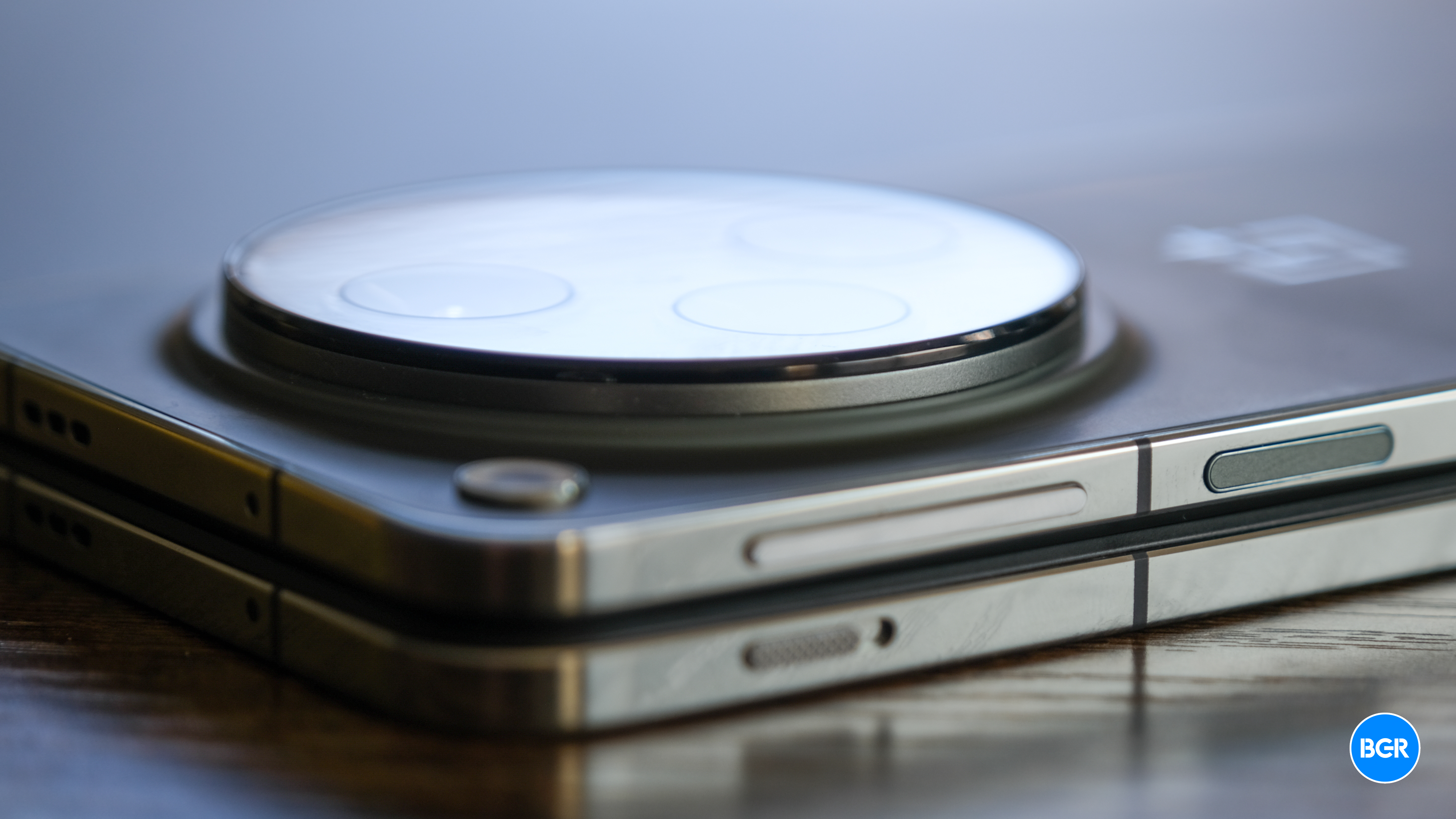 That changes a little, of course, when you consider the camera module — which is gigantic. The camera module is thick and wide, and it adds quite a bit to the overall thickness and weight of the phone. I, however, found that I ultimately didn't really mind that. You won't really notice the extra bulk in day-to-day life, and while the look does take a little getting used to, you will get used to it.
I find the width of the OnePlus Open to be more or less perfect for a foldable phone. The device is wider than a device like the Galaxy Z Fold 5, making the cover screen way more usable. And, it makes the interior screen even larger — and better for things like watching movies and playing video games.
The phone has a glossy frame and metallic back, if you get the Emerald Dusk model. The Voyager Black model, which is more expensive, has a tactile leather back, which is also very nice-looking. On the right edge of the device, you'll find the power button/fingerprint sensor, while on the bottom is the USB-C port.
Ultimately, the OnePlus Open is an excellent example of what a foldable phone's design should be. It's an ideal width and has a stylish and premium build.
OnePlus Open display
The biggest advantage to foldable phones, of course, is the fact that they offer access to both a standard aspect ratio cover screen for day-to-day social media and texting, and a much larger internal screen for media consumption and gaming. But that alone isn't enough — the displays need to be high-quality too. Thankfully, the screens on the OnePlus Open are great.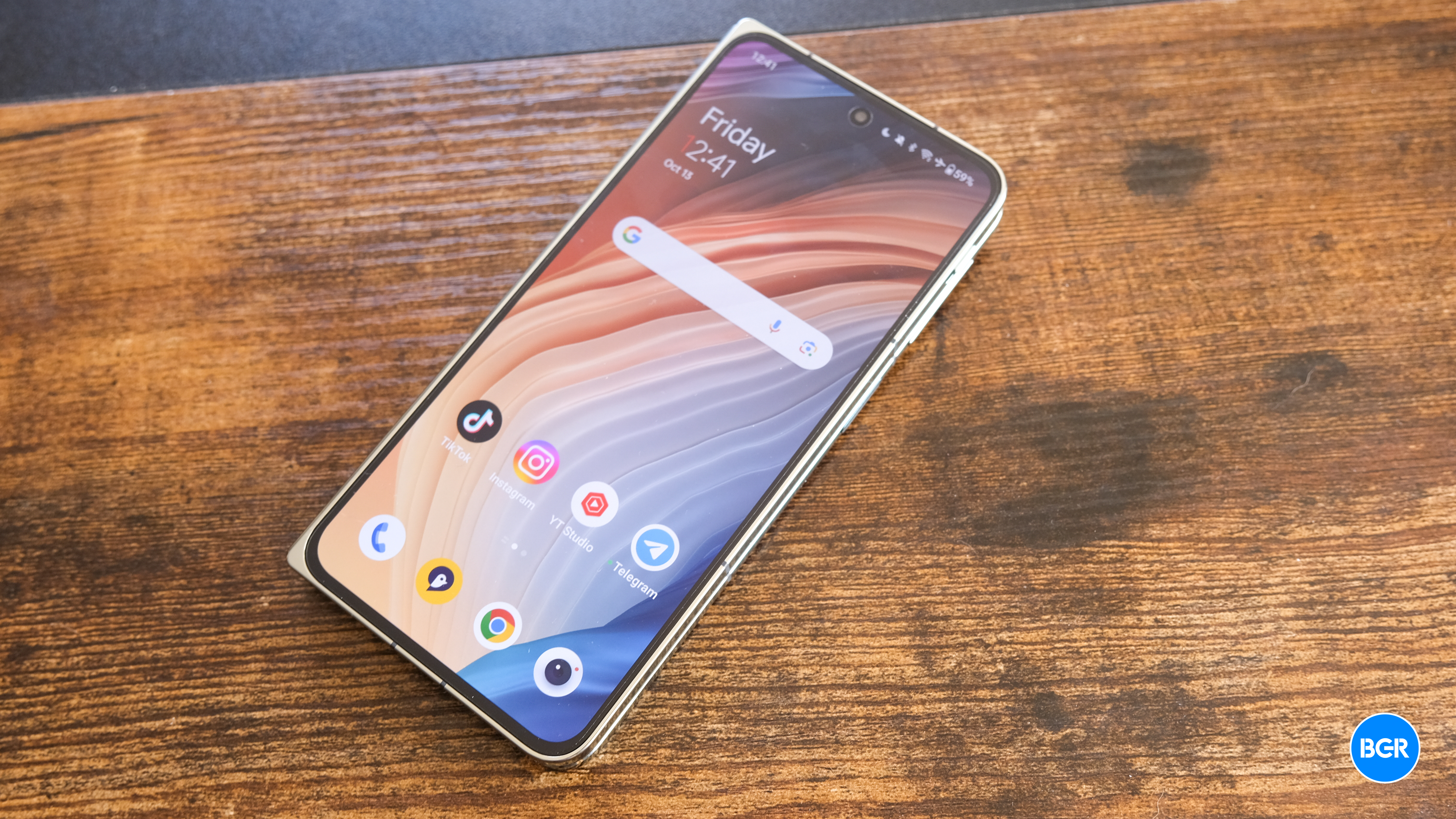 On the front of the phone, you'll find a 6.31-inch LTPO AMOLED display with a 2484 x 1116 resolution, and a variable refresh rate between 10Hz and 120Hz. It has a peak brightness of a whopping 2800 nits — and it looks excellent. It's incredibly bright, vibrant, and crisp too. I'm glad to see OnePlus putting some effort into the cover screen on the phone, and not just the internal screen.
But the internal screen looks great too. It's a 7.82-inch AMOLED LTPO display with a 2440 x 2268 resolution and a refresh rate that can vary between 1Hz and 120Hz. It also has a peak brightness of 2,800 nits.
Technically, the interior screen is a little better than the cover screen, but really, you won't notice a difference in day-to-day life apart from the size. Watching movies and playing games on the internal display is an absolute joy, and again, the screen gets very bright.
OnePlus has put a lot of effort into an excellent display experience, and it shows.
OnePlus Open performance
Under the hood, the OnePlus Open offers a Qualcomm Snapdragon 8 Gen 2 processor, coupled with 16GB of RAM and 512GB of storage. That means it's one of the best-performing Android phones out there.
Indeed, the phone was easily able to handle all the day-to-day tasks that you can throw at it in 2023 — and more. It easily multitasked and loaded games quickly, and it should remain a well-performing phone for at least a few years. Sure, Qualcomm is announcing its next-gen chipset in the near future — but don't take that to mean that the OnePlus Open lags in performance. It doesn't.
OnePlus Open battery and charging
The battery powering those super-bright screens is 4,805mAh, and I found that it actually performed quite well. Now, we're not really at a point just yet where the top-performing foldable phones can last as long as the slab phones with the best battery, but if you're good at charging your phone, you won't run into any major issues with the battery.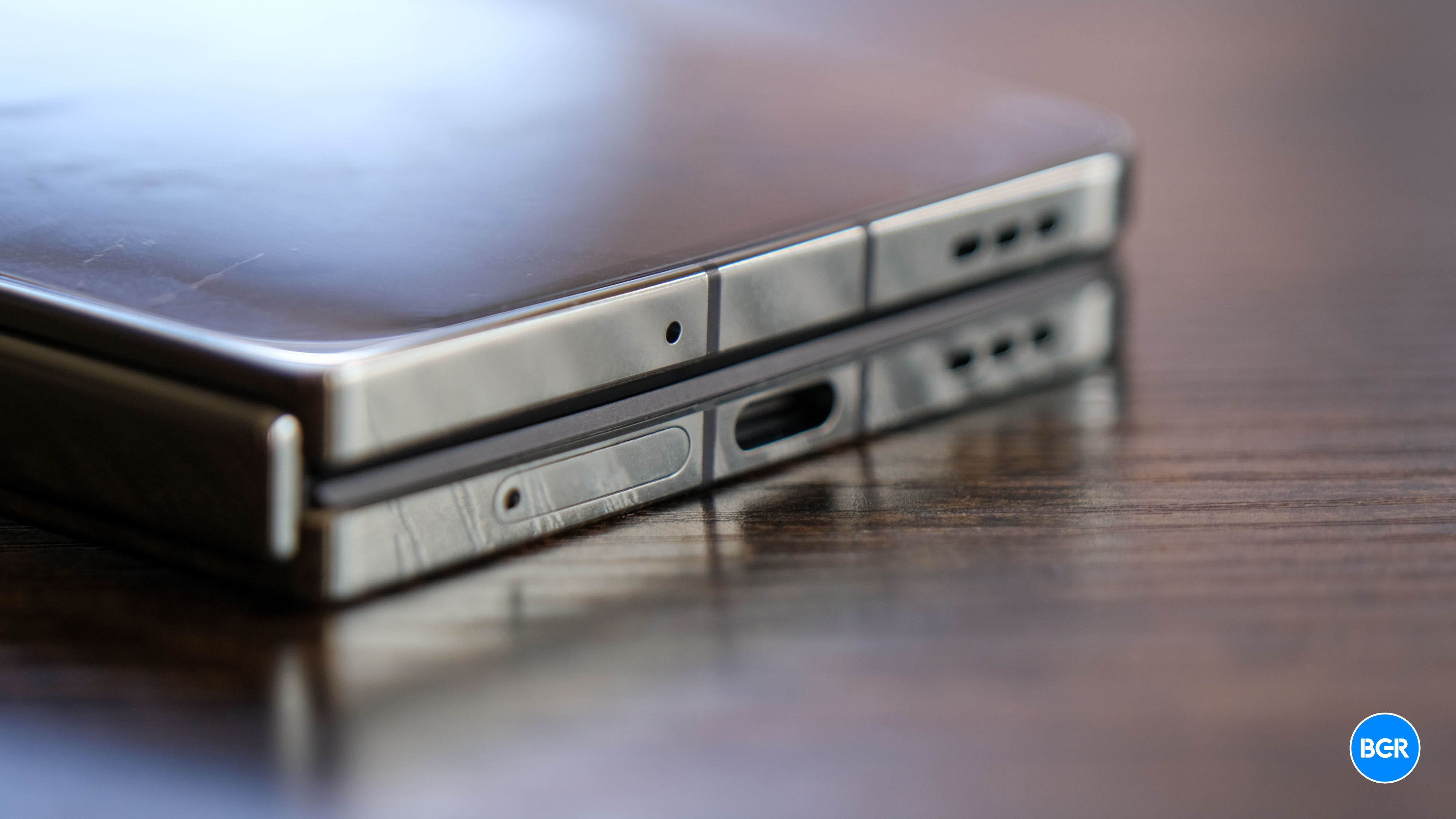 I found that after a day of moderate use, I still had around 30% of the battery remaining. This isn't a ton — and I could have killed the battery with heavier use. But it's also not terrible, and with a mix of cover screen and internal screen use, the battery will do just fine.
Less fine is the charging. The phone supports 67W wired charging, which is quite fast — but there's no wireless charging here. The Open's secret is the fact that it's really just a reskinned Oppo phone — and wireless charging isn't as important on a phone destined for the Chinese market. But reskinned Oppo or not, the OnePlus Open is destined for North America, and there's just no excuse to exclude wireless charging on a phone this expensive, in 2023.
OnePlus Open camera
The camera module on the back of the phone is ginormous, but thankfully, it houses some pretty high-end cameras.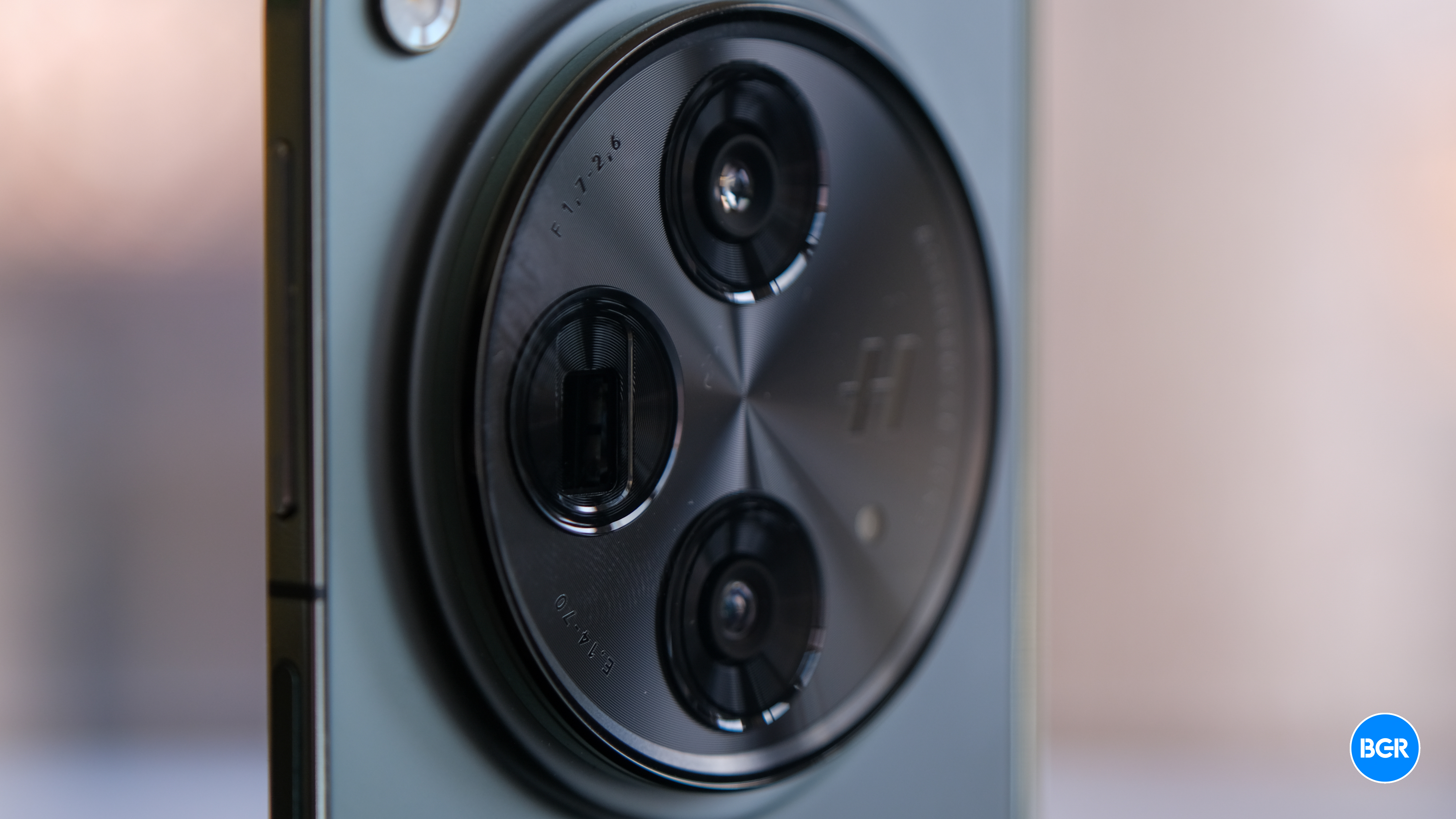 The Open has a triple camera system, which is made up of a 48-megapixel main camera, a 64-megapixel telephoto camera with 3x optical zoom and 6x lossless zoom, and a 48-megapixel ultrawide camera with a 114-degree field-of-view. It's a very versatile setup, that should allow users to frame a shot well in any situation.
In well-lit environments, the OnePlus Open performed very well. Images are bright and vibrant, and while there's a warm hue to them, I quite like that overall vibe. The camera is pretty consistent too, and able to handle lower lighting with an image that's still quite crisp.
The telephoto camera is particularly versatile. As mentioned, the camera zooms optically to 3x, but by cropping the sensor, it can achieve an effective zoom of 6x, without any loss in detail or digital zoom. This worked well, and images zoomed at 6x looked great, especially with good lighting. Low-light images and images of any movement won't be quite as great, though. That's not necessarily unexpected, but still something to consider.
OnePlus Open software
Perhaps one of the most important things to consider about a new foldable phone is the software experience — and I really liked the software experience on the OnePlus Open.
The home screen on the interior screen of the OnePlus Open is essentially the first two home screens from the cover screen glued together, and I like this approach. Unfortunately, you can't choose to have independent home screens, like you can on the Samsung device — but between the two approaches, I prefer this one anyway.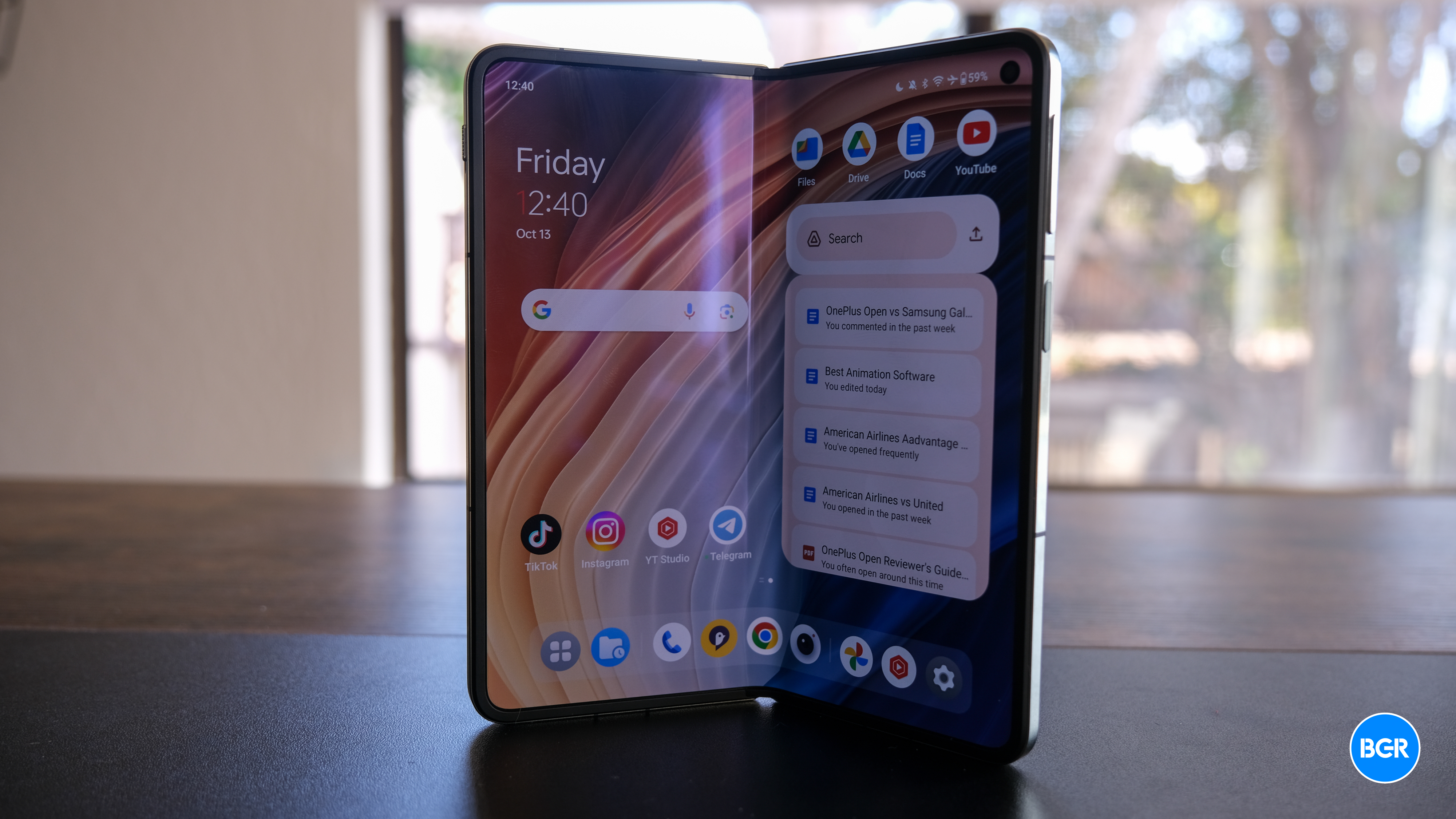 When opened, the OnePlus Open offers a menu bar at the bottom, allowing users to quickly jump between apps. And, it has some other handy multitasking tools, like the triple split feature that allows you to hide a third app window for quick access. Again, I prefer this to Samsung's approach of just cramming tiny windows onto the screen, but others may disagree.
The software experience is slightly buggy, but these will be ironed out over time. Generally, I really like what OnePlus has done for the Open's software — more so than the Galaxy Z Fold series. That's partially because I just don't really like One UI that much, but again, you may prefer it — in which case the software experience on the Galaxy Z Fold 5 will likely be a better choice for you.
Conclusions
The OnePlus Open is an excellent phone — and perhaps the best out there so far. The device is well-designed, boasts an excellent display experience, has great performance, and offers solid battery life. The biggest downside to the phone is the lack of wireless charging, but if you can look past that, you'll love what's on offer here.
The device is cheaper than some foldable phones too. It has a list price of $1,699 — however, OnePlus says that you can trade in any phone of any condition to get at least $200 off. Obviously, older phones in poor condition will only get $200 — but if you trade in a newer device, you'll get much better trade-in value.
The competition
The biggest competition for the OnePlus Open comes from the Galaxy Z Fold 5, but I prefer the OnePlus Open. I think it has a better form factor, a more versatile camera, and a more helpful software experience. It's also cheaper than the Samsung device.
Secondary to the Galaxy Z Fold 5 is the Google Pixel Fold. The Pixel Fold offers the best software of the bunch, but its shorter, wider form factor isn't necessarily for me. That alone, to me, makes the OnePlus device a better option.
Should I buy the OnePlus Open?
Yes. If you're looking for a foldable phone that's almost the complete package, the OnePlus Open is an excellent option.