The smartphone revolution has put incredibly powerful devices into the pockets of millions and millions of people, and that's great, but it also gave birth the selfie craze. If you're not taking photos of your own mug at least a couple of times every day you're probably in the minority, but what if you're a seasoned selfie snapper who really wants to take things to the next level? In that case you're probably going to want to visit the Greater Columbus Convention Center, where a new interactive sculpture is turning the faces of everyday people into huge works of art.
The sculpture is the work of Columbus-based artist and professor Matthew Mohr, and it's a real technological marvel. Driven by a 3D face-scanning camera situated in the rear "neck" area, the interactive installation scans visitors faces and then displays them on its massive, curved LED display, creating a truly larger-than-life selfie experience.
As its artist describes it, the work is titled "As We Are," and is designed to provoke conversation surrounding identity and our new social-media-heavy society. "The sculpture addresses the relationship between self and representation of self, asking the subject of the portrait to reconsider presence through magnification," Mohr writes on his website. "It is intended to provide amusement and evoke larger discussions around the phenomena of social media, diversity, and the power dynamic of public art."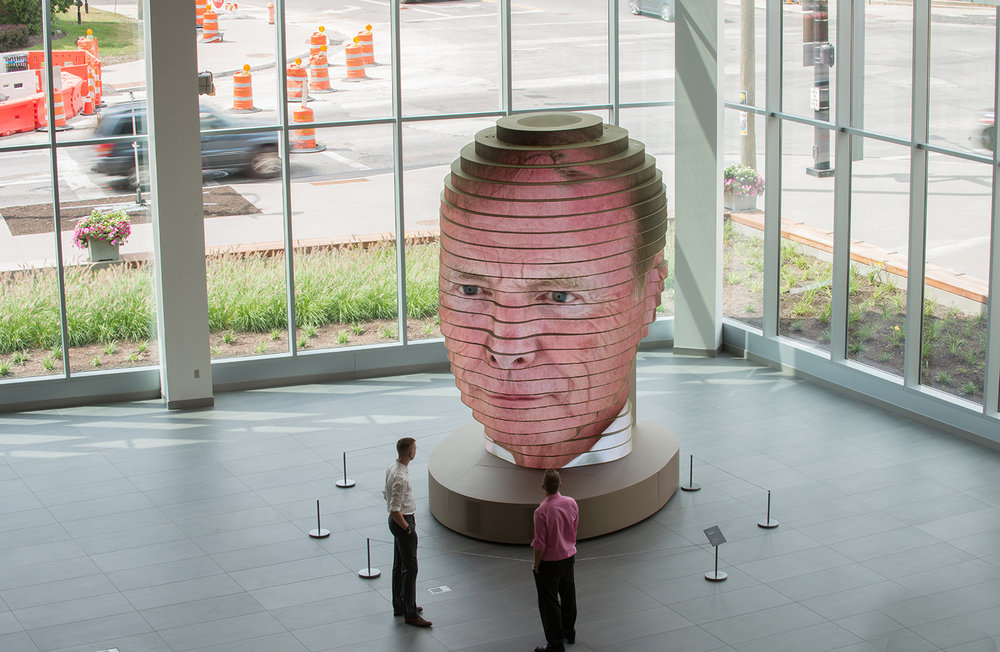 "'As We Are' focuses on the now commonplace act of documenting one's existence in an effort to connect with others," he says. "It considers how self-representation has evolved by confronting the idea of self, and recognition of what we seek in and from other people. "
Aside from being an incredibly eye-catching piece of art, the sculpture is also a pretty impressive accomplishment in terms of the technology that powers it. All told, the sprawling display that surrounds the head employs over 850,000 LEDs, and the built-in camera automatically stitches multiple face photos into a 3D representation of the individual's head. Once the photos are taken, the new face is displayed on the sculpture for all to see, often prompting the subject to snap a photo of their supersized self.