Hubble has captured an image of a beautiful spiral galaxy absolutely ripe with tendrils of star formation, NASA shared earlier this month. The image was of a spiral galaxy known as NGC 5486, which is located near the much larger, much more observed Pinwheel Galaxy. The image showcases the sparkling galaxy with "pink whisps of star formation" throughout it.
This newest image was part of an initiative to explore debris left behind following Type III supernovas. These violent stellar explosions occur when a star rapidly collapses in on itself, sending debris flying through the universe around it. This galaxy was home to a supernova back in 2004. Astronomers used Hubble to observe the spiral galaxy back then to learn more about the aftermath of supernovas.
The galaxy Hubble observed is considered an irregular spiral galaxy because it doesn't fit the look of a traditional spiral, having no defined structure or shape. NGC 5486 is located roughly 110 million light-years from Earth, within the constellation Ursa Major. Astronomers believe the spiral galaxy's appearance was most likely altered and distorted by the gravity of a larger neighboring galaxy.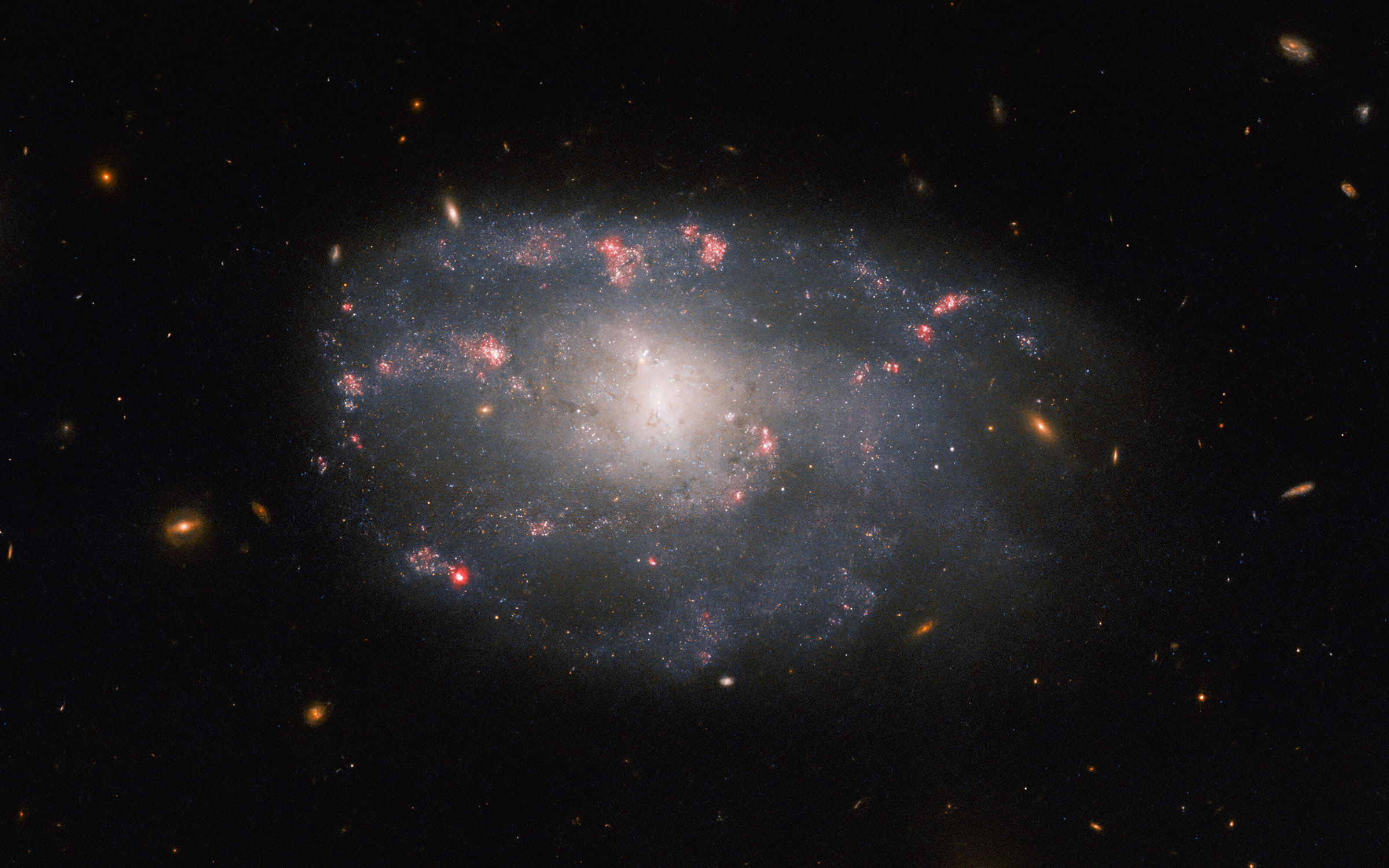 It's unclear exactly when this image was taken, but as with all Hubble images of spiral galaxies of this sort, it gives us a very detailed and beautiful look at how NGC 5486 appears to spread out across the backdrop of the universe. Around the galaxy, you can also spot other galaxies, which appear as smaller dots and symbols in the image that are made of different colors.
Other images that Hubble has captured showcase beautiful vistas like a galactic seascape called JO201. Those images offer similarly beautiful glimpses of what Hubble is capable of capturing, and together with this spiral galaxy image, help highlight the various parts of our universe.
As the telescope continues to orbit our planet, its trajectory is also finding interference from other satellites and spacecraft, bringing many to call for Hubble's orbit to be pushed higher to help avoid such occurrences. Unfortunately, NASA and SpaceX have yet to reveal anything regarding their talks to continue support for Hubble throughout the coming years.