For the last decade, Apple has dominated Samsung in the high-end smartphone business. There's been fierce competition: some years, Samsung's devices are prettier or cheaper, and Samsung has always out-sold Apple in the mid-range market. But where companies actually care about results — the underlying profit — Apple's been the winner, and it's not even close.
If Samsung actually wants to challenge Apple for the luxury phone market, it needs to unseat its brand long-term. That's obviously easier said than done, and a new report from investment firm Piper Jaffray shows that Samsung is facing a strongly uphill battle.
Jaffray's semi-annual survey of US teens shows that 78 percent of those surveyed own an iPhone, up two percent from this spring, and the highest ownership level ever recorded by the survey. Even worse, 82 percent of teens surveyed say they want their next phone to be an iPhone, which is — you guessed it! — the highest interest level ever recorded.
This is a huge problem for Samsung. Not only does it mean that teens are buying smartphones right now, but it means they're building a strong affinity with Apple. Smartphone manufacturers are increasingly locking users into an ecosystem. You don't just buy a phone, but you buy a messaging system that all your friends are using, you buy music, you build playlists, you store your photos in cloud storage. You get used to how the gestures work.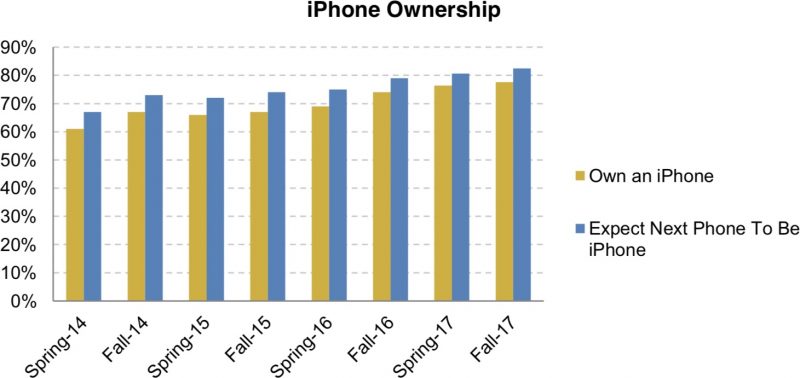 Younger users are even more susceptible to this. Messaging services play a big part in the social lives of younger users, who are less mobile and less able to meet up for offline activities. The network effect of apps and services is well documented, so if all your friends have iPhones, you'll get one too. By the time you move out and buy your own phone, it's almost inconceivable to switch platform: you'd have to migrate all your photos, playlists, apps, email accounts, cloud backups, and risk being left out by your friends.
That's without even considering the brand image that Apple continues to build. The 78 percent of teens who own an iPhone likely consider it the number-one phone out there, the device to beat. That makes sense, given that most people have one. It intrinsically puts Samsung on the outside looking in.
Changing a brand image isn't something you can do overnight. For something as heavily-used and polarized as a smartphone, it takes years of work and coercion. If Samsung has any long-term plans to beat Apple in the smartphone game, it needs to start young. Right now, it looks like the opposite is happening.