If you didn't know you could buy merch directly in the Spotify app already, the company wants to make sure every user knows.
Artists have been able to sell merch through the Spotify app for a while now, but it's surprisingly difficult to find which artists sell merch through the streaming service. Spotify is trying to fix that with a dedicated hub for merchandise in the app.
In a blog post, the company announced that it is launching a dedicated hub for merch in the Spotify app. Users used to find merch when navigating to an artist's main page, but with the new Merch hub, you'll be able to find merch from a range of artists in one place. Spotify says that it will personalize the hub based on your listening habits.
Sporting merch from your favorite artists is a vital part of music culture, and our new Merch hub provides personalized merch recommendations based on your listening habits. Previously, we made artist merch available from individual artist profiles, the Now Playing view, and release pages. Instead of having to browse artist by artist, this update makes it easier than ever to access all artist merch in one place. From the hub, you can browse, click on available items to learn more, and then purchase through the artist's Spotify store, powered by Shopify.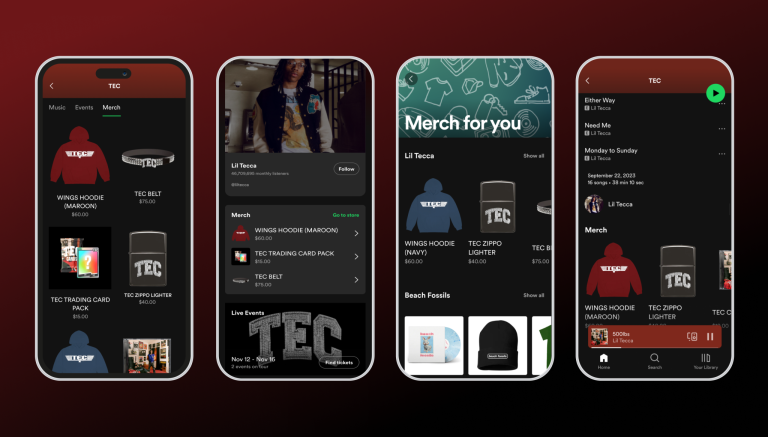 Spotify says that users will be able to find the Merch hub by searching for "Merch" or clicking on the new Merch tile on the Browse page. The new hub is rolling out today so expect to start seeing it on the app throughout this week.
Interestingly, Spotify doesn't collect any revenue from users who purchase merch through the hub. The company is always under pressure from artists about the lack of revenue received through streaming, so the company appears to be offering different ways for artists to monetize through their app as a way to improve relationships. Merch is a huge part of the relationship that music listeners have with their favorite artists, so this is a great move for everyone.
Connecting listeners with ways to rep their favorite fandoms and lend support to the artists they love is key to fulfilling our mission of enabling artists to live off their art. Last year, after seeing their Wrapped results, listeners flocked to buy merch, leading to the highest-grossing merch sales week for artists in Spotify history. Spoiler alert: There are plenty more merch moments in store for Wrapped this year!
Similar features are still missing from Spotify's biggest competitor, Apple Music. However, Apple Music pays more for streaming, so it's unclear if artists make out better with merch factored in as well. Since Apple enabled more revenue opportunities for podcasters with subscriptions, it could potentially add similar shopping experiences into Apple Music as well. We'll have to wait and see how much pressure the Merch hub puts on Apple, Amazon, and YouTube as the music streaming wars rage on.
The announcement comes after the details of Spotify's long-awaited Hi-Fi plan leaked. According to the leak, the upcoming plan will be called Supremium and cost $19.99 per month. It's still unclear exactly when it will launch.