In the latest episode of Ted Lasso on Apple TV+ — titled We'll Never Have Paris, episode 8 of the show's third and final season — Coach Beard shares a tender moment with Ted's son Henry, by way of trying to put his mind at ease amid his parent's separation.
And he does it with the story behind a classic Beatles song, a cover version of which is being played by a live musician in the background of the scene.
While I wholeheartedly approve of this motivational tactic, by the way, I should also point out that it certainly isn't the first reference to the Fab Four that we've gotten over the course of Ted Lasso. Way back in Episode 1, for example, when Ted was still a goofy, always-smiling fish-out-of-water and meeting AFC Richmond team owner Rebecca Welton for the first time, she asked Ted at one point if he was interested in a tour, the implication being a tour of the team's practice facility.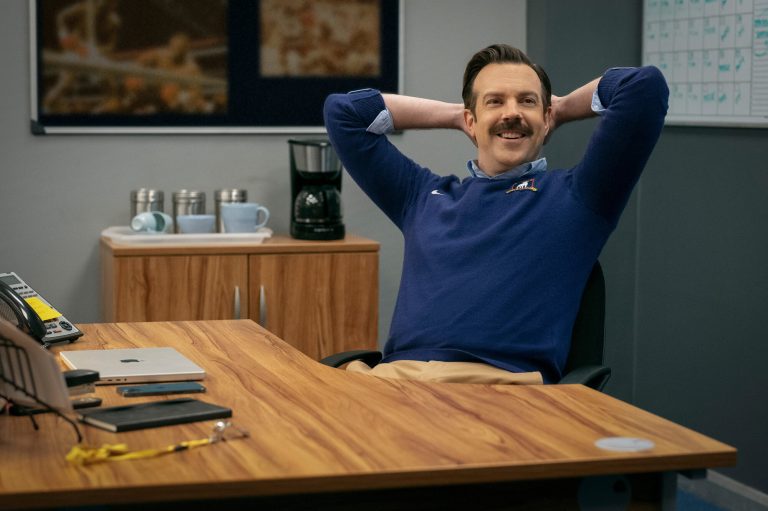 Ted replied with how much he'd always wanted to visit The Beatles' studio, Abbey Road — as if Rebecca was offering him a tour of London.
As for the Beatles reference in this latest episode, it comes as Coach Bed is attempting to comfort Henry — and uses the Paul McCartney-penned ballad Hey Jude to do so.
That song, of course, has remained a rousing crowd-pleaser in the years since The Beatles recorded it in 1968. McCartney began composing the song on one of his drives to visit the home of Cynthia Lennon, who John Lennon had split from after falling in love with Yoko Ono. As the lyrics took shape, McCartney envisioned it as a simple encouragement to the Lennons' son Julian, who McCartney knew would be impacted tremendously by his parents' divorce.
In the song, McCartney urges young Julian (whose name he changed to "Jude" in the song so that it would be simpler to sing) not to be afraid. And to "take a sad song, and make it better."
"You have a great mom and dad," Coach Beard reminds Henry during his exchange with the boy in this week's episode. "And I know, right now, it feels like … you're in a sad song. But you, young man — you have the power to take a sad song and make it better."
It's a standout, feel-good moment during what's proven to be one of the best shows available to watch on Apple TV+, notwithstanding my dissatisfaction overall with the final season. And, of course, Ted Lasso gets extra points for finding yet another opportunity to harken back to the greatest rock band of all time.