Do you find yourself staring at your phone all day on TikTok rather than watching Netflix on your television? Does the company have a subscription for you!
We certainly live in a world of subscription plans now. From music to audiobooks to television shows and movies, it's hard to find a piece of content that isn't locked behind some sort of subscription plan. Even YouTube offers YouTube Premium to get rid of ads on the website and app (one of the most valuable subscriptions I pay for, honestly).
Now, it looks like TikTok might be trying to get in the game as well. As reported by Android Authority, code found within the TikTok app indicates that the company is planning to test its own monthly subscription plan. The plan, which would cost users in the United States $4.99 per month, would remove ads from the app while you are swiping your way through your favorite creator's content.
The outlet was able to grab a screenshot of the plan offering which you can check out below. At this time, going ad-free appears to be the only benefit of the subscription plan: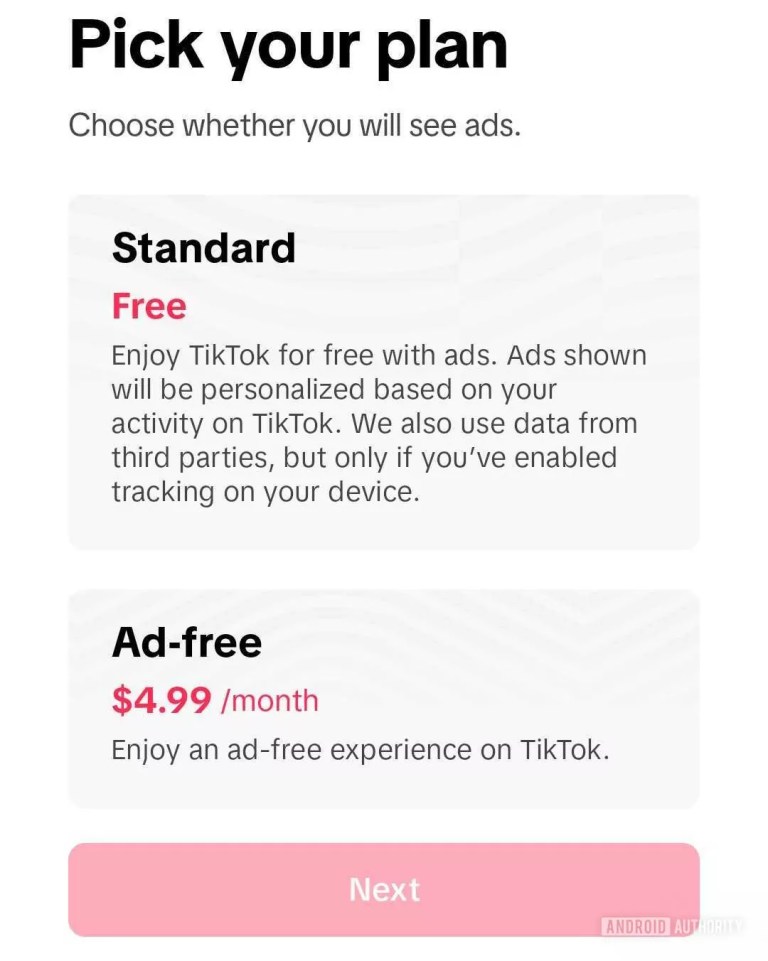 The subscription plan is obviously still in the testing phase, and TikTok has not yet responded to requests for comment on whether the company will actually start officially testing this subscription plan with public users. It's also still impossible to sign up for — even if you're able to access the screen as Android Authority did.
As of now, TikTok primarily generates income through advertising partnerships and in-app purchases, making this subscription model a significant departure from its existing monetization strategies. The introduction of an ad-free subscription plan aligns with other social companies like X (Twitter), which offers X Premium to diversify its revenue streams and reduce its reliance on advertising income.
The move is very similar to YouTube, which offers YouTube Premium to remove ads from videos you are watching on its platform. For how many people are watching TikTok these days, it seems like a great idea for the company to capture more revenue and perhaps pull people away from other TikTok-like experiences, such as Instagram Reels, where going ad-free is not currently an option.
All I know is that it seems like we're moving towards subscription plans all of the way down at this point. This is apparently our future.