iOS 10 by all accounts appears to be Apple's most popular and fastest growing mobile OS to date. Nearly four weeks since its release, iOS 10 adoption already stands at 66.7%. By way of comparison, iOS 9 and iOS 8 adoption checked in at 61.6% and 44.1% during the same time frame.

DON'T MISS: Does the iPhone 7 have any competition now?
Note the chart below via Fiksu.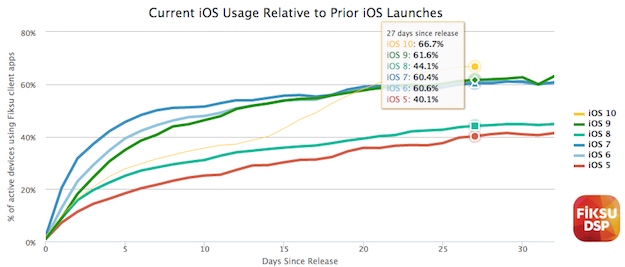 From the get-go, it was clear that iOS 10 was primed to set new mobile adoption records. As we highlighted just a few weeks ago, nearly 15% of all iOS users had updated to iOS 10 just 24 hours after its release. iOS 9 adoption, meanwhile, came in at 12% in the 24 hours following its release.
Interestingly enough, data from Mixpanel reveals that it only took iOS 10 about 13 days to become more prominent than iOS 9. Specifically, iOS 10 by September 26 already enjoyed a mobile marketshare of 50.6% compared to iOS 9 which checked in with a 44.6% share. According to Mixpanel's data, the current distribution between iOS versions is as follows: iOS 10 has a 65.1% share while iOS 9 has a 29.7% share.
While iOS 10 doesn't have any crazy new features, it's nonetheless packed with no shortage of compelling enhancements that, taken together, make the upgrade a no-brainer for folks who still happen to be using previous incarnations of iOS. Along with welcome revamps to Apple Music and Apple Maps, iOS 10 introduces some fun new features to Messages along with noticeable system performance improvements. Indeed, iOS 10 may very well be the most stable early release of a new iOS we've ever seen, thanks in no small part to an endless number of beta release in the weeks leading up to the official launch.
If you're one of the growing number of users running iOS 10, make sure to check out our two handy tip guides (here and here) which will help you enjoy all of the hidden iOS 10 features that may have escaped your radar.