The BenQ GP500 boasts excellent image quality and a range of high-end features to make for a great projector overall.
Pros
Great design
Excellent image
Helpful smart features
Accurate colors
| Buy From | List Price | Sale Price | |
| --- | --- | --- | --- |
| | $1,799 | $1,799 | See It |
BenQ has built itself as a top-tier player in the projector space. Over the past few years, the company has built hit after hit, in both the portable projector world, and the high-end projector world. But to an extent, there's some crossover there — and that's exactly where the BenQ GP500 comes in.
While more portable than some other 4K projectors, the GP500 still isn't cheap. At $1,700, there's a ton of competition — and some of it is quite fierce. How does the BenQ GP500 perform? I've been using it to find out.
BenQ GP500 design
The BenQ GP500 projector features a large, cube-like design that is both stylish and functional. With dimensions of 10.2×10.5×7.2 inches, this projector has a clean, white build that should fit great in any living room or home theater. The front of the unit offers a speaker grille that runs the length of the projector. The lens is also located at the front.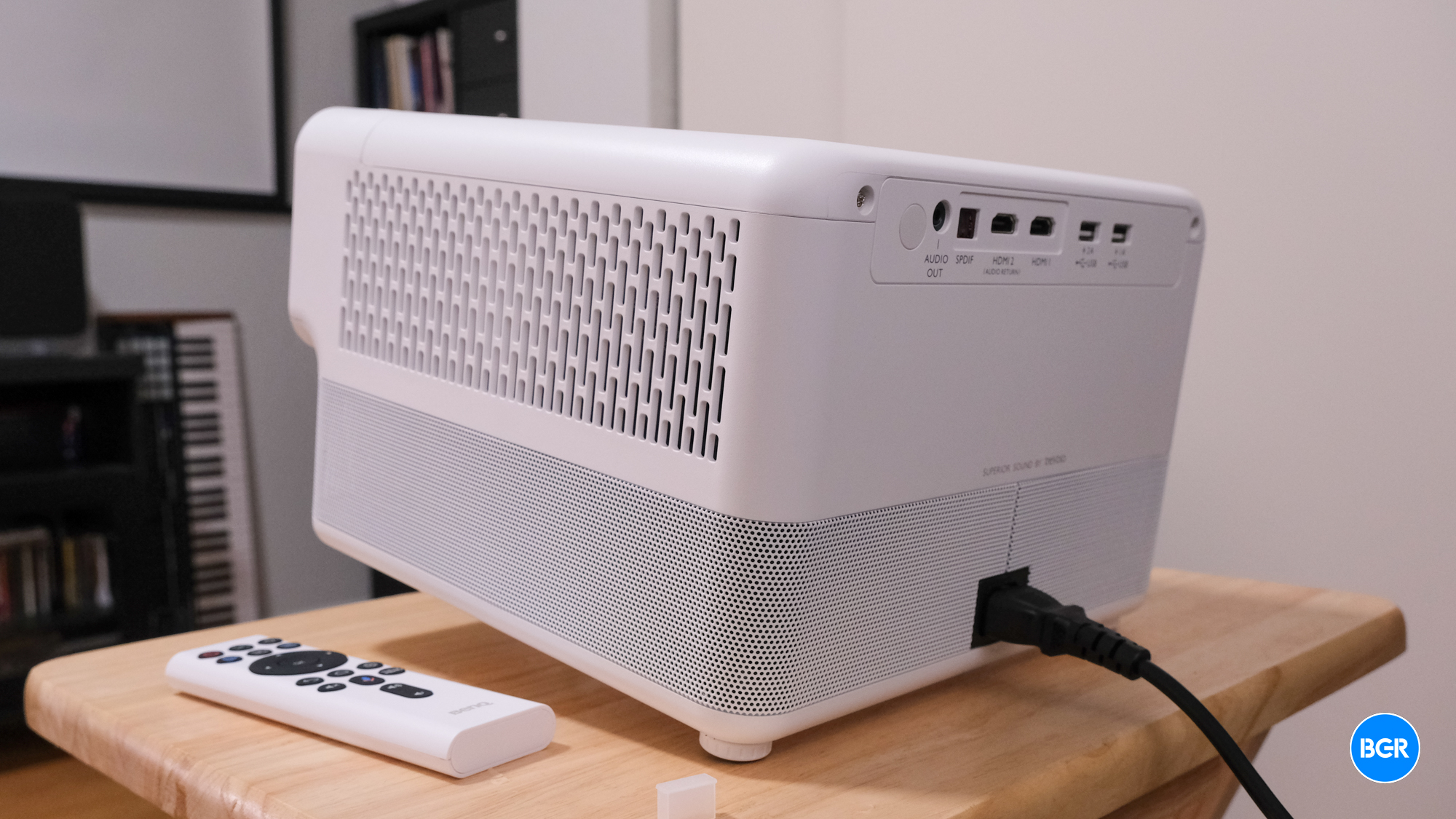 On the top of the projector, users will find a convenient zoom dial as well as an assortment of controls for easy operation. These include buttons for power, volume, and Bluetooth connectivity. The back of the BenQ GP500 houses a variety of ports to accommodate different multimedia devices. Among these are an audio output, two HDMI 2.0 ports (one of which is an ARC port), and two USB ports, providing users with a versatile range of connectivity options.
One unique aspect of the BenQ GP500 is its removable top, which reveals a slot for the included BenQ QS01 streaming stick. While it's somewhat puzzling that the projector doesn't come with Android TV built-in, the design choice to conceal the streaming stick within the unit itself is a thoughtful touch. This not only maintains the projector's sleek appearance, but also ensures that users can enjoy a wide range of streaming content without the clutter of additional external devices.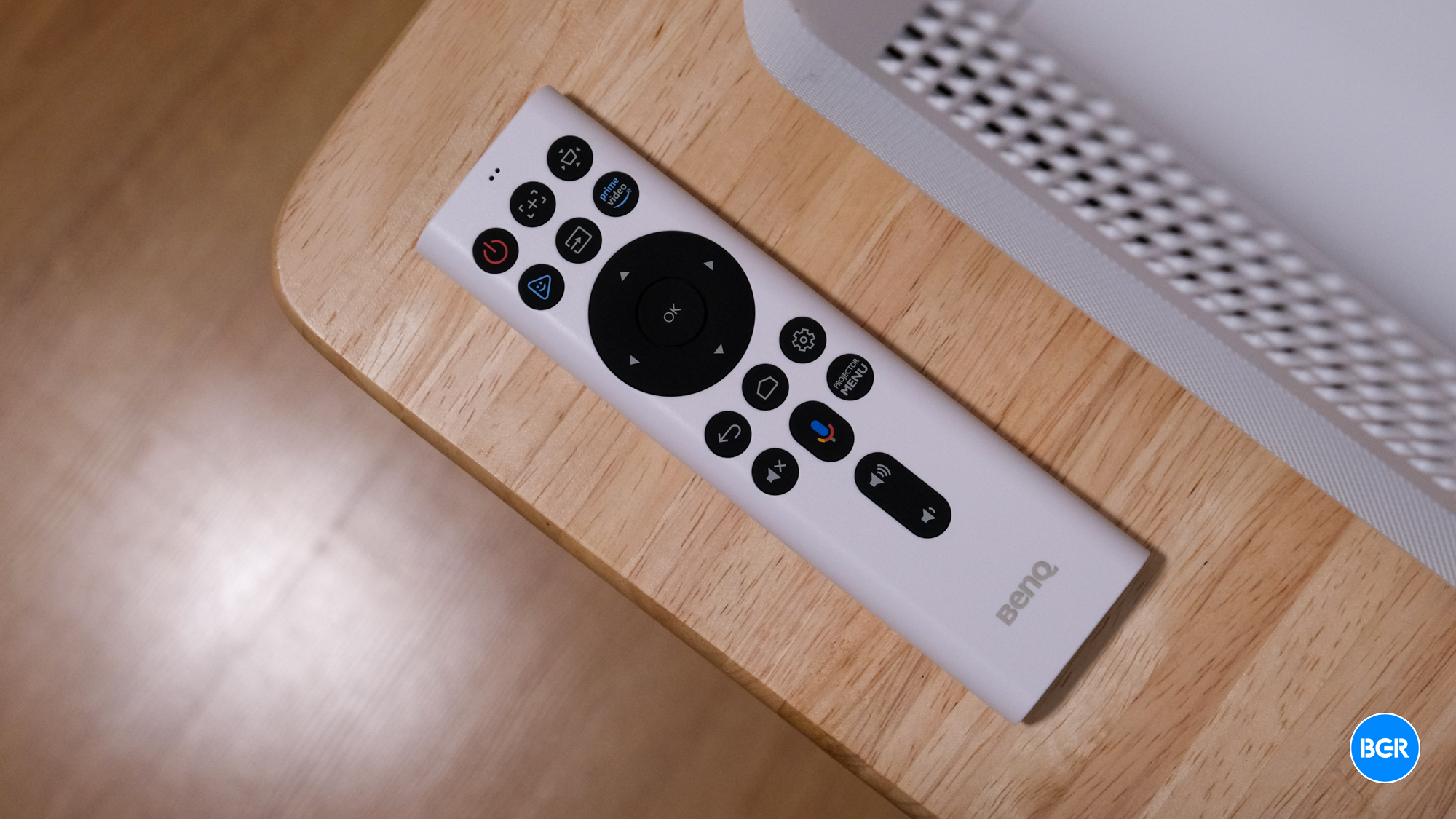 The remote control accompanying the BenQ GP500 projector is thoughtfully designed with a primary focus on controlling the software. Boasting a comfortable size and intuitive layout, the remote includes directional buttons for easy navigation through the projector's menus and settings. Additionally, it features a Google Assistant button for voice-activated commands, allowing users to use their voice to search, find out information from the web, and control smart home devices. Volume controls and other essential buttons are also included on the remote.
BenQ GP500 features
The BenQ GP500 projector comes with an array of impressive features that make it a pleasure to use. One notable inclusion is the Android TV dongle, which grants easy access to a wide range of streaming options, transforming the projector into a versatile entertainment center. Installing Android TV is straightforward, so you'll be enjoying your favorite content in no time.
Navigating the Android TV interface on the BenQ GP500 is quite simple, with a row of apps followed by rows of content from various apps. This layout makes it easy to find and select what you want to watch. Although Android TV on projectors is known for not having Netflix readily available on the Google Play Store, you can still access it through the BenQ App Manager, ensuring you don't miss out on any popular shows. It's a bit of a workaround, but it works fine.
An interesting feature of the BenQ GP500 projector is its ability to serve as a 360-degree Bluetooth speaker. While it might not be the primary reason for purchasing the projector, it's a valuable addition that allows you to enjoy high-quality sound, whether you're watching a movie, playing a video game, or listening to music. We'll get more into the audio quality later.
In terms of image-related features, the BenQ GP500 has plenty to offer too. It boasts an excellent autofocus feature that ensures images are always sharp and clear without the need for manual adjustments. Moreover, the user-friendly keystone adjustment allows for optimal image geometry, guaranteeing the best possible viewing experience regardless of the room setup.
BenQ GP500 performance
When it comes to the BenQ GP500 projector, performance is of the utmost importance, and it certainly delivers in that department. The projector provides an excellent viewing experience, making it a top choice for both casual and avid users.
The GP500 is a standard-throw projector that utilizes pixel shift technology to achieve 4K resolution. Equipped with a 4LED light source, it boasts a 1500 ANSI lumen brightness, which is quite impressive. This combination of features results in vibrant colors and a bright image. The 4K resolution ensures a crisp picture, making both HDR and SDR content look fantastic on the screen.
While the overall picture quality is superb, there is one minor drawback to consider. The projector doesn't produce an exceptional amount of contrast, and a higher level would have further enhanced the viewing experience. However, this shortcoming doesn't significantly detract from the projector's performance. Generally, the BenQ GP500 offers excellent picture quality, making it a worthwhile choice for those seeking a top-notch home theater projector.
BenQ GP500 audio
The BenQ GP500 doubles as a Bluetooth speaker, and of course, you can use the speaker with the projector itself. Perhaps slightly surprisingly, the speakers are actually quite good. They're not incredible, and if you have the space or the budget for better speakers, it's probably worth buying them. But in a pinch, the audio quality is good enough for watching movies, TV shows, and so on.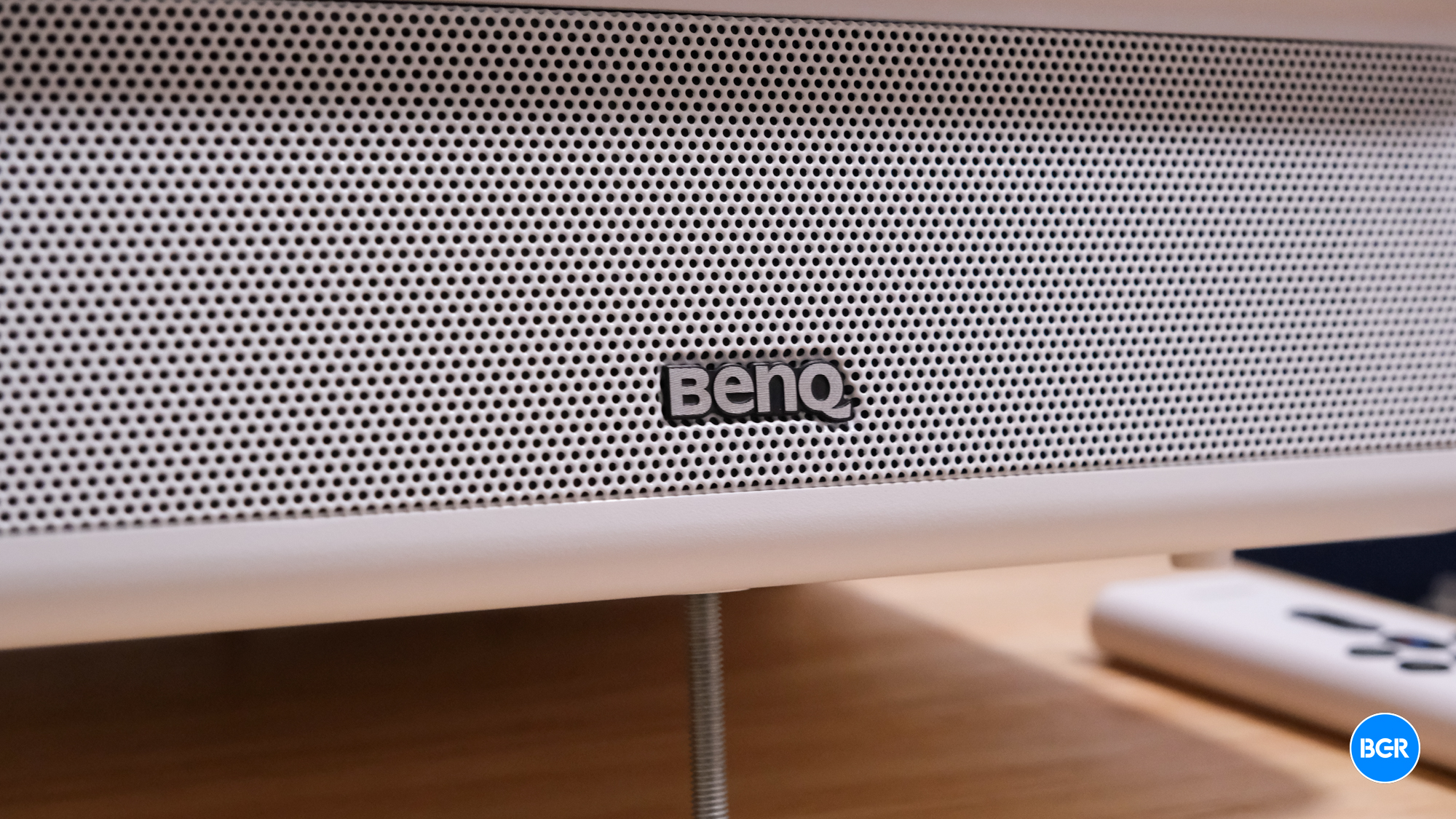 Generally speaking, the speakers have a decent frequency range. There is some bass there. However, it's certainly not the strong point of the speakers. The bass is good enough for most situations, but there isn't a ton of extension to it. The mids aren't bad either, with a mostly flat mid response, save for a slight bump in the high mids. Highs are similar to the bass in that they sound fine, but there isn't a ton of extension to them, meaning that you won't get a ton of detail or clarity.
Much of this is nitpicking, though. Again, if you have a space or budget for better speakers, it's worth buying them. But that's not to say that the speakers sound bad.
Conclusions
At this price, the BenQ GP500 is one of the best projectors out there. It's not cheap — at $1,800, the projector has to prove itself. But it does. It produces excellent image quality, with bright colors and a detailed picture. And it boasts a range of features that make it even more useful than others.
The competition
Honestly, at this price, the BenQ GP500 is perhaps the best projector out there. If you're looking for a standard throw projector at around $2,000 or less, then this is probably the way to go.
Should I buy the BenQ GP500?
Yes. It's an excellent projector in its price range.