In a matter of days, Marvel released two trailers for upcoming MCU projects that happen to be connected by a key character: Nick Fury (Samuel L. Jackson). But Secret Invasion and The Marvels deliver two extremely different versions of Nicholas J. Fury, and I can't help but wonder why that is. One interesting explanation could make sense, and it has me cautiously excited. But I don't want to set up any expectations that Marvel fails to deliver on.
Before I can explain the puzzling faces of Nick Fury in Secret Invasion and The Marvels, know that big spoilers will follow below.
How does Secret Invasion fit with The Marvels in the MCU timeline?
Secret Invasion will hit Disney Plus on June 21st, while The Marvels' theater release date is November 10th. But that doesn't mean the events in Secret Invasion happen before the action in The Marvels, chronologically speaking. The MCU timeline is always important when looking at the grand scheme of things.
Thanks to Ms. Marvel, we know that Kamala Khan (Iman Vellani) discovers and starts using her powers around the fall of 2025. And considering that the Ms. Marvel credits scene is actually a scene from The Marvels, we can establish that the action in the upcoming Captain Marvel sequel happens not long after that. Therefore, we could be looking at a late 2025 or early 2026 date for the events in The Marvels.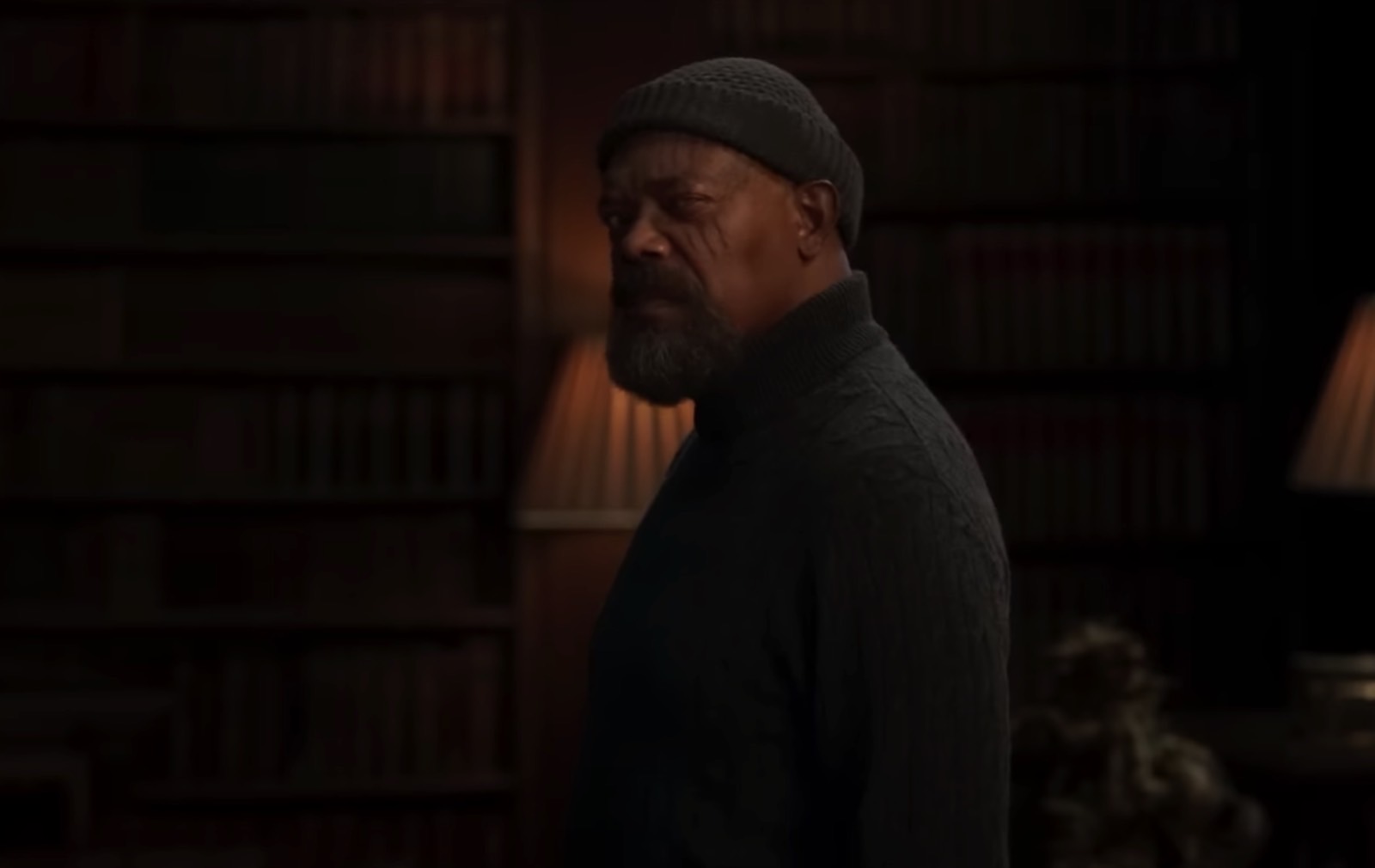 Since the Secret Invasion marketing push has started, we know from Samuel L. Jackson that the Nick Fury we see in the TV show is at a low point in his career.
He's been off-world since the events in Endgame that robbed him of two of his closest allies, Iron Man (Robert Downey Jr.) and Black Widow (Scarlett Johansson). Fury is reconsidering his actions. But he has to fight one more Earth-bound threat, the Skrull infiltration.
But how long has Fury been on the space station that we see in The Marvels trailer? And does Secret Invasion happen before or after The Marvels?
Thanks to a detailed The Marvels plot leak, I might have the answer to the MCU chronology. But this still doesn't explain the many faces of Nick Fury that we see in these trailers.
Nick Fury in Secret Invasion vs. The Marvels
The Secret Invasion trailer offers us a look at a gloomy Fury. This superspy has returned to Earth to deal with a big Skrull attack. But he's not as sure of himself as he used to be. When he's not wearing the eye patch, that's when Fury doesn't feel invincible. That's a detail we learned from an interview with Jackson.
Also, the Nick Fury in Secret Invasion doesn't want any Avengers to come to his aid. He's just facing off with the Skrulls on his own, without any superheroes.
This detail tells me that Fury heads to Earth to fight the Skrulls quietly before returning to the spaceship for The Marvels.
What's also interesting in the Secret Invasion trailer is that we see a tombstone for Nick Fury. That seems to indicate that the world thinks he might have died. And, technically, he did at one point. Fury turned to dust at the end of Infinity War, but not before calling Captain Marvel (Brie Larson) for help.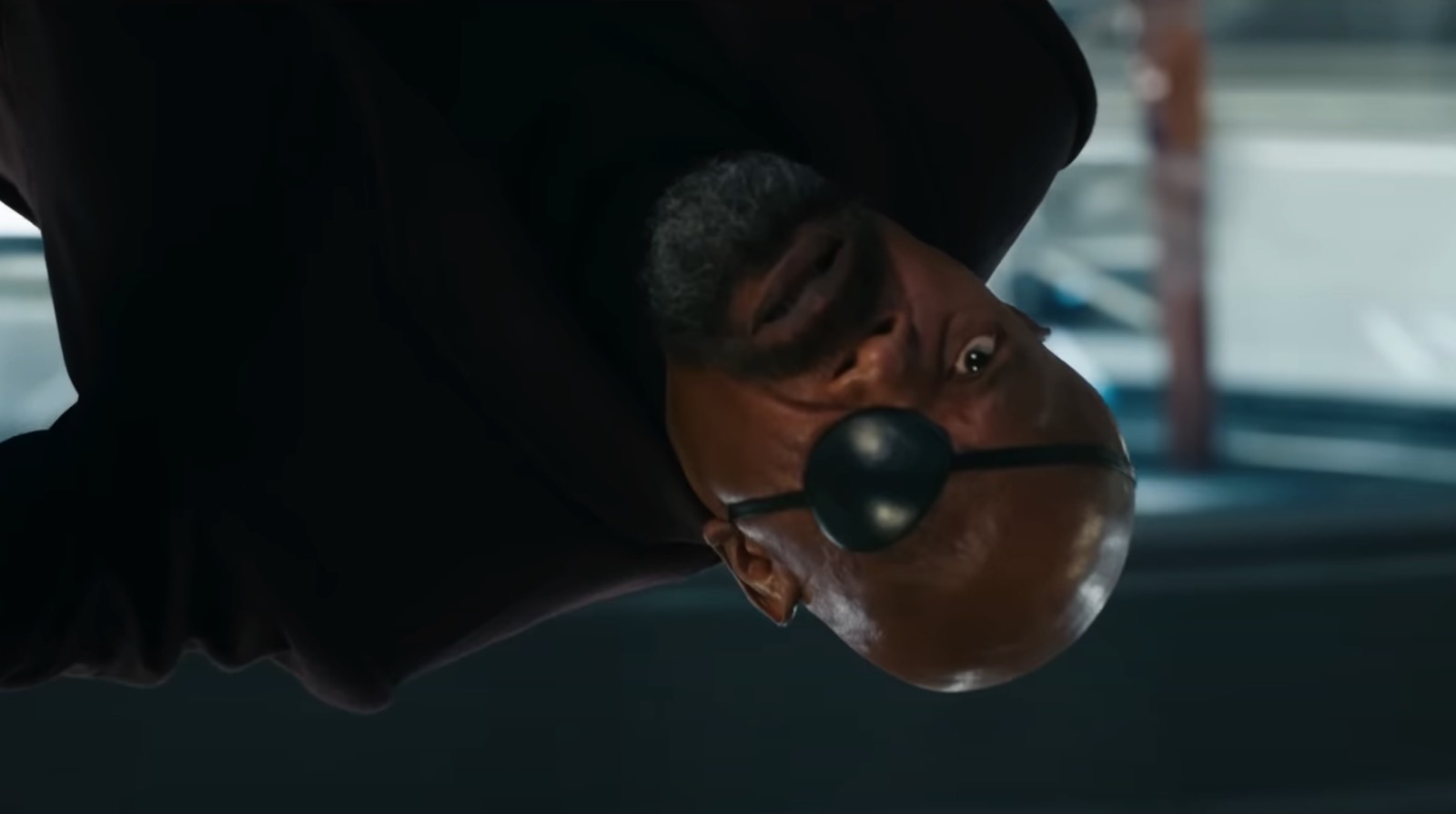 Switching gears to The Marvels trailer, we're looking at a different Fury here. He's back in charge of a SABER space station, which is a clever wordplay on Marvel's SWORD. Not only that, but he has the eye patch in every scene, and he's working with superheroes. The trailer's opening scene has him and Monica Rambeau (Teyonah Parris) working together. She's not an Avenger, but she will become one.
Monica quickly switches places with Kamala Khan (Iman Vellani), and the latter behaves just as we expect her to. Unsurprisingly, she's a big Fury fan. And she thinks he's testing her to see if she'll make a good Avenger. Kamala isn't surprised at all to see someone who might be dead. Does that mean the world already knows that Fury is very much alive?
Also, what The Marvels trailer makes clear is that Fury will return to Earth. He will work with all three superheroes to fix whatever threat they're now dealing with. But there's a clear shift in tone when it comes to Fury's demeanor. He appears to be the strong Fury we've always known.
Why I'm excited about Fury's different personalities
With all that in mind, the reason why I'm excited to see these two different versions of Fury has to do with the Skrull invasion. I hope that Marvel has the guts to pull off shocking moves with the ambitious TV show. Like the Skrulls replacing Fury with one of their own. This would explain why the Fury in The Marvels is so different.
I also think that the action in Secret Invasion happens before The Marvels. And this provides a more boring explanation for Fury's different faces. Secret Invasion might happen long before The Marvels. Fury will beat the bad Skrulls, regaining his confidence in the process. This would make him realize that the world still needs him, and so do the Avengers.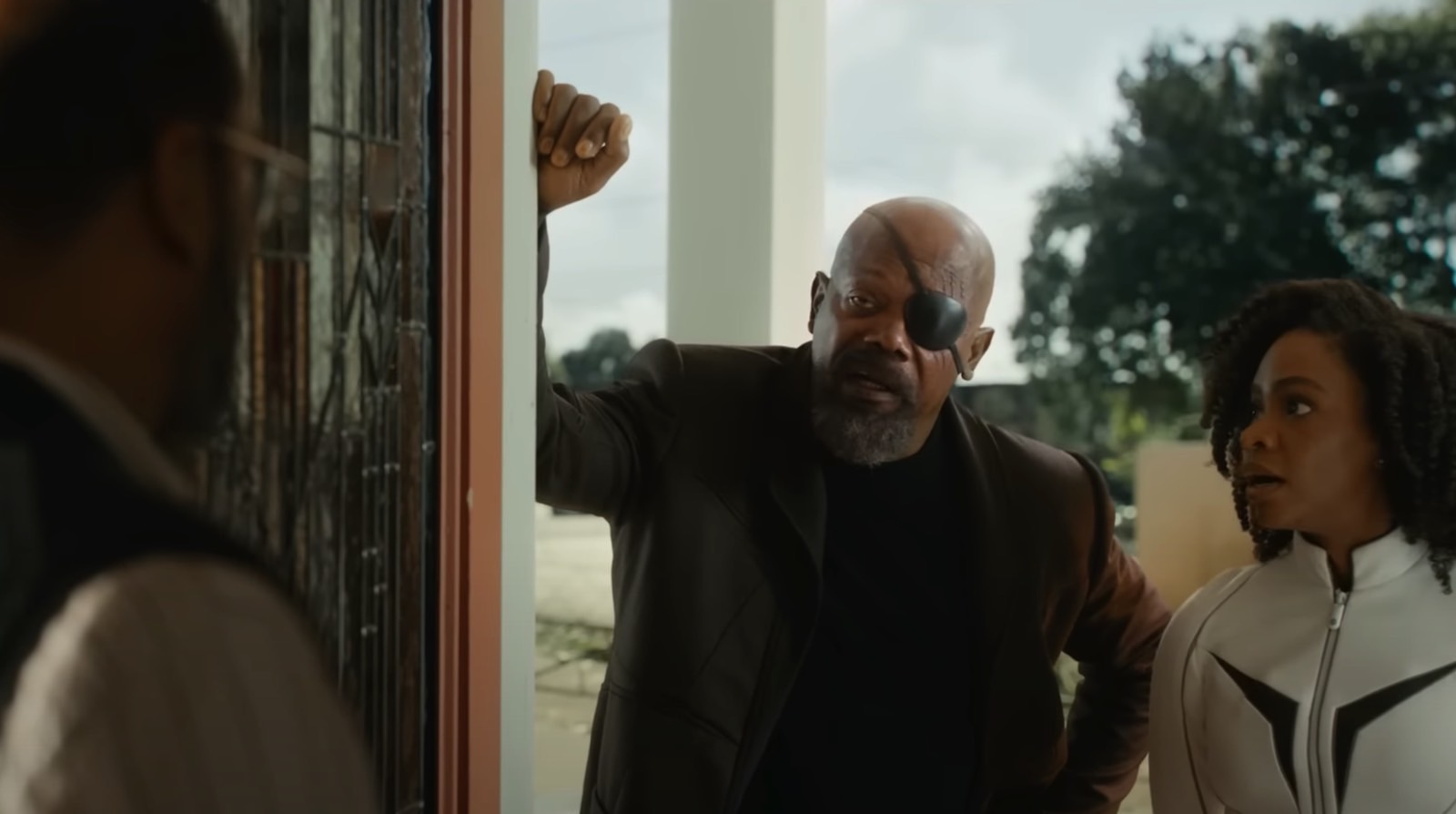 A win over the Skrulls should motivate him to continue defending the Earth, and he will return to the SABER spaceship after Secret Invasion. That said, whether or not a Skrull replaces Fury, I still think Secret Invasion precedes The Marvels on the MCU timeline.
A big The Marvels plot leak says the film's villain will attack the space station, leading to a massive evacuation. It's unclear if the space station is destroyed. But, with a damaged or destroyed space station, Fury couldn't return to Earth in Secret Invasion.
That's all speculation. We'll have to wait for Secret Invasion to hit Disney Plus and see whether it connects to The Marvels in any way. But once the TV show is released, Marvel will tell us exactly where it's placed on the MCU timeline.