Soccer fans had a hunch that something like this might be in the works when the official @AppleTV Twitter account not-so-subtly tweeted out the following string of words on Tuesday morning: "Barcelona Paris Saint-Germain Argentina Apple TV+." The iPhone maker's streaming service also wasted no time in making the news official Tuesday morning, confirming the imminent release of an untitled, four-part docuseries about Lionel Messi, arguably the greatest soccer player of all time, that was filmed in Paris, Qatar, and Argentina.
The forthcoming series, from Smuggler Entertainment, purports to represent the first official and definitive account of Messi's career with the Argentina national team and his five FIFA World Cup appearances. Weeks before he triumphantly kissed the World Cup trophy to the roar of a rapturous crowd in Qatar, Messi told the filmmakers behind this Apple TV+ release: "It would be the ultimate experience to win a World Cup and to be able to close out my career in that way.
"I've daydreamed about it after many years of fighting for it. I made a million possibilities of what could happen … the first match, the round of 16, the quarterfinals, the semifinal, and the final."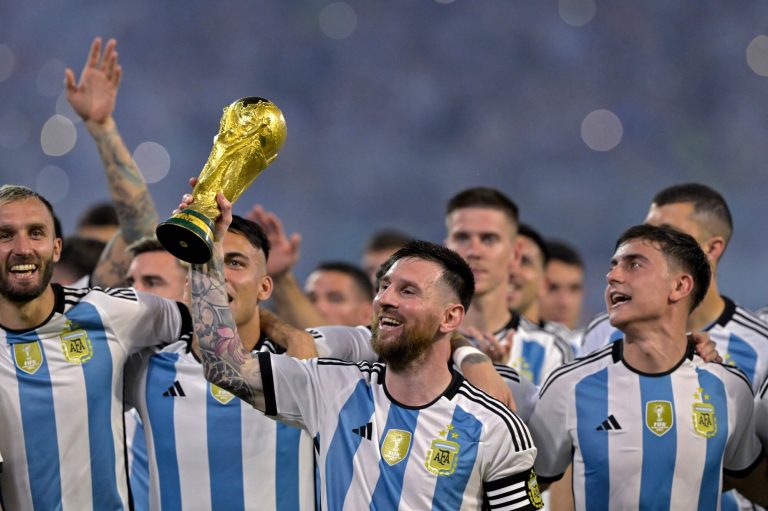 Messi is a seven-time Ballon d'Or winner, and Apple's series will track his five FIFA World Cup appearances — including his FIFA World Cup Qatar 2022 win, following what was unquestionably one of the most nail-biting finals in the history of the tournament. The filmmakers got rare and unique access to Messi throughout the 2022 World Cup, from the training grounds in Qatar to the chaos of press junkets and eventually the quiet and contemplative stillness of Messi's private room.
In addition to personal and revealing interviews with Messi, the Apple TV+ docuseries will also include conversations with teammates, coaches, fans, competitors, and commentators who can attest to the extraordinary influence he's had on the sport — and on, per Apple, the "grace, fortitude, and willpower he has demonstrated throughout his career."
The Messi docuseries also joins existing Apple TV+ soccer-themed releases, including: