The iPhone 14 series introduced support for communication over satellite connectivity, though the feature is reserved for emergencies. Available in select markets, Emergency SOS via satellite lets you connect to first responders even when you lack Wi-Fi or cellular connectivity access. The feature can save lives and has been put to good use soon after Apple brought it to market.
We saw several reports detailing cases where satellite connectivity turned out to be the key feature that helped people connect with emergency responders. Like iPhone 14 owners stranded in the wild or people trying to escape a wildfire.
Apple made Emergency SOS via satellite free for two years with iPhone 14 purchases. The same goes for the iPhone 15 models, by the way. It turns out that Apple is ready to offer users an extra free year of support for satellite communications. While I hope I'll never have to use the feature, that's still amazing news.
The extra free year of access will be available to any iPhone 14 user who activated their device before 12:00 AM PT on November 15th.
Apple said in a press release that Emergency SOS via satellite is now available in 16 countries and regions. The iPhone maker adds that the tech has made a "significant impact, contributing to many lives being saved."
The press release links to the video below, which Apple aired during the iPhone event in September. Titled "Another Birthday," the clip recaps some of the instances where the Apple Watch and/or iPhone helped save lives. This includes the Emergency SOS via satellite feature.
Furthermore, Apple shared this comment from Apple's Vice President of Worldwide iPhone Product Marketing, Kaiann Drance, which mentions some instances where people used Emergency SOS via satellite:
Emergency SOS via satellite has helped save lives around the world. From a man who was rescued after his car plummeted over a 400-foot cliff in Los Angeles, to lost hikers found in the Apennine Mountains in Italy, we continue to hear stories of our customers being able to connect with emergency responders when they otherwise wouldn't have been able to We are so happy iPhone 14 and iPhone 15 users can take advantage of this groundbreaking service for two more years for free.
To use Emergency SOS via Satellite, you need an iPhone 14 or iPhone 15 running iOS 16.1 or later. The service is available in Australia, Austria, Belgium, Canada, France, Germany, Ireland, Italy, Luxembourg, the Netherlands, New Zealand, Portugal, Spain, Switzerland, the UK, and the US.
Whether you live in one of these countries or you're just visiting, you can access Emergency SOS via satellite. There are, however, some restrictions for travelers who bought their iPhones in certain regions. This Apple support document will provide additional information.
Furthermore, the new Roadside Assistance service, part of the iOS 17 update, lets US iPhone users connect to AAA via satellite if they experience car trouble but don't have access to Wi-Fi or cellular connections.
It's a good idea to try the Emergency SOS via satellite demo available in the iPhone's setting app to see what using the feature will feel like. Hopefully, you'll never have to need the feature. But if you do, you'd better know how the feature works and what to expect from it. To start, look for the Emergency SOS menu in the settings app and then scroll to find the satellite demo.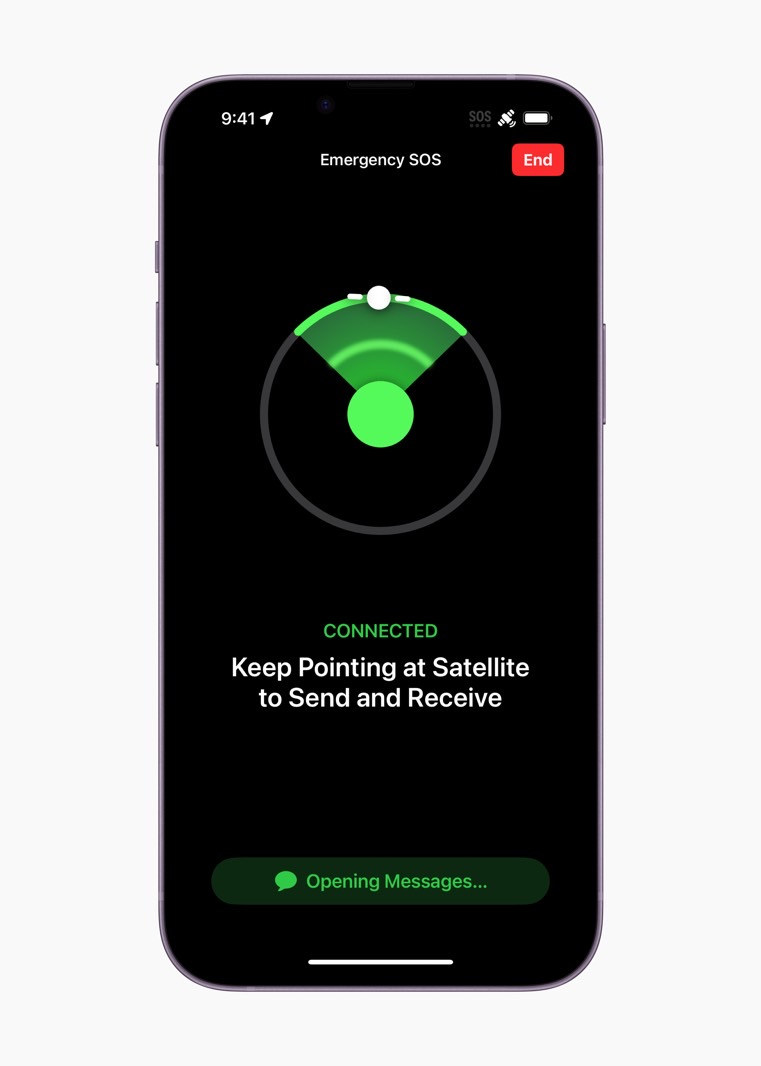 That said, it's still unclear what iPhone users will have to pay for Emergency SOS via satellite once the free period expires.
As for Android users, Qualcomm recently terminated the contract with Iridium, the satellite company that would have provided similar services on Android. It's unclear what Android device vendors will want to replicate Emergency SOS via satellite on their devices. Or when it's supposed to happen.