DSCC's Ross Young has repeatedly reported that all iPhone 15 models will feature the Dynamic Island. This hardware-software integration introduced with the iPhone 14 Pro is how Apple replaced the five years old notch, first introduced on the iPhone X.
The Dynamic island shows important alerts, notifications, and activities. With that, the TrueDepth camera has been redesigned to take up less of the display area so users can take advantage of new software capabilities.
While this new look was exclusive to iPhone 14 Pro model owners, it seems Apple will expand this design to all four iPhone 15 models later this year. The latest source to report this is Bloomberg's Mark Gurman in his Power On newsletter.
I'm told to expect the same screen size as the iPhone 14 family, but the Dynamic Island will expand to all four models.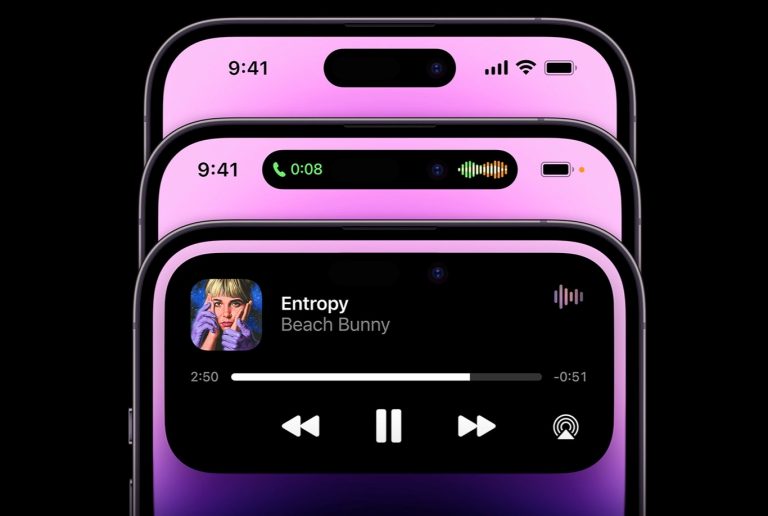 In addition, Gurman believes a titanium frame will replace the stainless steel on the Pro models. In addition, some of the physical buttons will be replaced by haptic volume buttons.
As previously reported, Apple will switch to USB-C for all new iPhone 15 models. Although Gurman doesn't say if they'll have the same technology, other reports show Apple will give a faster USB-C port to the Pro models. In contrast, the regular versions will have a standard USB-C connector, supporting less speed data transfer.
The Pro models will also get a new A17 Bionic chip – which is expected to use the 3nm technology and be more power efficient – while the iPhone 15 regular versions will have the current A16 Bionic found on the iPhone 14 Pro.
While we're still eight months away from Apple introducing the iPhone 15 series, the Economic Daily News reported this new lineup had entered early machine trial production.
It is worth noting that the NPI of the new iPhone this year is a little different from previous years. The main reason is that the gap between the mass production time of iPhones in mainland China and India will be narrowed. In previous years, the mass production time between the two places was about six to nine months. months, which will be shortened to a few weeks this year.
BGR will keep reporting on iPhone 15 rumors throughout this year until Apple finally announces it.