Unlike Apple, which dedicated plenty of time to its "courageous" move to kill the 3.5mm headphone jack last year, Google never really addressed the matter on stage, preferring to quietly hint at it. It talked about better front-facing speakers, and it introduced Pixel-branded smart wireless earphones without explaining why they're really needed.
Everyone in the audience who followed the Pixel 2 rumors already knew that Google was about to become "courageous," just like Apple. But Google didn't quite copy Apple here. Instead, Google killed the headphone jack quietly, with no witnesses.
The worst part of all? One of Google's "fixes" is even more expensive than Apple's.
Apple last year explained on stage why it killed the headphone jack. Google didn't.
Then it provided several fixes for the newly created problem. Google did that too, but worse.
Apple said the iPhone 7 will deliver stereo sound, a first for the iPhone. Google did the same with the Pixel 2 phones.
Apple announced smart wireless headphones priced at $159, the AirPods. Google matched the AirPods with its Pixel Buds earphones that also cost $159.
Apple said that there's going to be a dongle in the iPhone 7 box in addition to the Lightning EarPods so that old 3.5mm headphones can be used with the new iPhone. Google never said that. And by the way, the Pixel 2 does not ship with any kind of headphones in the box.
Then Apple addressed the matter on the iPhone 7 product pages. To realize there's no headphone jack on the Pixel 2, you have to go the specs page and notice the port's absence.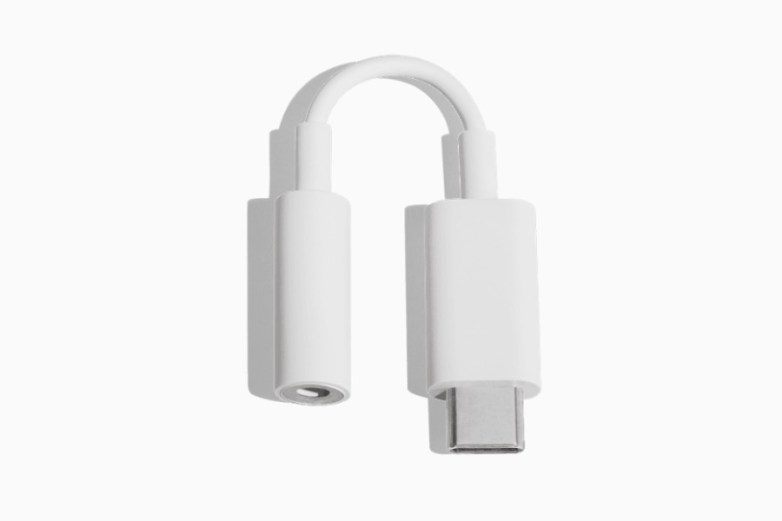 I get it, Google has its own way of murdering the headphone jack, and it doesn't seem too proud to do it. Which brings me to the worst possible thing about Google's way: the price of the dongle. The 3.5mm-to-USB-C dongle is just as unsightly as Apple's 3.5mm-to-Lightning connector. And you can lose Google's just as easily. But Google charges $20 for the dongle, while Apple wants only $9 for the accessory. That's really a surprising move. Is this Google's equivalent of "Apple tax"?
The worst thing you can do if you lose your iPhone dongle is to use the brand-new Lightning EarPods that come with the phone. It's likely they're hidden somewhere in a drawer if you rely on a dongle to deliver sound to your ears. On the Pixel 2 however, that option isn't available. Google did not create wired USB-C headphones of its own.
If you want to listen to music and recharge your iPhone, it costs $35 or $40, depending on what kind of wired headphones you plan to use. Google's dongle that offers both a USB-C and a 3.5mm port costs $45.