Microsoft just wrapped up one of its biggest event of 2016, and it was packed full of new product announcements and more. There actually wasn't much buzz leading up to the event, all things considered, but that didn't stop Microsoft from over-delivering and showing off a number of new products that Windows users are all-too eager to check out ahead of the holiday season this year. Beyond new Surface hardware, we also saw some cool new accessories and even some software-related announcements on Wednesday.
Did you miss the show? Don't worry, we've rounded up everything you need to know about every single big announcement from Microsoft's October event right here in this post.
MUST SEE: iPhone 7 vs. Pixel real-world speed test: The showdown we've been waiting for
Windows 10 Creators Update
Shipping in early 2017, Microsoft announced a fresh new Windows 10 that's aimed at improving mixed reality, gaming, and productivity solutions.
Microsoft is putting a big emphasis on 3D features in the new Windows 10 update, using the tagline "3D is for everyone" to highlight the new features. Microsoft's new Paint 3D app makes it easy not just to create 3D content, but also to share 3D content. 2D images can be mixed with 3D images and a "magic select" tool lets users easily erase the background in photos to place people or objects into 3D backdrops. 3D features will also be worked into other Microsoft apps, such as PowerPoint, where 3D objects can easily be inserted and even manipulated.
A new "Windows Capture 3D Experience" app lets people use a smartphone to quickly and easily scan an object in 3D. The 3D capture app will initially be available only on smartphones that run Windows, but Microsoft will launch the app for other platforms moving forward. There will also be a new site called Remix 3D with Microsoft-supplied 3D content and user-generated 3D content. 3D objects can be downloaded from the site and inserted into a project in Paint 3D. Perhaps most impressively, HoloLens can be used to explore all of your 3D creations in augmented reality.
And yes, there are plenty of custom 3D emoji.
Windows 10 Creators Update is available as a beta beginning today, and the final build will be released for free in early 2017.
New VR Headsets
To go along with Microsoft's new Windows 10-enabled 3D experiences, Microsoft is partnering with hardware makers to launch next-generation VR headsets using a reference platform similar to Google Daydream. These will be standalone devices though, rather than enclosures that need smartphones to operate. Headsets will begin launching early next year starting at just $299, and they won't require special high-power PCs to work.
Gaming
Windows 10 Creators Update features a number of new features aimed at gamers, including an in-built game-streaming service called Beam that's based on tech Microsoft gained when it acquired the Seattle-based company by the same name. Beam includes a number of interactive features that put it on par with rival services like Twitch. When streams begin, Xbox Live sends a notification to a user's network so they can tune in from a PC, Xbox One or even on a smartphone.
There's also a new Arena feature in the Xbox app that lets users create custom tournaments and challenges quickly and easily.
New communications features in Windows 10
The Creators Update lets you drag any content onto a contact shortcut in the Windows toolbar to instantly share that content. Photos, videos, 3D objects and more can be shared in just seconds.
Microsoft is also adding features to Windows that are similar to Apple's Continuity features in Mac and iOS. Messages are accessible across devices and even across apps, making it easy to communicate however you want on any device.
Finally, Microsoft is adding "shoulder taps" to Windows 10 Creators Update, which is a quick and simple lightweight messenger service built right into the Windows desktop.
Surface Book
Microsoft announced a brand new Surface Book with huge internal upgrades that begin with the latest-generation Intel Core i7 processor. It has more than 2x better graphics than last year's model and 3x better graphics than the highest-powered 13-inch MacBook Pro, according to Microsoft. Impressively, the new battery will last for as long as 16 hours on a single charge.
Preorders will be made available today and the new Surface Book will begin shipping in November starting at $1,499. Find out more in this post.
Surface Studio
The star of the show today was Surface Studio, Microsoft's reimagining of the all-in-one PC. It features a 28-inch PixelSense touchscreen display (13.5 million pixels) in a forged aluminum enclosure with a 1.3mm LCD panel (the full display portion is 12.5mm thick). The screen features TrueColor technology that reproduces color more accurately than any other display, according to Microsoft, and it also displays certain objects like pages in Word at their actual size in real life. so an 8.5 x 11 piece page in Word actually measures 8.5 inches by 11 inches on the screen.
Other key specs include a quad-core Intel Core i7 processor, integrated stereo speakers with Dolby sound, 3TB of storage and a stunning form factor unlike any other all-in-one. The screen can be laid almost flat, and an included stylus makes it an ideal work surface with pen friction that Microsoft says is almost exactly the same as a standard pen on paper. There's also a sensitive microphone that enables accurate voice control and dictation even from across the room.
The Surface Studio will begin shipping ahead of the holidays starting at $3,000. Learn more right here.
Surface Dial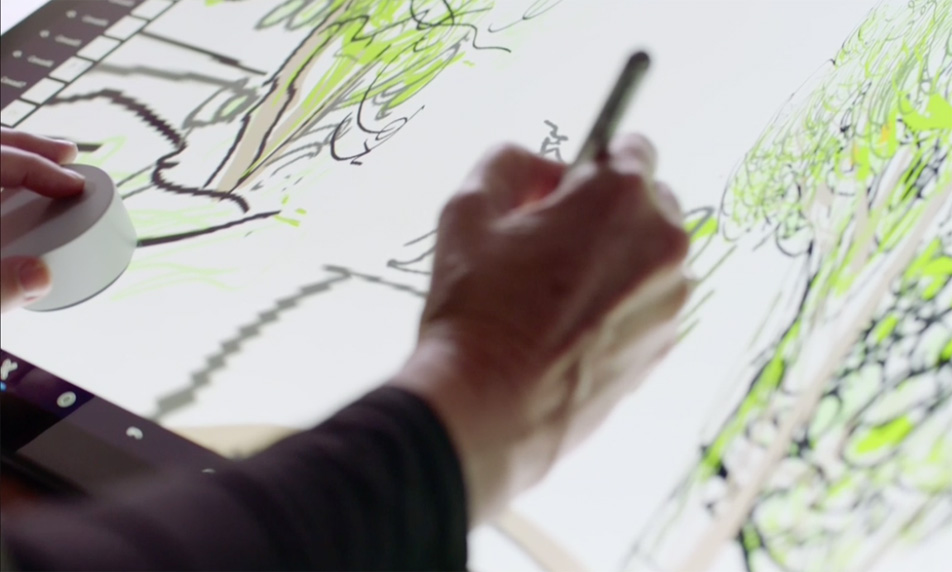 A new peripheral that complements the Surface Studio (and other Surface devices) is the Surface Dial. The dial is a stand-alone scroll wheel that provides a new means of scrolling and controlling various functions in Windows. Touching the dial also opens an on-screen radial menu that provides quick access to key features. The Dial can also be placed on the screen when the Surface Studio is laid flat to interact with software, thanks to the Surface Studio's multi-touch interface.
Surface Dial will be made available for preorder beginning today.