Microsoft just unveiled a second-generation Surface Book laptop that's better than its predecessor, but that's not the only new piece of hardware in the company's fall 2016 lineup. Meet the Surface Studio, Microsoft's first all-in-one Windows desktop, a device that will compete directly against Apple's iMac.
DON'T MISS: Now Galaxy S7 edge phones are exploding, but don't freak out just yet
You might be inclined to call it an iMac clone, but that's not entirely the case. Microsoft created its desktop, which shares some design lines with the iconic iMac, but it's also an original Microsoft creation.
The Surface Studio has a 28-inch PixelSense display with touchscreen support. We're looking at 3:2 aspect ratio, and a 12.5mm thin profile. Microsoft Panos Panay did say it's the thinnest LCD monitor ever built. One interesting feature of the screen is the true scale. One inch on the screen is actually one inch in real life, which might make several tasks easier on the device.
The monitor is even thinner than a MacBook and offers 13.5 million pixels (4,500 x 3000 resolution). Or 63% more than a 4K TV. Powering the show is a GeForce 980M card, and you'll find 32GB of RAM and a 2TB hybrid drive.
The Surface Studio is made of aluminum and features a bunch of ports, including audio jack, SD card, mini DP, Ethernet and 4 USB 3.0 ports. A mic array is built into it so you can call up Cortana from anywhere inside the room.
Just one cable comes out of the back to power the desktop, and the device has several accessories, including a keyboard and mouse, and a radial input "dial" with force feedback. The Surface Dial can be placed directly on the display, and it'll produce a radial menu. The Surface Pen will also work with the Surface Studio.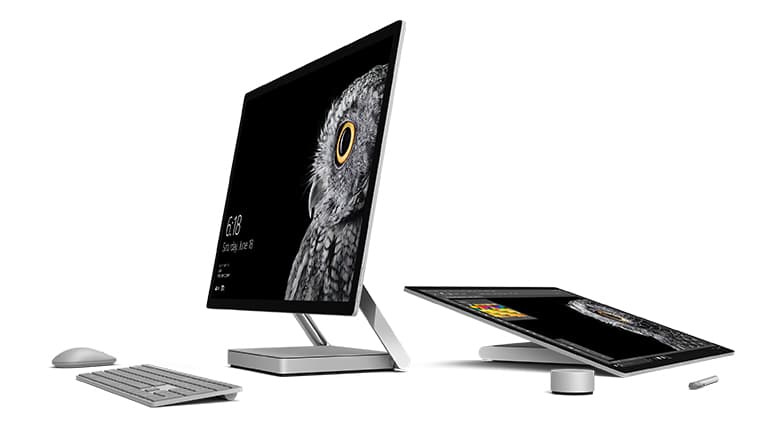 A zero-gravity hinge and custom-tuned springs will let you push around the display with relative ease, even if it weighs some 13 pounds.
The Surface Studio will ship at some point this holiday, but you can expect shortages, at least at launch. The all-in-one is available for preorder starting today for $2,999, and it'll be on display in Microsoft Stores.
For $2,999, you'll get 1TB of storage and 8GB of RAM (and NVIDIA GeForce GTX 965M 2GB GPU GDDR5 memory), together with an Intel i5 chip. An extra 8GB of RAM and a processor bump to Intel Core i7 will cost you $500 extra, while the high-end Surface Studio featuring a 2TB drive and 32GB of RAM (with NVIDIA GeForce GTX 980M 4GB GPU GDDR5 memory) is priced at $4,199.