Many apps and websites let you sign in with your Google account instead of creating a new account for that service. It's a handy feature to take advantage of, as it can reduce the number of accounts and passwords you must keep track of and secure. But it's also not something everyone wants to do. Yet Google keeps throwing pop-ups at you to sign into websites using your Google account.
Until recently, you could disable the feature from your Google account, and I've already shown you how to stop Google from producing those annoying sign-in pop-ups. But thanks to a BGR reader inquiring about the feature, I now discovered that Google quietly removed the feature. Thankfully, all hope is not lost, and there are a few things you could still do to prevent the pop-ups.
How stopping Signing in with Google used to work
I've disabled the Signing in with Google option on my Google accounts from the Settings menu of those accounts.
However, there's a problem. See the toggle below? That entire section disappeared from the Security tab, something I wouldn't have noticed without a reader pointing it out.

Here's how the process used to work:
Head to your Google account page.
Look for the Security tab and then scroll down to the Signing in to other sites section.
Tap on the Signing in with Google option, where you can manage the functionality.
Turn off the Google Account sign-in prompts

.
It looks like Google removed it on purpose. And you can't find the setting anywhere else.
Google does have a support page explaining how signing in with Google works and why you should use it.
It's not great that the support page doesn't tell you how to prevent the annoying pop-ups from reoccurring. It only explains how to remove sign-in with Google from websites/apps where you might be using it already.
But those instructions do not fix the main issue here, Google's annoying pop-ups.
Why is Google doing this?
I already said that signing into apps with Google is a great feature, as it can boost your security. But you can also sign into apps with Facebook and Apple.
Of the three, I'd always choose Apple. That's because Google and Facebook track all you do online. Signing into websites and apps with your Google or Facebook account gives them another data point about you.
Google is fighting with Facebook and Apple here, and that might be why the sign-in setting disappeared from the Google account settings page.
I'm hardly using Google accounts to sign into websites or apps. I use Apple or create new accounts, whose security I then protect with 1Password and/or Proton Pass. But the pop-ups will still appear.
When the Signing in with Google option was available, I did turn off the pop-ups on my Google accounts, and I hope my preferences continue to be respected.
But there are ways to block Google's sign-in pop-ups if you haven't turned off the Signing in with Google feature.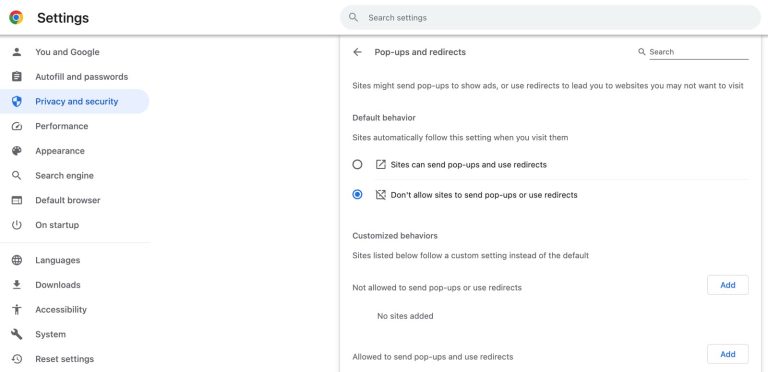 How to block Google's pop-ups
As I've explained previously, there's another way to block Google's annoying pop-ups that doesn't involve managing your Google Account. You just have to block pop-ups and redirects from your browser on all websites (screenshot above).
Here's how it works in Chrome; I'll just quote from my previous coverage:
Go to the browser's Settings, look for Privacy and security, choose Site settings, and look for the Pop-ups and redirects menu. Here, you'll have an option that lets you block pop-ups from all websites.
The problem here is there might be websites where pop-ups are necessary. And this setting will block all of them. It'll be up to you to set exceptions or use a different browser to visit specific websites, which might not be worth the hassle.
Thanks for the tip, RL!