During the Made by Google keynote, the company announced its Google Pixel Watch 2. The new wearable is lighter than its predecessor with a refined design, made of 100% recycled aluminum housing, new quad-core chip, and offers three advanced sensors for more insight into your health and wellness, including a new skin temperature sensor in addition to Fitbit's Stress features
With the watch, you can check your resting heart rate, the heart rhythm for Afib within the ECG app, and get irregular heart rhythm alerts. In addition to the skin temperature sensor, there are blood oxygen levels and heart rate monitoring as well. You can also improve your sleep habits with the Sleep Score section.
The Google Pixel Watch 2 also adds a ton of emergency features. With a check-in timer, your watch can send an alert to your emergency contacts. If you have a hard fall, Google can automatically call emergency services, and if something goes wrong, your chosen contacts can know your real-time location and battery level.
Like Apple Watch's watchOS 10, Google asks you how you feel throughout the day so it can help you feel motivated, try to avoid stress, and keep calm.
The new Pixel Watch 2 can control your Pixel's camera shutter. With Fast Pair, it's easier to pair your watch or smartphone with your Pixel Buds. You can also control your entertainment devices, manage your connected home wherever you are, and more.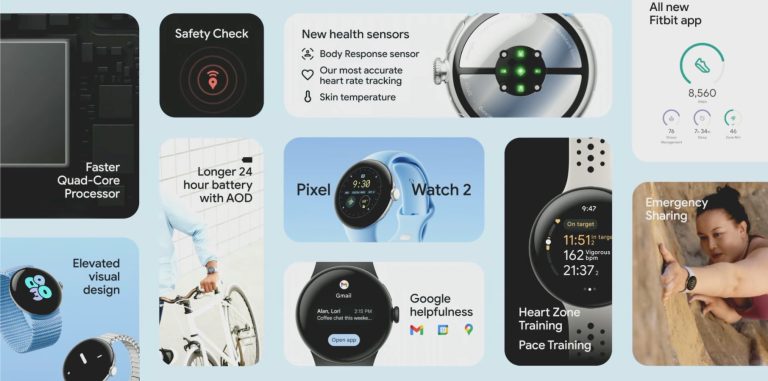 For those who like to exercise, the Pixel Watch 2 can automatically start, pause, or stop a workout. With Heart Zone Training, you can improve yourself with each workout, and there's a Pace Training function that helps you reach your goals faster.
Another interesting addition to this year's smartwatch is several new bands, from classic to modern styles with woven, active, sport, or leather, so you can be prepared for any activity you have throughout the day.
The Google Pixel Watch 2 can hold 24 hours of usage on a single charge, while 30 minutes of charge gives it 12 hours of usage. The new watch starts at $349, with pre-orders starting today and shipping next week. It gives you six months of Fitbit Premium.