Android phones, the smartphones of your dreams are finally here… maybe. Google on Tuesday held a huge press conference where it made a number of new announcements, but the stars of the show had to be the new Google Pixel and Google Pixel XL smartphones. We knew almost everything there was to know about these Nexus replacements heading into today's event, but leaks and rumors never really do a good job of painting a complete picture. Well, now the picture is indeed complete and we're left with two of the sleekest and most powerful Android smartphones the world has ever seen; interestingly though, they're not pure Android smartphones like Google's Nexus phones have always been.
Will Android enthusiasts be upset that Android has been spiced up on the Pixels rather than being left pure? Or are these phones hot enough to make them accept the new bells and whistles? Below, you'll find all of the Pixel and Pixel XL's best new features laid out and explained, so you'll know exactly what you have to look forward to if you decide to buy one.
MUST SEE: These $20 wireless earbuds have so many features missing from Apple's AirPods
Design
Google was quick to focus on the phone's design, which is said it developed entirely in-house. The handset features a sleek aluminum chassis and a large glass panel on the back that it views as an iconic design feature.
Google Assistant
Pixel is the first phone with Google Assistant built in, give users constant on-demand access to Google's next-generation virtual personal assistant software. The Assistant is triggered with a hot word or by touching and holding the home button.
Photography Experience
Google says the Pixel phone was rated an 89 by DxOMark, which is the highest score the group has ever handed out.
The phone has a 12-megapixel camera with an f/2.0 aperture and 1.55 micron pixels. It's bolstered by nifty features like Smartburst, which captures a burst of photos and automatically identifies the best one; enhanced HDR+, which combines multiple short exposures to extend dynamic range and better lighting; the fastest shutter on the market; and enhanced video stabilization.
Google Photos comes built-in on the phone, automatically organizing photos as you capture them. Google is also offering free unlimited cloud storage for photos and videos at full resolution to all Pixel owners.
Google Smart Storage
Today is not a good day for Nextbit…
Similar to the solution that was introduced on the Nextbit Robin, Google's Pixels have a great feature that helps ensure a user's phone never runs out of storage space. It does this by deleting photos and videos from the phone that have already been backed up to Google Photos when it needs to make space for new files. Then, when a user wants to access those media files, the phone can download and restore them from the cloud on demand.
Communications
New Google apps like Duo and Allo are preinstalled on Pixel phones, and they feature deep integration into the phone — thanks in part to smart new software features like Google Assistant.
Fast Charging
A 15 minute charge can give you as much as 7 hours of power — that's among the best fast-charging solutions on the market.
Live Customer Care
Pixel owners can reach a live support agent by phone, chat or screen-share 24/7. As anyone with a smartphone made by a company other than Apple can attest to, better customer service is something all smartphone owners have wanted and needed for a long time.
Specs
Dayum!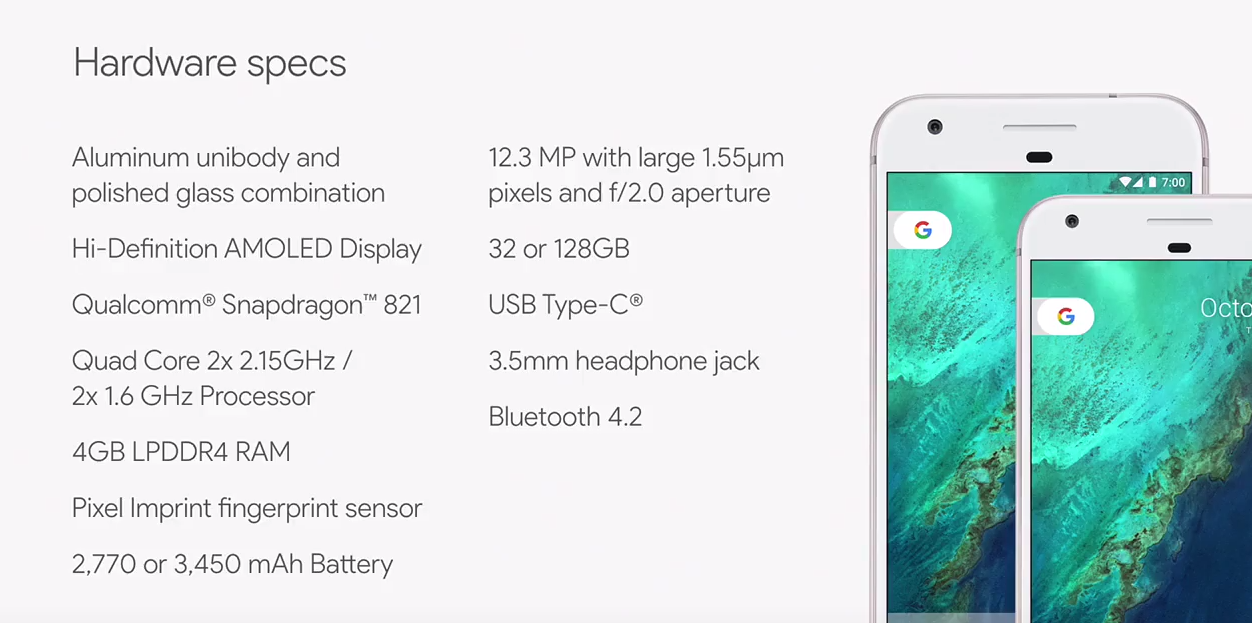 Virtual Reality
The new Pixel phones are among the first to ship with Google Daydream support, which is Google's hot new virtual reality platform. The phones are also fully compatible with Google's first VR headset, the Daydream View.
Android Updates
Last, and perhaps most importantly, Pixel phones will have instant access to Android updates because they'll come directly from Google as soon as they're released.
—
The Google Pixel and Pixel XL will be a Verizon exclusive as far as carrier availability is concerned, and Google will also sell an unlocked version on its online store. Preorders begin today at 2:00PM EDT, and they'll launch on October 20th. You can learn more about the Pixel here, or the Pixel XL here.
Updated to clarify Google's smart storage feature.