Google is launching two brand new Android smartphones this year, the followups to last year's Nexus 5X and Nexus 6P. Unlike last year though, the Pixel phones are virtually identical when it comes to design and high-end features. The Pixel XL is Google's newest phablet and the most expensive Google phone you can buy and now that it's official, we'll tell you everything you need to know right here in this post.
DON'T MISS: Google's Pixel phone is finally official: Release date, specs and pricing
Design
The Pixel XL shares the same design as the smaller Pixel. We're looking at rounded corners, a metal body and a strange glass portion that covers much of the back of the phone. The fingerprint sensor is located on the back of both devices, and they run a customized version of Android Nougat. These might be Nexus successors, but they won't run a pure vanilla Android operating system. Google's Assistant is one of the major new features of the Pixel phones, and it's included in Google's new Pixel launcher. The phone is ready for Daydream VR and comes with unlimited storage for your photos.
The only differences between the Pixel and Pixel XL relate to their sizes. Compared to the Pixel, the Pixel XL has a bigger battery, and the screen features better resolution.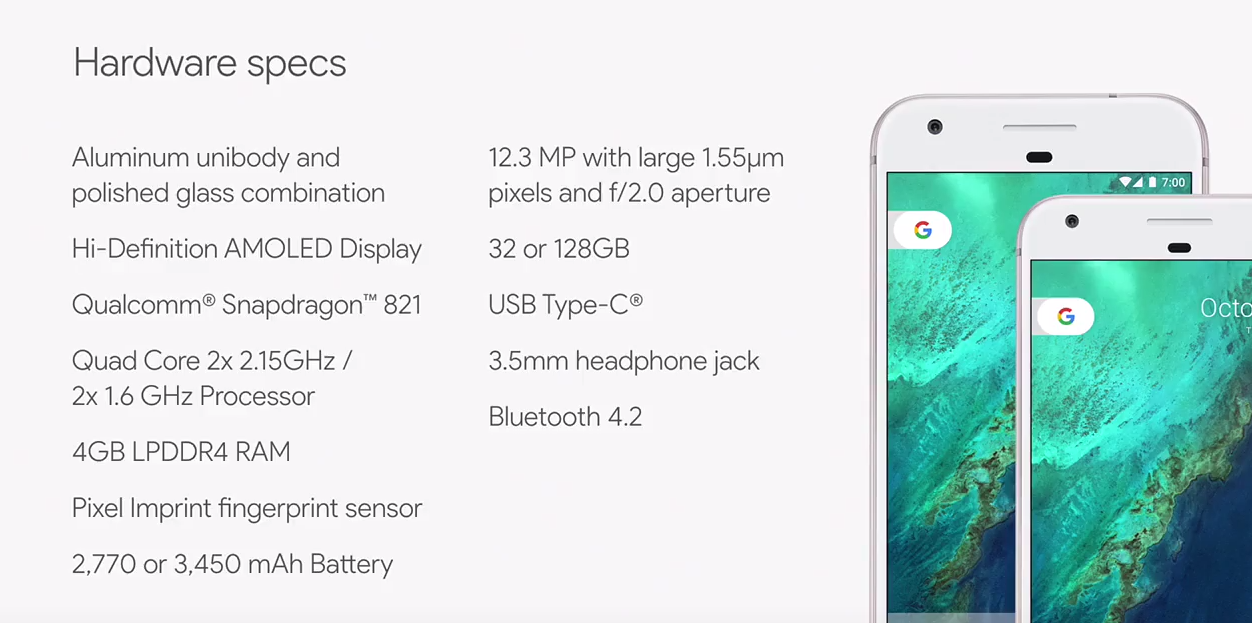 Specs
Size: 154.7 x 75.7 x 8.6 mm
Weight: 168 grams
5.5-inch QHD AMOLED display (2560 x 1440 resolution, 534 pixel-per-inch density) with Gorilla Glass 4
2.15GHz 64-bit quad-core Qualcomm Snapdragon 821 processor
4GB of RAM
32GB/128GB storage
no microSD support
12.3-megapixel camera with f/2.0, 1.55um pixels, optical image stabilization (OIS), and unlimited Google Photos storage
8-megapixel-front-facing camera
Fingerprint sensor
NFC
USB-C support
3.5mm headphone jack
3,450 mAh battery with fast-charging support (7 hours of use with 15 minutes of charging)
Android 7.1 Nougat with new Pixel Launcher, Google Assistant and Google Magic
Release Date
The Pixel and Pixel XL are both available for preorder beginning today in 32GB and 128GB capacities. The phone will be available in the US, Australia, Canada and the UK on October 4th, in three distinct colors, including Quite Black, Really Blue, and Very Silver. Verizon will be Google's exclusive Pixel partner in the US, and Project Fi subscribers will also be able to purchase the handset.
The 32GB Pixel XL costs $769.99, while the 128GB Pixel XL costs $869.99. The phone will be available in stores on October 20th.
You can preorder the Pixel XL from Verizon (at this link). A Daydream VR headset will be offered free of charge if you preorder with Verizon from October 4th to October 19th.
Google's Pixel XL preorder page is available at this link.