The flagship Galaxy S9+ smartphone pictured above has what is easily one of the most gorgeous designs we've ever seen. The all-glass and metal construction is sturdy and sleek, while the curved glass edges on the front and back of the handset fit perfectly in the curves of your hand. It's stunning indeed, but there's one design element there that is painfully outdated. Yes, we are of course talking about the large bezels above and below the display.
In 2018, it's the first thing your eye is drawn to. Samsung chose to reuse its 2017 Galaxy S design again in 2018, and the result is a screen that is decidedly dated. For other manufacturers, 2018 has been all about minimizing bezels and inching ever closer to the "all-screen" smartphone design of our dreams. For Samsung, 2018 has been all about recycling old designs and flagship smartphone sales have suffered dearly as a result. Beginning in early 2019, however, all that changes with the launch of the new Galaxy S10 line of flagship devices. And now, a new leak finally reveals just how impressive the all-screen design is going to be on Samsung's next-generation Galaxy S flagship.
If you're a Samsung fan who was disappointed when you saw that all of Samsung's 2018 flagship phones were going to be minor, iterative updates, you weren't alone. The Galaxy S9, Galaxy S9+, and Galaxy Note 9 are all practically identical to their predecessors. Even worse, none of Samsung's new flagships in 2018 included any exciting new marquee features. Each phone merely got a slight specs bump, which meant not even Samsung's most avid fans could find good reasons to upgrade.
We already explained why Apple is the only smartphone maker that can get away with "S" updates. While 2018 was clearly a gap year for Samsung, fans will be excited to learn that the company definitely plans to stop phoning it in next year. (Pun intended. Sorry.)
With the launch of the upcoming new Galaxy S10 series now just three months away, leaks have been pouring in lately. We know so much about Samsung's new flagship phones, and everything we've heard so far has been great news. We're expecting a beautiful new look that pushes Samsung's curved Infinity Display design identity to the next level. We're also expecting a bunch of exciting new tech like next-gen 8-nanometer chipsets, as many as five different cameras thanks to a triple-lens rear camera and a dual-lens selfie cam on the front of the Galaxy S10+, and a first-of-its-kind ultrasonic fingerprint sensor embedded behind the display.
Among the details that have been revealed thus far, the Galaxy S10's new display has been discussed the most. Since the Galaxy S9's display design was so dated, it makes sense that Samsung's new all-screen design would pique interest. According to leaks from various trusted sources, the Galaxy S10 phones will feature Samsung's new "Infinity-O" screen that has a tiny hole cut out of the corner for the front-facing camera. This way instead of slicing a big notch out of the top of the screen like Apple and so many other companies have done, there's only a tiny little spot removed for the camera (or cameras, on the Galaxy S10+).
The result will be a phone that has extremely thin bezels, but doesn't require any silly workarounds for the selfie cam. But the question remains: how thin will the bezels be on Samsung's new Galaxy S10 phones? Or rather, the question used to remain… because it was just answered thanks to a leak from the world's top Samsung insider.
Beyond pic.twitter.com/w8XDEP3LP1

— Ice universe (@UniverseIce) November 29, 2018
"Beyond" is the codename Samsung is using internally to describe the Galaxy S10 series, and the image above is our first look at a screen protector designed to fit the Galaxy S10's display. If you were upset about how thick the bezels were on Samsung's 2018 flagship phones, this is exactly what you've been waiting to see. Here's a closer look (click to enlarge):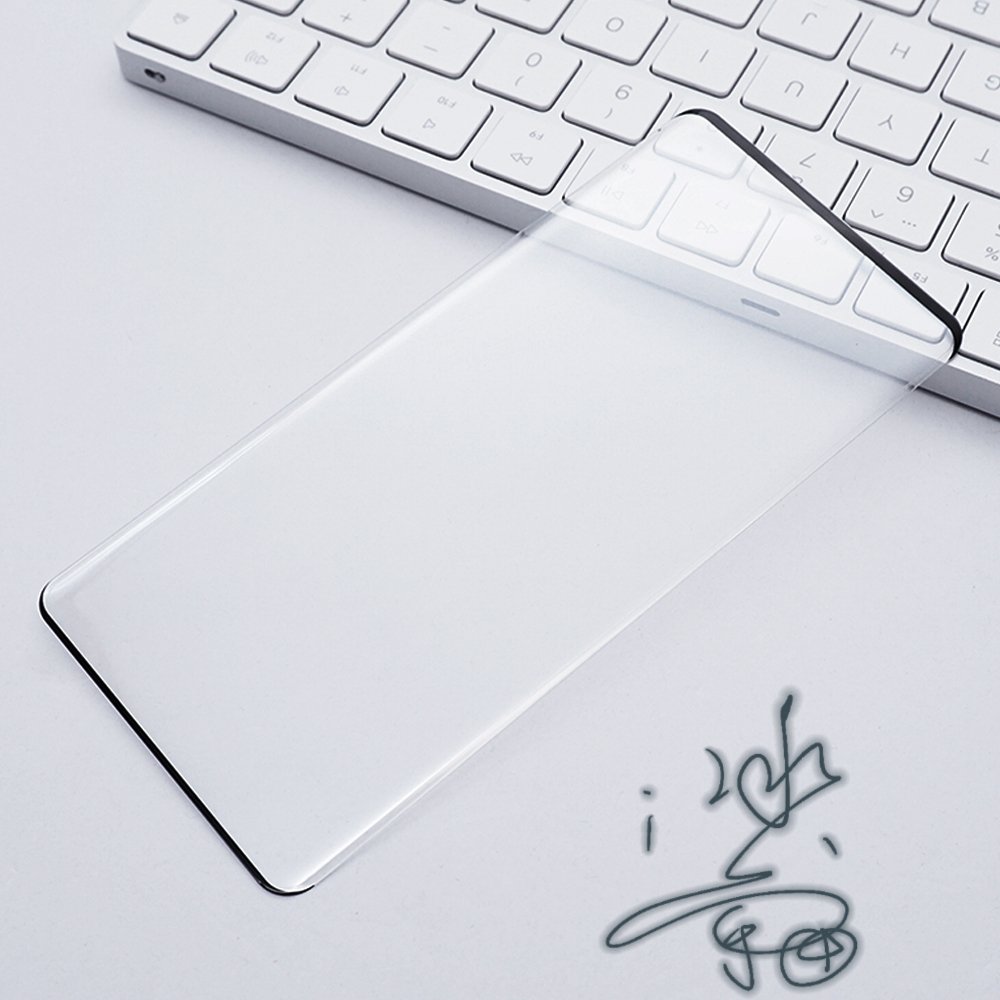 Samsung is expected to unveil the new Galaxy S10 flagship smartphone series in late February, and it's shaping up to be the company's most exciting new smartphone line in years. In fact, it might be Samsung's most exciting smartphone line ever.